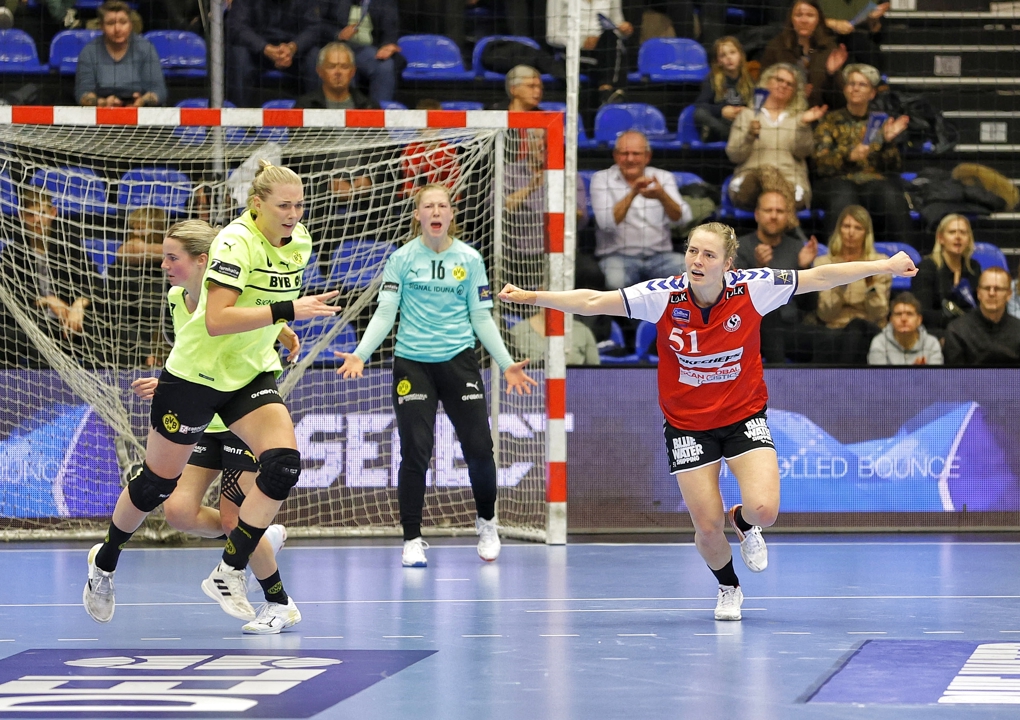 Summary: Esbjerg go top of group A with confident victory
The DELO EHF Champions League 2021/22 group phase has past the halfway mark, and this week we see the reverse fixtures of last round as eight matches take place over the weekend.
18:26
We'll leave it here for today's matches and Europe's elite women's club competition in 2021 as attention turns to the World Championship.
Still plenty of club action to come on the men's front, however, continuing with the European League on Tuesday and EHF Champions League on Wednesday, so be sure to join us then. Goodnight!
We have a long-term dream of going to the FINAL4. We know it is a tough group and we can be proud of the way it is going after the first eight matches. Of course, we are more than happy to be first in the group so far.









17:49
13 saves from Rikke Poulsen (48 per cent) made all the difference for Esbjerg as they pulled clear in the second half, giving them their sixth win of the season and putting them top of group A, a point clear of Rostov and FTC, the perfect way to end the year. Now Jesper Jensen can turn his attention to the Danish national team and many of his players will also be making their way to Spain for the upcoming World Championship.
17:43
Great bouncebackability from Metz there, responding perfectly to their loss in midweek and putting themselves clear in the all-important second place in group B heading into the international break.
17:29 - RESULT: Metz 35:21 Sävehof
Pure dominance in the final 10 minutes from Metz as they shut out their opponents and an 8:0 run. 12 players get on the scoreboard for the home side and they give the home crowd something to smile about after a heavy home loss to CSKA earlier this week.
17:24 - RESULT: Esbjerg 34:23 Dortmund
It's a big old win for Esbjerg in the end with a performance which grew in confidence as the 60 minutes progressed. 
No court time for Estavana Polman today but her presence was another big plus for the a team which could rely on other back court power today.
17:21
Metz now extend their lead to double figures, 31:21, and Meline Nocandy is having a blast in this second half, leading the scoring with six goals.
17:14
Remarkably, both of these games have mirrored each other, somewhat. Both home teams now beginning to run away with it as we enter the final 10 minutes.
Vilde Ingstad enjoying plenty of time and space on the line for Esbjerg and three goals in quick succession have given them a 29:21 lead, while it's 27:21 to Metz.
17:06
Metz keeper Hatadou Sako is up to a 50% save rate now and her teammates are performing just as well at the other end of the court, stretching into a 25:19 lead after 12 minutes of the second half.
16:58
It's an early second-half timeout for Jesper Jensen. Although Esbjerg look relatively comfortable, last week's temporary collapse against the same opposition is undoubtedly fresh in his mind. 22:18 to the Danish side after 40 minutes.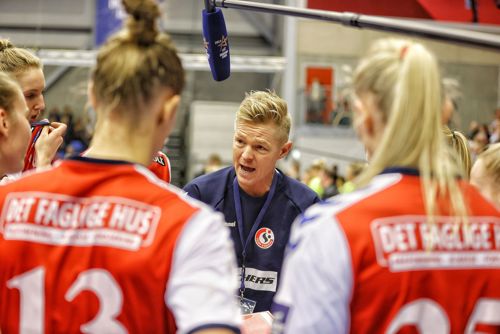 16:49
The start of the second half has been exactly what the doctor ordered for Dortmund with a penalty scored by Alina Grijseels, who has been kept surprisingly quiet so far today.
16:35 - HALF-TIME
We've reached the halfway mark in our final games of the weekend and both home sides hold similar advantages.
Esbjerg 18:13 Dortmund - Marit Røsberg Jacobsen having a field day with six goals, while Rikke Poulsen's introduction between the posts has made a real difference with four saves from seven shots
Metz 19:15 Sävehof - Metz finding little resistance en route to goal so far. Sävehof gave as good as they got for 25 minutes but find themselves needing a big start to the second half.
16:29
In France, Bruna de Paula gets her fourth goal of the game with a gorgeous sidestep, clean past Roberts, to give Metz a 16:13 lead. Sävehof doing well to stay in touch but will need some more success in defence sooner rather than later.
16:18
You get the feeling that neither coach will be happy with what they're seeing from Esbjerg vs Dortmund at the moment. A four-goal run, including three from Marit Røsberg Jacobsen, gives Esbjerg a 9:6 lead but they could have been much further ahead if not for some wasted opportunities. 9:7 after 17 minutes.
16:11
Metz being pushed hard by Sävehof in the opening exchanges and it's their keeper Ivana Kapitanovic making the difference so far with three saves as they lead 7:6.
16:05
Both teams flying out of the traps in Denmark and we're level at 4:4 before we pass the six-minute mark. Dortmund creating but wasting plenty of chances, which they can scarcely afford to do, even at this early stage.
15:51
Some delightful team news today is that Estavana Polman is included in the Esbjerg squad for the first time this season.
Polman has been dogged with injury problems since leading the Netherlands to the world title two years ago and it is great to see her back on the team sheet.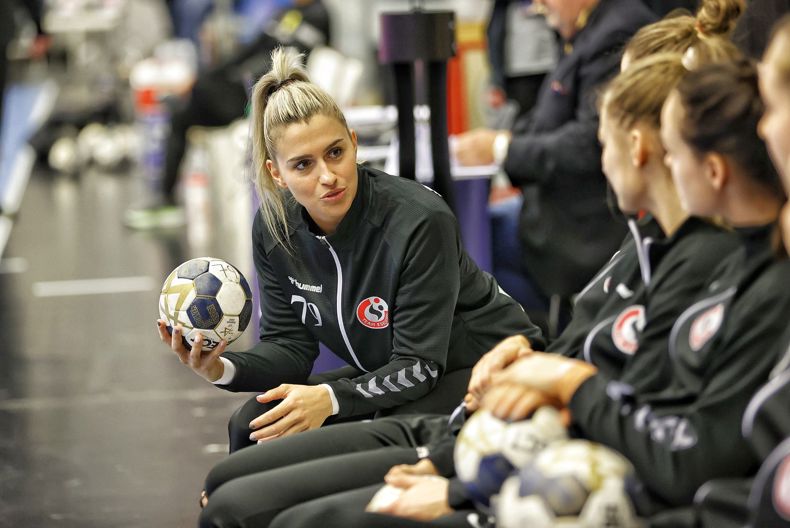 15:41
Team Esbjerg vs Borussia Dortmund is our other match throwing off at 16:00 and it is a golden opportunity for Esbjerg to leapfrog FTC and Rostov into top spot in group A.
Esbjerg have come on in leaps and bounds as this season has progressed and first place at the end of the calendar year would be a perfect way to head into the winter break for the team who's only defeat came back in round 2.
Dortmund's season has gone in the opposite direction so far. After a bright start, three losses in their last four encounters leave them stuck in the chasing pack.
15:26
One of our games today is the reverse fixture of last week's Match of the Week - Metz Handball vs IK Sävehof.
Metz appeared to have it comfortably won but a late Jamina Roberts-inspired comeback brought Sävehof back within three goals by the final whistle.
Krim's victory over CSKA yesterday has relegated the Swedish side into seventh place in group B at the moment, meaning the pressure is on to claim some points.
Metz find themselves joint-second with Vipers on 10 points but can go clear by avoiding defeat this afternoon.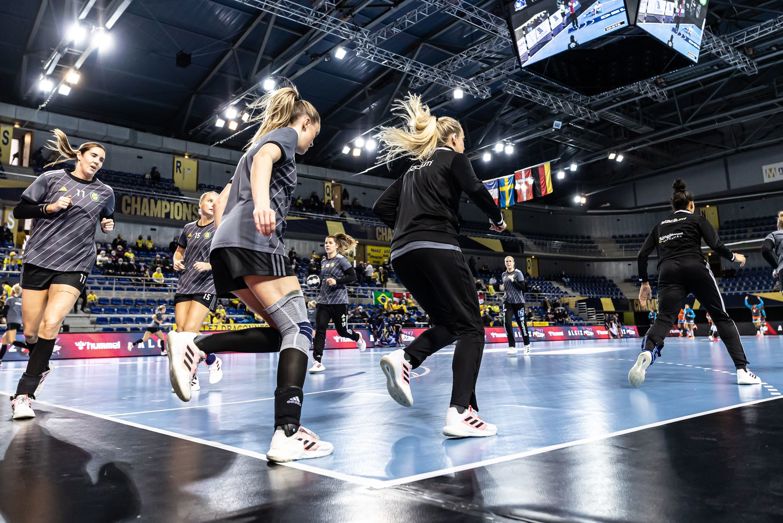 Sunday 15:13
Good afternoon and welcome to the final pair of DELO EHF Champions League matches in 2021!
Europe's top players will soon switch focus from club handball to the World Championship in Spain but there is still some serious business to take care of for four teams this afternoon.
20:35
We come to the end of this super Saturday of DELO EHF Champions League with the table rankings having seen a bit of a reshuffle, and there is more to come as round 8 concludes on Sunday with two exciting games: 
16:00 CET Metz Handball vs IK Sävehof
16:00 CET Team Esbjerg vs Borussia Dortmund
And how did this big day of matches unfold? Read all about Buducnost's first victory — and perfect birthday gift for coach Bojana Popovic, FTC's first loss of the season, and of course the MOTW win for Krim plus much more below!
I am proud of the victory. This is the most beautiful gift I could get for my birthday. I asked the girls to give their best and fight all 60 minutes, I believed that we could come to victory, after we showed in the first game that we could compete against Brest. When you fight like the girls did today, then some balls come back to you in the moments of decision and the reward arrives.
















We're all satisfied with winning and getting two points. We're satisfied with the first half of the season, despite having some ups and downs, but winning these two important matches against Odense really, really helps us. Now we're eager to have a small break, and return for the second half of the season
Vipers back up their win last week in Denmark and grab the points at home against Odense as well, moving up to 10 points on the table and jumping past both CSKA and Metz to slip into second position behind Györ. 
Although they were defeated, Odense recorded a milestone achievement during the clash — passing the 1,000-goal mark in the Champions League. 
Buducnost end their long wait for a first win in the season, taking the lead for the first time since the early stages with six minutes to go and holding on through a thrilling ending to defeat Brest by two goals. It is not only the Montenegrin side's first win in 2021/22, but their 150th overall in the history of the Champions League. 
Györ take another dominant win against Kastamonu and move up to 16 points on top of the group B table, while Kastamonu are left alone at the bottom with no points yet. After Krim's win in the MOTW, the gap between the Champions League debutants and the other teams in the group has grown. On the other hand, Györ are certain to finish the round alone as no other side can catch them on points. 
19:05
10 minutes in to the second period and we still have a thriller at Vipers, with the Norwegian side in front 22:20 after Nora Mørk nets her fifth goal. 
In Montenegro, Buducnost have staged a big comeback and are within just one goal of Brest now, at 23:24 with 15 minutes to go. With the score, Buducnost have beaten their average rate of 22.7 goals scored per game so far this season, highlighting that this is a strong attacking outing from the side. If Buducnost can turn the tide here, they will clinch their milestone 150th victory in the Champions League. 
In Kastamonu, Györ have not relented and have a commanding upper hand at 31:20 with the clock fast approaching the final 10 minutes. 
















18:42
HALF-TIME UPDATE: VIPERS VS ODENSE 17:16
A high-scoring first 30 minutes ends with Vipers holding a narrow edge over Odense, who have fought back from a four-goal distance to the narrowest of deficits in time for the break. 
18:38
HALF-TIME UPDATE: BUDUCNOST VS BREST 13:16 
Brest create a lead as clear as five goals, 9:14 in the 26th minute, before Buducnost pull it back slightly ahead of the break. With a three-goal deficit, the Montenegrin side still have a chance to turn things around and end their long wait for their first points of the season. 
18:36
HALF-TIME UPDATE: KASTAMONU VS GYÖR 9:19
Györ go to the dressing room with a 10-goal lead over their opponents, and looking very much as though they are on the way to their eighth straight win in 2021/22.
It's all about wings and line players in the individual scorer standings, with wing Jovanka Radicevic leading Kastamonu with four goals, while line players Linn Blohm and Crina Pintea have combined with wings Csenge Fodor and Dorottya Faluvegi to net 14 goals in the opening 30 minutes. 
18:20
As we approach the 20-minute mark in our three currently live matches, we see two away sides leading and one home team in front.
In Turkey, Györ have romped to another decisive lead against Kastamonu, with the score at 14:6 for the Hungarian powerhouse. Unless Kastamonu can pull off a miracle, it looks as though they are set to leave the court emptyhanded again. 
In Montenegro, Buducnost are looking at a similar fate, as they trail Brest 7:9. 
In Norway, Vipers are the only team reaping the benefits of their home court. They have the lead at 14:11 against Odense, who have already lost Lois Abbingh on a direct red card after a ball to the face on a penalty shot. Abbingh netted two goals before leaving the court around the end of the first quarter. 










17:54
Three matches down, but another three still to come on this super Saturday of DELO EHF Champions League. 
Both Buducnost and Kastamonu are targeting their first points in the season, but they must overcome giants to do it, as Buducnost take on last season's finalists Brest Bretagne and Kastamonu face Györ, who enter with a perfect record — the only team in the competition with the maximum points. 
In Norway, Vipers host Odense in a Scandinavian derby. Both teams are on eight points, with Vipers in fourth and Odense in fifth in group B. Vipers won the away encounter last week, beating Odense 32:27 on their own court.  
It was hard at the beginning. We were a little bit nervous because we were playing at home. These are two important points for us so we really wanted to win. I am very happy that we did not give up in the second half. We stayed focused and fought till the end. I am really happy that we won the match in front of our spectators.





















































It is a very good feeling to win and I am happy that today we managed to show the real face of our team. We worked really good this week and we tried to challenge ourselves today to have a better performance than last week [in the reverse match vs FTC] as it is frustrating losing in the last second. It was very important for us to start the game well today and we managed to do that so I am happy about this.
Last week their clash ended with a 23:22 win for Rostov-Don. Today the Russian side leave no question as they take an 11-goal victory on their home court. 
The win sees Rostov move up to 12 points alongside group leaders FTC, while Team Esbjerg have the chance to finish the round first ranked as they sit right behind on 11 points and will play on Sunday against Dortmund. 
What a victory for CSM! The Romanian side make a big statement as they become the first to down FTC this season, ending the Hungarian team's impressive unbeaten run, which stretched to seven games. 
Two left backs finish as the top scorers of the clash, with Emily Bölk (FTC) and Cristina Neagu (CSM) netting nine goals apiece.  
Krim earn their second victory of the season as they defeat CSKA by three goals. Krim wing Katarina Krpez-Slezak earns the Player of the Match award after her solid performance, with seven goals scored for the home side. 

17:22
Four minutes remain in the MOTW and Krim stay in command at 23:19. Should the Slovenian side hold on and take the points, it will mean new coach Nataliya Derepasko has collected half the points available since she took the reigns. 
The change took place in late October, with Derepasko's first match the 26:27 loss to title holders Vipers Kristiansand. Next, Krim drew with CSKA, and now they look set to clinch their first win with their new coach, who won the Champions League trophy twice herself with Krim in 2001 and 2003. 
17:15
The clock ticks into the final 10 minutes on three courts and we now have three clear leaders, as Krim have pulled away from CSKA to now hold a 21:16 advantage with eight minutes to go. 
In Rostov, the home side lead 31:23 and look well on their way to their sixth win of the season, while in Romania CSM are still comfortable with a 25:20 advantage. CSM back Cristina Neagu is in stellar form with a nine-goal tally. Of their 25 goals, only five have come from the wings, showing how much FTC are struggling to contain CSM's back court and line player Ema Ramusovic. 
Speaking of containing the back court, check out this hammer from Rostov back Vladlena Bobrovnikova. 
17:00
The MOTW is still locked in a close fight with Krim and CSKA level at 13:13 as we reach the 40-minute mark. If Krim can take the points here, it will be their first win since round 3, when they defeated Champions League debutants Kastamonu 24:23. 
This season, Krim have lost three games by just one goal and another by only two. The Slovenian side will certainly be hoping to avoid that happening again. 
In Bucharest, CSM are holding steady in front at 21:15, while Rostov are still clear in front of Podravka at 21:17. 
























16:45
Our journalist Sergey Nikolaev shares his thoughts at half-time in the MOTW Krim vs CSKA: 
Just like in the reverse fixture last week, the fight has been extremely tight, and both goalkeepers, Barbara Arenhart and Anna Sedoykina, played a big role in the first half. CSKA were a better team during the opening 20 minutes, but then Krim improved their defence, which helped the home side to create a one-goal lead at the break.
16:38
HALF-TIME UPDATE: CSM VS FTC 16:11
A scoreless period of seven minutes at the end of the half hurts FTC's chances of taking the points in Romania, as CSM power ahead to a commanding half-time lead. If CSM hold on and clinch the win, they will end FTC's unprecedented unbeaten run in the top flight and be the first to defeat the Hungarian side this season. 
HALF-TIME UPDATE: ROSTOV-DON VS HC PODRAVKA VEGETA 18:12
Podravka stay clear behind Rostov as the half-time whistle sounds in Russia, with a six-goal lead for the home side. Grace Zaadi and Anna Lagerquist have been ripping apart Podravka's defence, combining for 10 goals. 
16:35
HALF-TIME UPDATE: MOTW KRIM VS CSKA 11:10
The MOTW goes to the break just as we like best: almost level and promising us an exciting second 30 minutes to decide the two points that are critical for the home side in particular.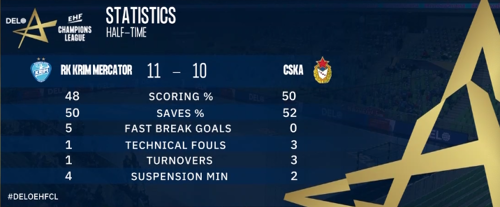 Slovenian back Ana Gros top scores the opening half with five goals for CSKA. 
16:22
After 15 saves in last week's match against CSKA, Krim goalkeeper Barbara Arenhart is off to a strong start in the MOTW, with four saves at 36 per cent as we near the 20-minute mark.
With 10 minutes to go in the half, CSKA have snuck ahead to a 7:5 advantage over Krim, CSM and FTC are locked in a tight tussle with the score at 10:9 for Bucharest, and Rostov are holding steady against Podravka, 14:8. 
16:10
10 minutes in to our first round 8 matches, we have CSKA and CSM with one-goal edges — CSKA lead Krim 3:2 and CSM lead FTC 4:3.
In Russia, Rostov-Don appear keen to make up for their performance last round, which back Eduarda Amorim summarised: "We had good moments but I think we could have much more. We were not focused and we were not consistent during the match. I feel that we can do much better job than this but Podravka were very good today also. Very good rivalry and it was pretty fun in the end. But this is what the handball is about. We are happy for this two points and we are looking to improve for the next match."
Rostov have come out of the gate fast, streaking to an 8:4 advantage in the opening. 
16:03
We are underway with super Saturday! Catch all three now-live clashes on EHFTV — and make use of our splitscreen feature if you can't pick just one. 
Just by taking the court for their clash against FTC, CSM have hit a major milestone: their 100th match in the DELO EHF Champions League! The 2016 title winners are the 13th team in history to reach this mark, and the second Romanian team after SCM Ramnicu Valcea. 















We showed some improvements. We were able to stay focused throughout all 60 minutes [against CSKA last round]. This is an important point for us. From the beginning we believed that we could beat all of our opponents and there was no match that we didn't believe in. But now we catch our rhythm and feel even more ready to prove that.
15:51
Let's dive into some key facts about the MOTW Krim vs CSKA. As with all the round 8 fixtures, the teams met in the reverse fixture last week, with the game ending in a 21:21 draw. 
Prior to the round 7 stalemate, the teams had faced each other twice before, with each winning once. 
The draw in Moscow was the first point Krim have gained since new coach Nataliya Derepasko took the helm. It took the Slovenian side to three points where they sit seventh in group B, while CSKA are third with nine points. 
CSKA played Metz in a rescheduled round 1 match midweek, taking an impressive victory, 32:24, led by a huge 12-goal outing from Ana Gros. 
15:15
Welcome to our coverage of round 8 of the DELO EHF Champions League 2021/22 group phase — and what a day we are set to start the round with! Six of the eight round 8 matches will be played today, including the Match of the Week.
Here's your full schedule for the day: 
16:00 CET MOTW Krim vs CSKA
16:00 CET CSM vs FTC
16:00 CET Rostov-Don vs Podravka Vegeta
18:00 CET Buducnost vs Brest
18:00 CET Kastamonu vs Györ
18:00 CET Vipers vs Odense
Let's get started with some reading material: Check out our round preview below, as well as a features on Krim back Tjaša Stanko and CSM's Respect Your Talent alumni Alicia Gogirla.