EHF Champions League
Summary: Györ reign supreme against Metz; Vipers win MOTW
Round 10 of the DELO EHF Champions League witnessed two big clashes in group B, and Györi Audi ETO KC and Vipers Kristiansand emerged victorious from their respective clashes against Metz Handball and CSKA to occupy the top two places in the standings. 
19:05
Well, that is all for this weekend's coverage from round 10 of the DELO EHF Champions League. Over the weekend, we saw Györ produce a stunning attacking display to beat Metz, Vipers Kristiansand thwart CSKA's comeback attempt and Rostov-Don earn two valuable points in group A against Borussia Dortmund.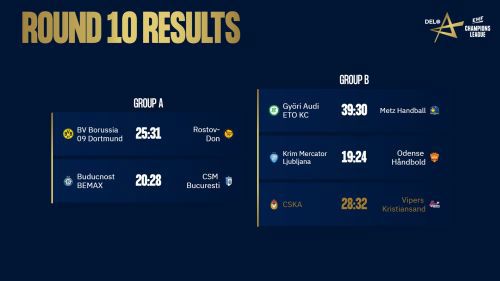 There are two round 10 matches – Kastamonu Belediyesi GSK vs IK Sävehof and Team Esbjerg vs HC Podravka Vegeta – that will now take place on Saturday 29 January, while a new date for Brest Bretagne Handball vs FTC-Rail Cargo Hungaria is to be confirmed.
18:45
The match reviews are now online as well. Click on the links below to read more about Sunday's Scandinavian double.
It was a tough game against a good opponent and we are happy to win. My team played well, we had a good preparation – it's nice to earn two points in an away game.
18:18
Here are some thoughts from the coaches after the match between Krim and Odense.
Unsurprisingly, Krim head coach Nataliya Derepasko was disappointed that her team failed to perform to their highest level in the first half.
"I would like to apologise to all the spectators and fans of our club for the disastrous first half, but I am glad that we gathered in the second half, showed that we did not forget to play handball and I hope that we will continue to do so," said Derepasko.
"During the match today, we were also under pressure when we lost Mie Højlund so we had fewer position players. We create a good difference, especially in the first half, and continuously put pressure on Krim during the game. We lost a little bit too much in the second half but in general, we are very satisfied," said Ulrik Kirkely, head coach of Odense.
18:05
Krim and CSKA have provided us with some great photos from this afternoon's matches for you to enjoy in our gallery!



















17:45
Katrine Lunde finished with a 28 per cent save efficiency for Vipers in the Match of the Week against CSKA. In some ways, that probably understates her impact. Lunde's saves early in the match provided Vipers with a solid template for the rest of the match – and the Norwegian goalkeeper was there when her side needed her late in the second half.  
17:40
Odense have completed a five-win against Krim. The Slovenian side rallied in the second half, but a 10-goal deficit at half-time was too much for them to overcome.
However, despite losing the match, it is not all bad news for Krim. Betchaidelle Ngombele produced this strike on her DELO EHF Champions League debut.
17:33
Vipers complete a four-goal victory against in Match of the Week in Russia, 32:28! After the match, Nora Mørk gives Markéta Jerábková a hug after the Czech back, who scored eight goals, received her trophy as Player of the Match.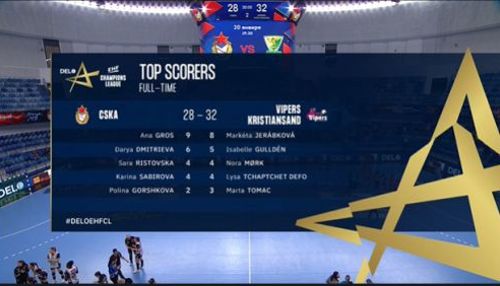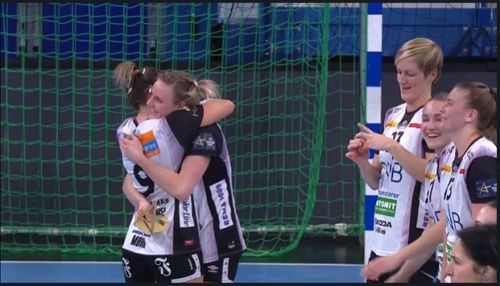 17:26
Experience is helping Vipers cross the finish line here. Two Nora Mørk penalties, a breakthrough goal from Isabelle Gulldén and a save made by Katrine Lunde have settled the matter.
17:22
CSKA are back within two goals, 27:29, and Vipers may need to find more in the final three minutes if they are to claim the two points. 
17:20
With 53 minutes played in the game between Krim and Odense, the Danish side are ahead 21:14. Interestingly, and perhaps unfortunately if you are a Krim fan, no player has scored more than two goals for the Slovenian side.
Barbara Arenhart and Althea Reinhardt both have save percentages above 40 per cent.
17:17
The goalkeeper stats are in CSKA's favour as well, but the volume of shots for Vipers is one of the reasons why they have a four-goal lead as we approach the closing stages.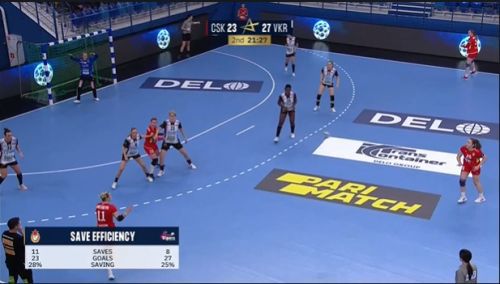 17:13
It is timeout time for Vipers. The official shooting percentages are reasonably good for both teams: Vipers (26/38) are on 68 per cent, while CSKA (23/31) are on 74 per cent.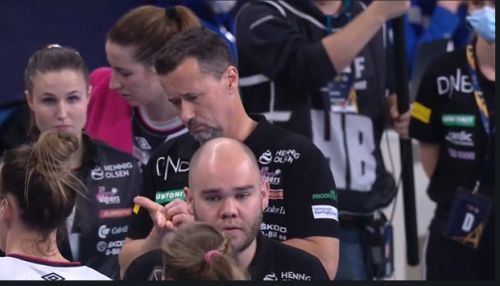 16:57
Ana Gros was doing what she does in the best first half for CSKA. With Vipers leading 20:16 after 37 minutes, the Russian side will probably need even more firepower from Gros in the remaining 23 minutes.
16:50
HALF-TIME Krim Mercator Ljubljana 5:15 Odense Håndbold
Barbara Arenhart made a strong start for Krim against Odense, but it has been one-way traffic in favour of the Danish side in the first half in Slovenia.
16:38
HALF-TIME: CSKA 13:16 Vipers Kristiansand
Despite Ana Gros scoring five goals for CSKA, Vipers Kristiansand have maintained the three-goal lead that they first took when they led 5:2 after 10 minutes.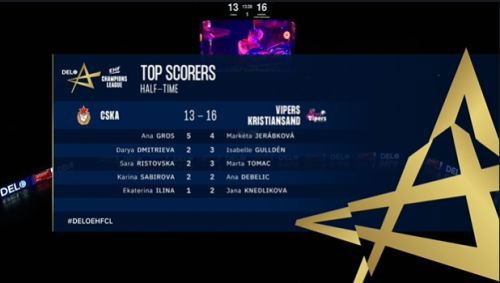 16:19
After facing Katrine Lunde in inspired form at the beginning of the match, CSKA are now finding their stride in attack. However, Vipers have a two-goal lead, 9:7, after 17 minutes.
16:00
Match of the Week between CSKA and Vipers Kristiansand is about to get underway!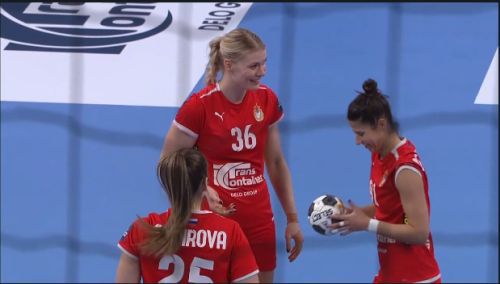 15:40
Earlier in the week, Sergey Nikolaev's interview with Darya Dmitrieva was featured on eurohandball.com. With 20 minutes to go until CSKA's clash with Vipers gets underway, it is not too late to find out more about the Russian centre back's return to handball. 
15:30
Ahead of Match of the Week, the EHF Champions League Twitter account looked at the statistics of two right wings who could feature prominently: CSKA's Sara Ristovska and Vipers' Jana Knedlikova.
Knedlikova has experience and four EHF Champions League titles in her favour, but Ristovska is only three goals behind her Czech counterpart this season.
Sunday 16 January
15:15
Good afternoon and welcome to Sunday afternoon's coverage from round 10 of the DELO EHF Champions League.
What do we have a store this afternoon? We have the Match of the Week between CSKA and Vipers Kristiansand, plus Krim Mercator Ljubljana vs Odense. Both matches begin at 16:00 CET on EHFTV.
Interestingly, the head-to-head record between CSKA and Vipers Kristiansand is level. In their two meetings in European club competitions to date, they have scored the same number of goals.
CSKA vs Vipers Kristiansand 1-0-1 (57:57) 2:2
29.05.2021: Vipers Kristiansand vs CSKA, DELO EHF FINAL4 – Semi-final 33:30 (18:12)
23.10.2021   Vipers Kristiansand vs CSKA, DELO EHF Champions League – Group B 24:27 (11:11)
20:35
That is all for this evening's live blog coverage from round 10 of the DELO EHF Champions League. The live blog will return on Sunday at 15:00 CET for two more matches – including CSKA vs Vipers Kristiansand in the Match of the Week.
20:27
Saturday's match reviews are available online for you to read. If you do not know how many goals Cristina Neagu is behind Nora Mørk in the race to become the top scorer, you will want to find out!
20:10
After Györ extended their perfect record in this season's DELO EHF Champions League to nine wins from nine matches, our poll question asks if you think they will complete a perfect season. Can they win every match that they play in Europe's top flight this season?
19:55
Enjoy the best photos from Saturday's three matches in our gallery below. Yes, it features a few celebration photos from Györ! 


















19:40
It finished a little while ago, but CSM Bucuresti have beaten Buducnost by eight goals in Montenegro. Cristina Neagu had to share the scoring honours with Buducnost's Ivona Pavicevic, as both players scored seven goals in the match.
19:34
After taking a six-goal victory against Borussia Dortmund, Rostov-Don join FTC-Rail Cargo Hungaria on 14 points in group A. With their superior goal difference, Rostov will move above the Hungarian side and sit in second place – although FTC now have a game in hand.
Grace Zaadi Deuna and Iuliia Managarova both scored eight goals for Rostov, while Dortmund's Fatos Kücükyilidiz finished with seven goals. Yara Ten Holte (14 saves) made more saves than Viktoriia Kalinina (10 saves), but Kalinina ended with the higher save percentage due to her facing fewer shots.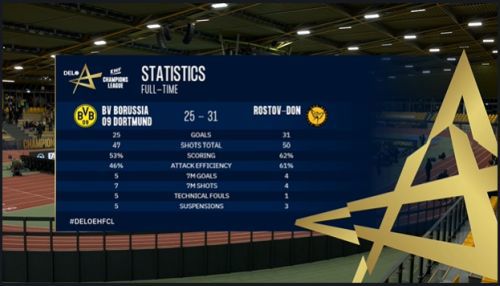 19:20
"Maximum focus on everybody because this game is not finished," says Per Johansson in a timeout in Germany. He is correct – Rostov lead 27:23 against Dortmund with five minutes to go.
Meanwhile, Cristina Neagu has been faced with some resistance against Buducnost.
19:14
With Rostov leading 26:20 with approximately nine minutes remaining, Dortmund coach Andre Fuhr calls a timeout. During the timeout he mentions that his team will now play with a seventh field player in attack as they look to close the gap.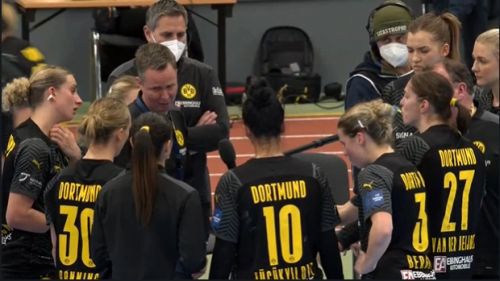 18:59
After cutting Rostov's lead to two goals (16:18), Borussia Dortmund have experienced some frustration. A suspension for Jacqueline Moreno has allowed Rostov to restore their five-goal lead at 21:16.
18:45
HALF-TIME: Buducnost BEMAX 9:15 CSM Bucuresti
Cristina Neagu has made a significant impact for CSM Bucuresti in the first half against Buducnost in Podgorica. The Romanian left back has scored six goals from eight shots on her return to Montenegro.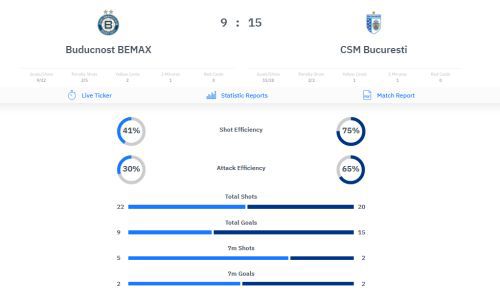 18:40
HALF-TIME: BV Borussia 09 Dortmund 12:17 Rostov-Don
Grace Zaadi Deuna continues to be heavily involved in the action in Germany. Brilliant footwork and a good finish from Rostov's centre back gave her team a 17:12 lead with less than 20 seconds remaining in the half, but there was still time for a dramatic finish on Dortmund's last attack.
From a direct free-throw, Dortmund right back Tessa van Ziyl struck Zaadi Deuna in the face. The referees had no choice but to show van Ziyl a red card.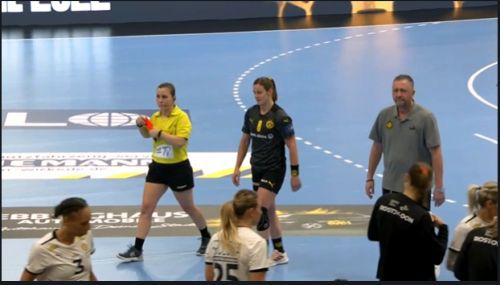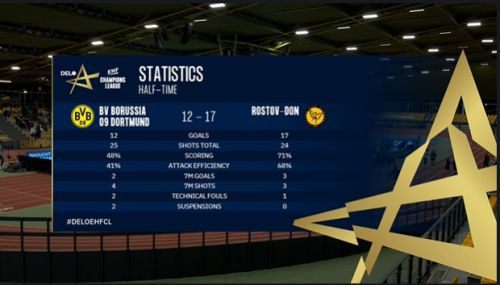 18:32
Centre back Grace Zaadi Deuna has scored four goals in the first half for Rostov-Don – but it was this assist that caught the eye the most.
18:22
Borussia Dortmund's seventh goal of the game takes the German side past the number of saves that Rostov-Don goalkeeper Viktoriia Kalinina (six saves) has produced in the opening 20 minutes.
18:13
Rostov-Don have made a good start in the first 12 minutes in Germany, leading 8:4 against Borussia Dortmund.
There is some post-match reaction after Gyor's win against Metz from Veronica Kristiansen and Emmanuel Mayonnade.
The beginning was not good for us. We didn't play as we expected to play, the opponent team was really good, even if they had missing players, and it was not possible for us to win, but we tried to fight. I hope we will have the opportunity to play against Győr in the final four again.
I feel from the players' point of view, we were nervous because we have a lot of missing players and we knew that Metz is a really strong team. We said to each other in the locker room already that we are able to do it. I want to say thank you to our fans because they made a really good atmosphere in the arena.
18:00
It was widely reported in advance of the match, but Borussia Dortmund are once again without star centre back Alina Grijseels.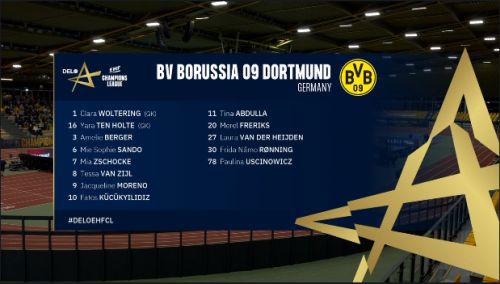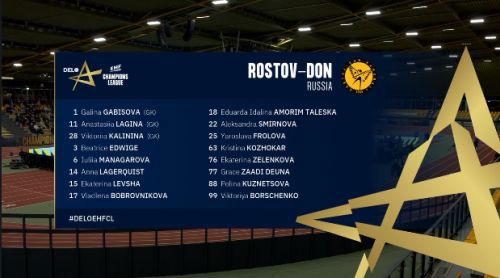 17:55
As you can see in our gallery below, the build-up for our next two games is almost complete. We will be focusing more on Borussia Dortmund vs Rostov-Don, but updates will be provided for Buducnost's match against CSM Bucuresti.










17:40
Is there a better sight in handball than Stine Oftedal breaking through a defence to score?
17:36
Not content with dominating for 55 minutes, Györ finish the match with a 3:0 run to complete a 39:30 home win over Metz. For the group B leaders, it was close to a perfect afternoon on the court in attack.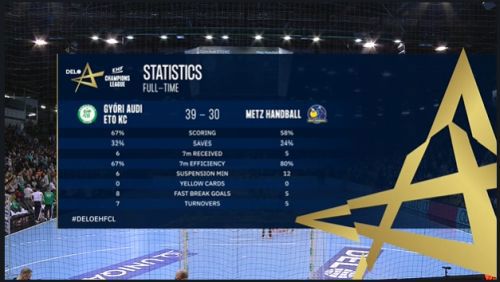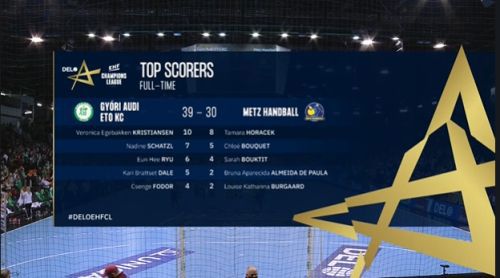 17:29
While the result is certain, Metz can be satisfied that they have been more competitive in the second half. Indeed, with just under two minutes remaining, the score in the second half is 17:17 – but the damage was obviously done in the first half.
17:24
It is undeniable that Györ's Norwegian stars have a big influence on the team, and Veronica Kristiansen, Stine Oftedal and Kari Brattset Dale account for 18 of their 35 goals – or 51.4 per cent – after 55 minutes. 
17:17
Veronica Kristiansen has already scored 10 goals for Györ, but Metz goalkeeper Ivana Kapitanovic was able to stop her latest effort from the seven-metre line. As per the official statistics, Kristiansen has scored 10 goals from 11 shots.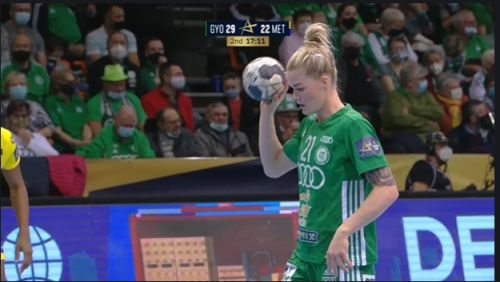 17:09
Silje Solberg has enjoyed a good start since she replaced Laura Glauser in the Györ net. Györ lead 27:20 after 43 minutes.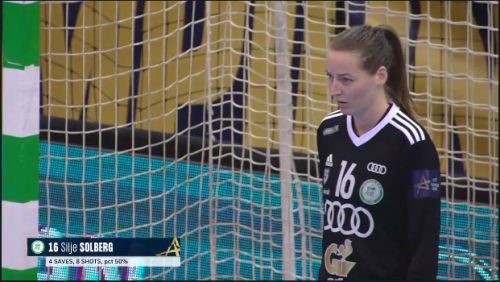 17:00
Significantly, Györ's total of 20 goals in the first half equalled their best recorded in the DELO EHF Champions League this season. The Hungarian side also scored 20 goals in the opening 30 minutes against IK Savehof in October.
In Györ's last four first halves in the Champions League, they have scored 20, 19, 19 and 20 goals. Are they an unstoppable attacking force? Of course, Györ have also netted at least 30 goals in each match this season, so Metz have a lot of work to do in the last 25 minutes of the second half.
16:50
While the half-time break is ongoing, check out one of the highlights for Metz from the first half – Bruna de Paula waiting for exactly the right moment to unleash a shot from nine metres.
16:45
HALF-TIME: Györi Audi ETO KC 20:13 Metz Handball
Tamara Horacek scores her sixth goal of the first half with a strike that sails into the top corner just before the buzzer, but Györ lead 20:13 and remain in control at the break.
Left back Veronica Kristiansen has also scored six goals in the first half and tops the scoring chart for Györ. Wings Nadine Schatzl and Csenge Fodor have scored a combined seven goals, which explains why Györ have already scored five fast break goals.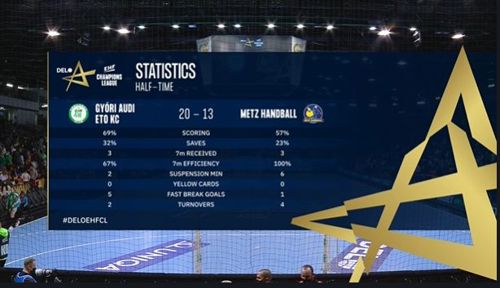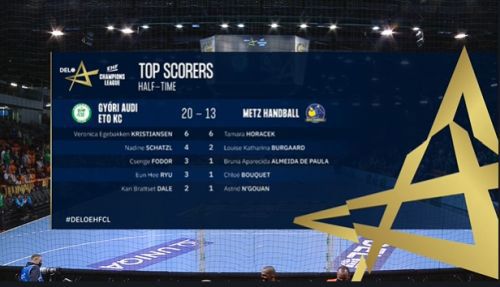 16:31
Ivana Kapitanovic stops a penalty from Eun Hee Ryu and then denies the Korean right back again in open play, but there is nothing she can do to stop Crina Pintea taking advantage of Metz's empty net off a fast throw-off. Györ lead 16:10 with five minutes remaining in the half.
16:19
Györ are simply flying along as they extend their advantage to eight goals, 11:3, after 14 minutes. A trademark breakthrough from Stine Oftedal is quickly followed by Kari Brattset Dale scoring a fast break goal – and Metz promptly call their second timeout of the half as a consequence.
16:13
It took Györ less than eight minutes to establish a four-goal lead, 6:2, and Metz coach Emmanuel Mayonnade had no choice but to call a timeout.
Györ's shooting has been accurate in the early stages. Their first eight shots were on target, and six have hit the back of the net.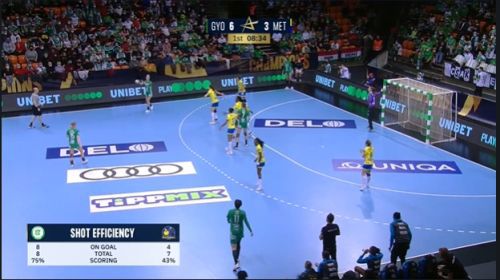 16:03
The first goal of the match has been scored by Györ's Csenge Fodor on the fast break.
Here are the team line-ups from EHFTV.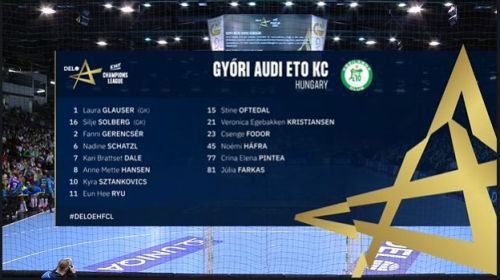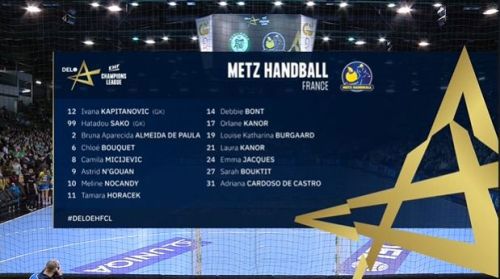 15:59
The scene is almost set in Hungary as the throw-off approaches.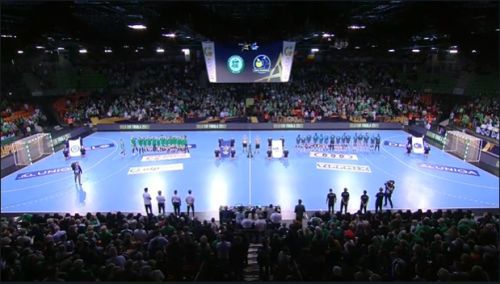 15:50
When Györ faced Metz earlier in the season in France, the Hungarian side earned a four-goal victory, 33:29, but there was only one goal separating the two sides with four minutes remaining. If Metz can stay in touch with Györ during the first half this afternoon, another tense finish might be in store.
15:30
Prior to the break for the IHF Women's World Championship, Györ won all eight matches played in group B. 
This afternoon's match between Györ and Metz is the first DELO EHF Champions League match in 2022 for both teams, and Györ head coach Ambros Martin is expecting his side to face a challenging encounter. Earlier in the week, he provided us with his pre-match thoughts.
"One of the most difficult opponents is Metz. Their players are fast and agile and they have very good backs. They play aggressively and I am sure the first match of the year will not be easy. Unfortunately, we could not prepare for the whole team, but we are going to do our best with Saturday's match. There is a lot of uncertainty on both sides, it is an unpredictable match."
Saturday 15 January
15:15
Good afternoon and welcome to our live blog coverage from round 10 of the DELO EHF Champions League group phase. Unfortunately, three of this weekend's matches have been postponed, but we still have five games on the schedule and the top four teams in group B will be in action.
Although the Match of the Week between CSKA and Vipers Kristiansand will take place on Sunday at 16:00 CET, Györi Audi ETO KC's clash with Metz Handball this afternoon is arguably just as good. 
If you have not done so already, check out the preview for more information on each of the matches.