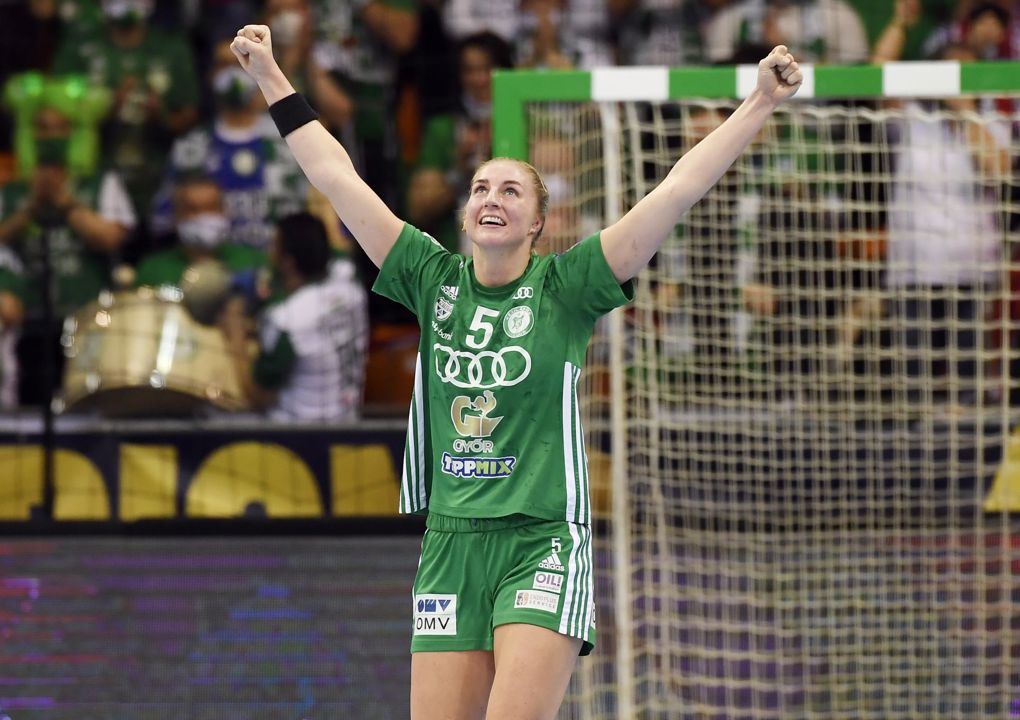 Summary: Györ maintain perfect record; Esbjerg triumph against FTC
Round 11 of the DELO EHF Champions League featured two big Danish-Hungarian clashes, and Györi Audi ETO KC and Team Esbjerg earned important victories in their respective matches in the race to reach the quarter-finals.
18:40
As our coverage of round 11 draws to a close, check out the match reviews, best photos from Sunday's action and the post-match reaction after Györ's thrilling triumph against Odense.


















Of course it is very good to be after such a good defence and I am really proud of my team. We are a bit sad but there are a lot positives we can use in the future as well, so we keep on training and going forward.
18:15
With Team Esbjerg and Györi Audi ETO KC both earning victories today, we have three reasonably long winning streaks alive in the DELO EHF Champions League.
Györi Audi ETO KC: 11 games
Vipers Kristiansand: 6 games
Team Esbjerg: 6 games
Our poll question this evening asks whose winning run you think will end first. Vipers Kristiansand and Györ scheduled to meet in round 14 of the group phase on Saturday 19 February.
Odense has a lot of good players – the biggest problem for us was how our opponent played the game. We couldn't perform our best defence and the opposing goalkeeper was able to perform really well against us. Most of the time we were fighting, sometimes we had to fight with ourselves as well. It is reality, this is the Champions League, (and) it is a really good information for us to learn from. There is a bit of time to form our game and go forward as well.
17:55
Despite losing the match, Odense conceded the fewest goals – 27 – of any team that has faced Györ in the DELO EHF Champions League this season. Odense are first side this season to restrict Györ to fewer than 30 goals in Europe's top flight.
A cursory glance at the match statistics reveals that Györ's attack percentage was their second lowest this season. Their lowest – 52 per cent – came against Krim in September.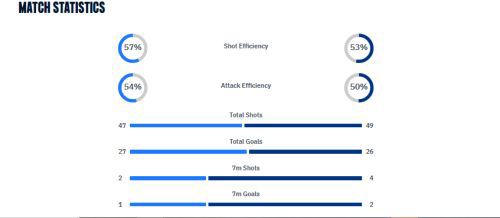 17:38
We said that Györ would need more saves from Silje Solberg in the second half. Well, Laura Glauser made the stops instead, and Györ supporters will be thankful for her contribution this evening.
17:32
Here is a look at the group B standings after Györ's 11th win of the season.
Somehow, Györ find a way to win... again! Linn Blohm scores the Hungarian side's last goal with 22 seconds remaining, and Laura Glauser makes the match-winning save from Mie Højlund's shot on Odense's final attack.
17:24
What a time for Linn Blohm to score her first goal of the match. The Swedish line player is the first to the rebound after Reinhardt saved Nadine Schatzl's shot from the wing – and Györ lead 26:25 with less than two minutes remaining.
17:20
Laura Glauser is frustrated after missing an empty net chance for Györ while Odense were a player down.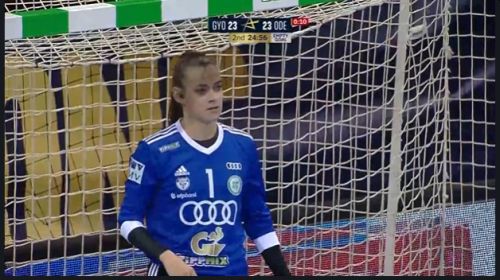 17:15
"The most important thing is the defence. We cannot give them easy goals," says Györ head coach Ambros Martin in a timeout. This is a match where every moment counts!
17:08
Laura Glauser, who has made two saves from nine shots faced, is in goal for Györ. A fast break goal from Estelle Nze Minko has put the Hungarian side back in front, 21:20.
17:05
Odense had two suspensions but Györ could not capitalise on their next two attacks. Viktória Lukács' wing shot is saved by Althea Reinhardt and then Stine Oftedal is thwarted by the Danish goalkeeper. Odense lead 19:18.
16:54
Györ have scored 35 goals or more in their last five DELO EHF Champions League matches. Whilst they are capable of producing a brilliant half at any point in time, it would take an astonishing performance in the second half to keep that particular run going. Their focus will be on trying to keep their winning streak alive.
16:46
The official statistics on eurohandball.com show that Silje Solberg made five saves from 17 shots in the first half. Györ will need more vital saves like this from Solberg in the second half.
16:40
HALF-TIME: Györi Audi ETO KC 12:13 Odense Håndbold
After a long final attack of the first half, a back court strike from Mie Højlund with virtually no time remaining hands Odense a one-goal lead against Györ, 13:12. Györ will be frustrated not to be level, especially after a suspension for Anne Mette Hansen on Odense's last attack of the first half removed the passive play warning for the Danish side.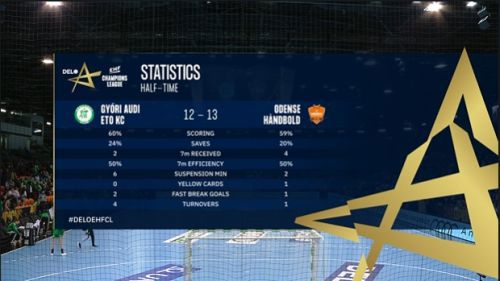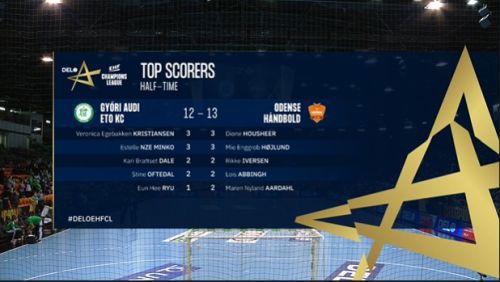 16:27
Ulrik Kirkely calls a timeout for Odense. He must be pleased that his side are two goals ahead with seven minutes remaining in the first half.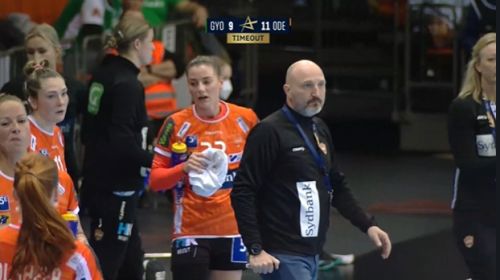 16:22
Györ were the first side to take a two-goal lead, 3:1, but Odense have fought back. On a counter attack, Mie Højlund cut through the home side's defence to give the Danish team a 9:7 advantage.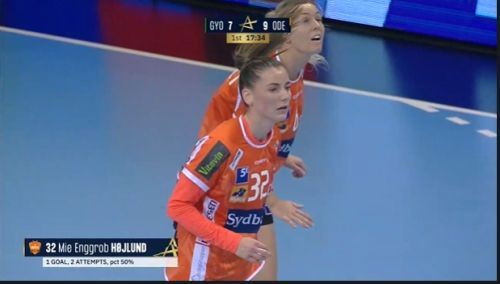 I really like the atmosphere in these games, and FTC is a really good team, so we prepared ourselves well for the match. We were nervous but we were able to step up in (the) first half.
15:58
Esbjerg's win means that it is Denmark 1:0 Hungary. However, the second of Sunday's Danish-Hungarian clashes – featuring group B leaders Györi Audi ETO KC against Odense – will throw off in a few minutes on EHFTV.
15:47
While Henny Ella Reistad deservedly collected the Player of the Match award for her outstanding performance in Match of the Week, it should not be forgotten that goalkeeper Rikke Poulsen finished with a 42 per cent save efficiency.
Esbjerg finished with a team save percentage of 42 per cent because Dinah Eckele faced one shot.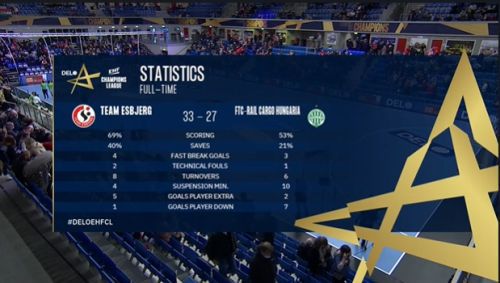 15:40
FULL-TIME
There were no shocks in our other two matches that began at 14:00 CET. Brest Bretagne and CSKA recorded wide-margin victories over Podravka and Sävehof, respectively.
15:36
As this graphic from EHFTV shows, the key period for Esbjerg in the second half was the second 10 minutes when they took control of the game.
And just to confirm from the previous update when we called Esbjerg group A leaders, the Danish side have returned to first place after this victory. They were, of course, first before round 11 began.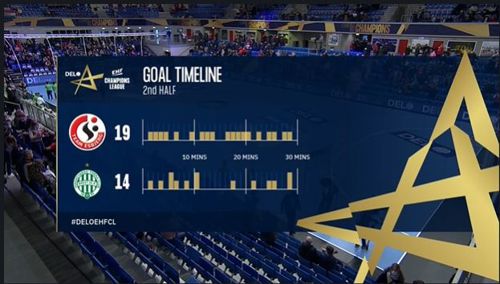 15:32
Group A leaders Team Esbjerg take a six-goal win against FTC after Henny Ella Reistad's sublime performance in the second half. 

15:23
It is all about one player on the scoresheet between Esbjerg and FTC: Henny Ella Reistad!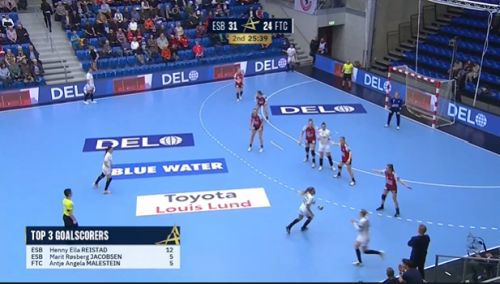 15:18
Cléopâtre Darleux was in sensational form for Brest on Wednesday night against CSM Bucuresti. Her numbers are more than solid today, and Podravka had trouble beating her from the wing in the first half.
15:15
Reistad scores another penalty to give Esbjerg a five-goal lead, 27:22, and FTC call a timeout with 10 minutes remaining.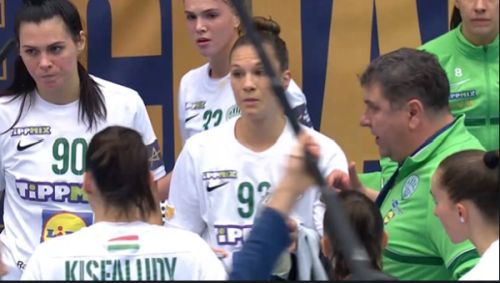 15:09
After 46 minutes played in Denmark, wing players account for 12 of FTC's 21 goals scored. However, Rikke Poulsen has just denied Angela Malestein – albeit from the seven-metre line – and Esbjerg lead 23:21.
15:04
And a fast break goal from Gréta Márton puts FTC in front, 21:20, but the lead does not last long as Esbjerg hit back with two more Reistad goals.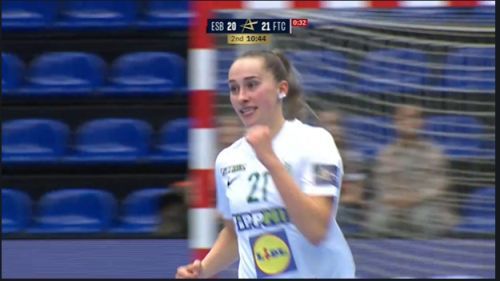 14:58
With seven minutes gone in the second half, Team Esbjerg's attack is flowing from Henny Ella Reistad. Reistad has broken through FTC's defence twice to score, converted a penalty and provided an assist for Vilde Mortensen Ingstad.
14:45
HALF-TIME
IK Sävehof 10:14 CSKA
HC Podravka Vegeta 16:17 Brest Bretagne Handball
It is also half-time in our other two games. CSKA lead by four goals against Sävehof after five goals from Ana Gros in the first half, while seven goals from Helene Fauske have given Brest Bretagne the edge in Croatia against Podravka.
14:40
HALF-TIME: Team Esbjerg 14:13 FTC-Rail Cargo Hungaria
A half of two halves ends with Esbjerg holding a one-goal lead over FTC in Match of the Week. FTC fought back from an 11:6 deficit to leave the match at 13:13, but Sanna Solberg-Isaksen's fourth goal of the half shortly before the break has given Esbjerg a slender advantage after 30 minutes.

14:35
Sävehof were level with CSKA at 9:9 after 17 minutes. While CSKA have now taken control on the scoreboard, a goal like this from Ellenor Nilsson shows why the Swedish side have given CSKA a tough challenge in the first half.
14:25
Rikke Poulsen is now up to eight saves after 24 minutes. Here is the double stop that helped Esbjerg earn their first significant two-goal lead of the match.
14:20
Esbjerg are creating a lot of fast break opportunities as a result of their defence and Poulsen. Indeed, despite the Danish side enjoying an 11:6 lead after 17 minutes, there is a feeling that their advantage could — or should — be even bigger. 
14:12
Esbjerg have a 6:4 lead against FTC after 10 minutes in Match of the Week. Goalkeeper Rikke Poulsen has already made five saves for the Danish side.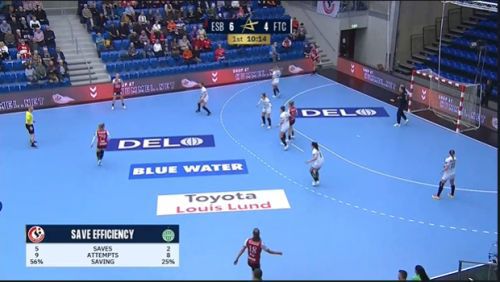 13:45
Brest Bretagne's warm-up for their away match against Podravka Vegeta is underway. The French side could join fourth-placed CSM Bucuresti on 12 points in group A. 
13:35
The EHF Champions League Twitter account highlighted the statistics of two star backs who will feature in Match of the Week: Esbjerg's Henny Ella Reistad and FTC's Emily Bölk. In the first meeting between the two teams this season, Reistad scored 10 goals and finished as Esbjerg's top scorer. Will the Norwegian centre back shine for her Danish club again today? We will find out shortly!
13:25
An interesting fact ahead of Match of the Week is that Esbjerg and FTC have an even head-to-head record. In their previous five meetings in European club competitions, the record stands at two wins for Esbjerg, two wins for FTC and one draw. 
Unlike some head-to-head records, all of the matches have been played fairly recently (since 2020).

13:15
Good afternoon and welcome to Sunday's live blog coverage from round 11 of the DELO EHF Champions League.
Four matches are taking place this afternoon, but it is fair to say that most of the attention will be on the two Danish-Hungarian clashes. 
GROUP A
MOTW: Team Esbjerg vs FTC-Rail Cargo Hungaria (14:00 CET)
HC Podravka Vegeta vs Brest Bretagne Handball (14:00 CET)
GROUP B
IK Sävehof vs CSKA (14:00 CET)
Györi Audi ETO KC vs Odense Håndbold (16:00 CET)
Saturday 22 January
20:25
The live blog will return at 13:00 CET on Sunday for four matches from round 11 of the DELO EHF Champions League.
Of course, Match of the Week between Esbjerg and FTC at 14:00 CET will be the feature match. Ahead of the match, you can read an interview with Mette Tranborg, one of Esbjerg's star players.
20:05
For more about CSM's hard-fought victory against Borussia Dortmund, Rostov's win against Buducnost or Vipers Kristiansand's winning run, check out our match reviews.
20:00
As Vipers Kristiansand finished the evening with a commanding victory against Kastamonu, it is only right that we share Marta Tomac's strike in the second half.
The best photos from Saturday's matches are also available in a gallery for you to enjoy!
















19:45
What have today's three results meant for the group standings? 
After beating Buducnost BEMAX, Rostov-Don are top of group A. However, Team Esbjerg will have the chance to overtake them when they meet FTC-Rail Cargo Hungaria in the Match of the Week on Sunday.
CSM Bucuresti remain in fourth place in group A after their win against Borussia Dortmund. Brest Bretagne, who have two games in hand on CSM, can overtake the Romanian side on goal difference if they win by 10 goals against Podravka Vegeta tomorrow.
Vipers Kristiansand are now two points clear of Metz Handball in the battle for second place in group B. Metz's scheduled game this weekend against Krim had to be postponed.
19:33
One final fast break goal, scored by Sunniva Amalie Naes Andersen, seals an 11-goal victory for Vipers Kristiansand in Turkey against Kastamonu.
If you look at the statistics on the EHFTV graphic, the main difference between the two teams was the total number of shots they had.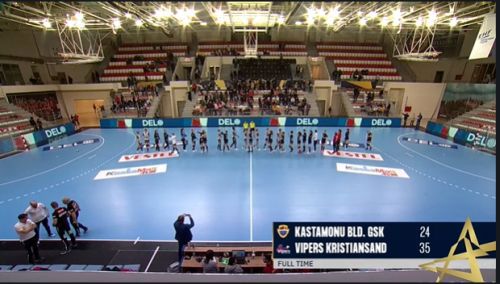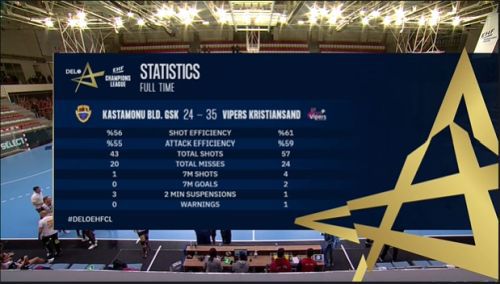 19:24
Jovanka Radicevic teeing up Majda Mehmedovic for an in-flight goal is worth watching! 
19:17
Ole Gustav Gjekstad calls a timeout for Vipers with just over eight minutes remaining. They are on course for a comfortable victory, but will they reach the total of 39 goals that they scored in their first match against Kastamonu? It looks unlikely...

19:10
Interestingly, all bar one of the court players on the team sheet for Vipers have scored in the match.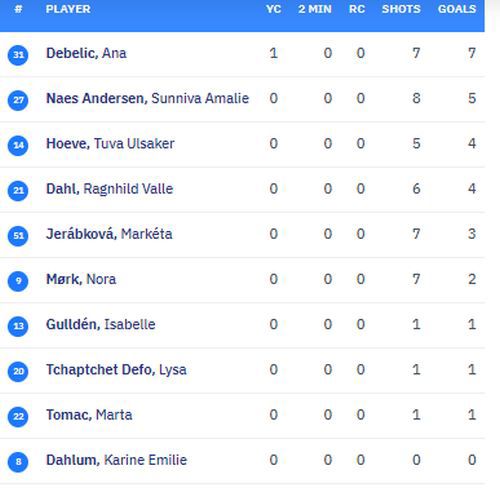 19:07
Ana Debelic continues to make the most of the chances that she gets on the line for the Vipers. The Croatian line player is now on seven goals from seven shots after 44 minutes. For Kastamonu, who trail 27:19, Jovanka Radicevic also has a 100 per cent shooting record – five shots from five goals.
18:50
While the second half is now underway in Turkey, check out the post-match reaction from our earlier matches below. Notably, Rostov-Don head coach Per Johansson praised the effort of Buducnost's young players.
It's a special feeling for me to play with a team like Buducnost because I was in Montenegro for many years. I am full of respect for what they did to us today. They came here and believed they could do something — they put us in big trouble, especially in attack. They performed like the players of my team who are 10 years older. I'm happy to see these young girls performing on this level.
It was a good fight from our side in the first half. We did everything to be so close to this big team. (The) girls fought with all they have right now. In the second half we started to make technical mistakes and Rostov-Don ran the counter attacks and scored some easy goals.
18:40
HALF-TIME: Kastamonu
Belediyesi GSK 12:18 Vipers Kristiansand
Kastamonu's fortunes in attack have improved after scoring just once in the opening eight minutes, but Vipers Kristiansand have a clear six-goal advantage at the break in Turkey. 
Sunniva Amalie Naes Andersen and Ana Debelic have scored four times each for the Norwegian side, and goalkeeper Katrine Lunde is officially on a 37 per cent efficiency after making seven stops.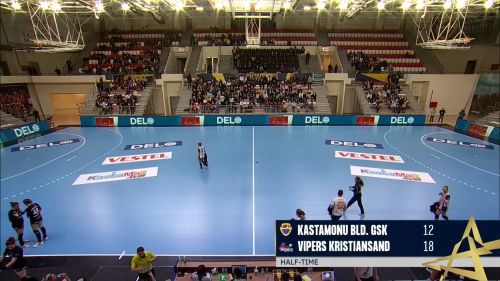 18:28
Markéta Jerábková collected the Player of the Match award when Vipers beat CSKA last Sunday. As part of Vipers' good start, the Czech back impressively found the back of net from the back court in the eighth minute. 
18:16
Kastamonu are playing with an extra attacking player in most of their attacks. They have just picked up a suspension for an incorrect substitution, and the tactical ploy may leave them exposed against Vipers' fast breaks.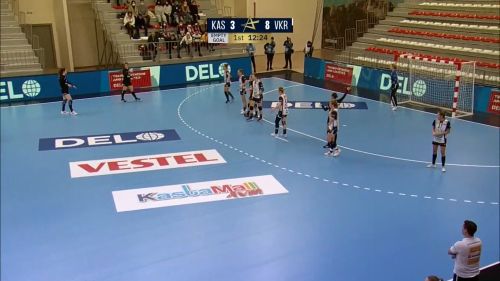 18:09
After a seven-minute wait for a goal, Kastamonu score on consecutive attacks. However, Vipers have already established a 6:2 lead after nine minutes.
17:59
Our attention now switches to the group B match in Turkey between Kastamonu, who are still without a win in the DELO EHF Champions League, and Vipers Kristiansand.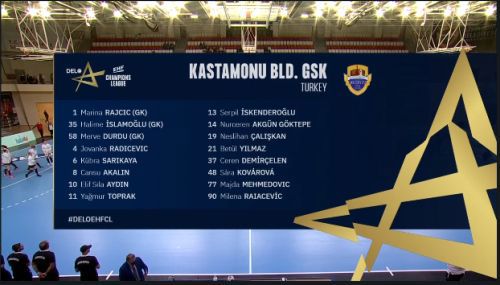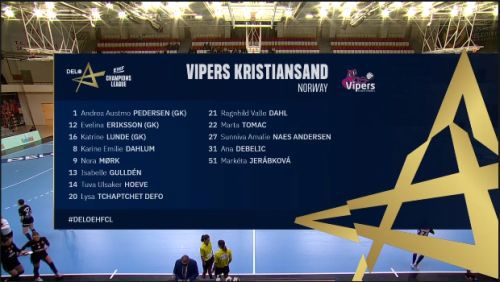 Congrats to Adi and his team! I liked the way they played. For us it was a great success of being a hard team to beat. I believe we could have taken one point but in the end they played better. We go home satisfied with the game as we have a young team. We really liked the atmosphere in the hall.

17:45
On second viewing, this goal from Iuliia Managarova was more about her moving around Buducnost's defence to take advantage of the space than sneaking behind, but her scoring burst in the second half was pivotal to Rostov settling the outcome with a lot of time of remaining.
17:40
We have mentioned Neagu plenty already this afternoon – and here is a taste of Neagu doing what she does best for CSM Bucuresti.
17:35
11 goals from Cristina Neagu, seven goals from Elizabeth Omoregie... and CSM secure the two points in Romania. But there is no doubt that they had to work hard to hold off Borussia Dortmund's determined effort in the second half.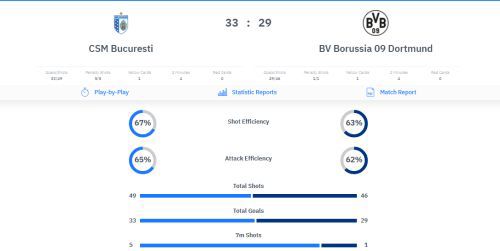 17:32
After an improved performance in attack in the second half, Rostov-Don seal a 10-goal victory over Buducnost BEMAX.
Vladlena Bobrovnikova and Kristina Kozhokar both netted five goals apiece for Rostov and Nikolina Vukcevic scored the same number for Buducnost.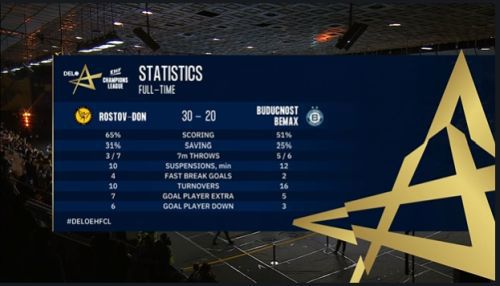 17:26
Elizabeth Omoregie, who has already profited from Dortmund's gamble by scoring an empty net goal, was fouled while Dortmund had no goalkeeper in place. Unsurprisingly, the referees awarded CSM Bucuresti a penalty, Neagu stepped up and scored, and it would appear that the Romanian side are going to collect the points.
17:24
Borussia Dortmund are opting to use a seventh court player in attack in the closing minutes as they try to level the score against CSM Bucuresti. 
17:14
Rostov's lead now stands at 11 goals. It is safe to say that the Russian side are heading back to the top of group A – at least for this evening.
Despite Rostov's dominance, Buducnost goalkeeper Armelle Attingré has played very well.
17:10
CSM Bucuresti certainly began the second half against Borussia Dortmund with renewed intent in attack, and it paid off as they increased their lead to five goals, but they only have a two-goal advantage, 25:23, with less than 13 minutes remaining.
17:05
An almost trademark fast break goal from Iuliia Managarova is followed by her sneaking behind Buducnost's defence to score from six metres, and Rostov-Don now have a six-goal cushion, 18:12, after 40 minutes.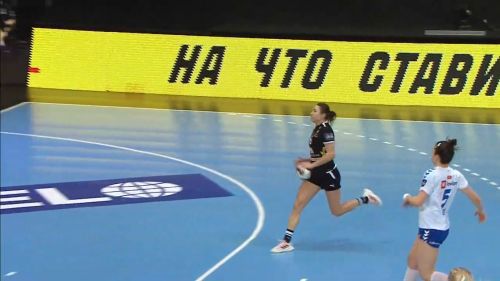 16:54
Siraba Dembele Pavlovic scored four goals in the first half for CSM Bucuresti, including this fantastic lob from the wing.
The second half is underway in Bucharest – and Neagu has opened the scoring for the Romanian side.
16:44
HALF-TIME: Rostov-Don 12:9 Buducnost BEMAX
Some of the important statistics – scoring and save percentages – show that the first half has been fairly even between Rostov-Don and Buducnost, but the Montenegrin side's errors in attack explain why Rostov have a three-goal lead after a low-scoring first period.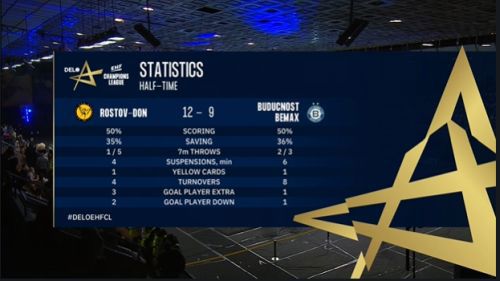 16:42
HALF-TIME: CSM Bucuresti 16:14 BV Borussia Dortmund
CSM Bucuresti had a six-goal lead (10:4) after 19 minutes against Borussia Dortmund, but despite Cristina Neagu scoring five goals in the first half, the German side have closed the gap significantly on their Romanian rivals after 30 minutes. Frida Nåmo Rønning has scored four times in the first half, and her last goal that just beat the buzzer leaves the second half wide open.
16:31
As the first half has progressed, Buducnost's success in attack has largely dried up – but they did start the match with Ivona Pavicevic finishing off a fine move.
16:27
Rostov have only scored one goal from four attempts from the seven-metre line, but a breakthrough goal from Grace Zaadi Deuna gives them an 8:6 lead and prompts Buducnost to call a timeout.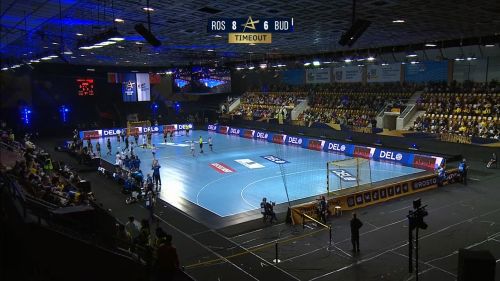 16:18
With 15 minutes gone in Romania, CSM Bucuresti lead 8:4 against Borussia Dortmund. And which player has scored four of CSM's goals? Cristina Neagu, of course.
16:11
A penalty from Matea Pletikosic for Buducnost had given the Montenegrin side the first two-goal lead of the afternoon, 3:1, but Rostov have subsequently drawn level first at 3:3 and then 4:4.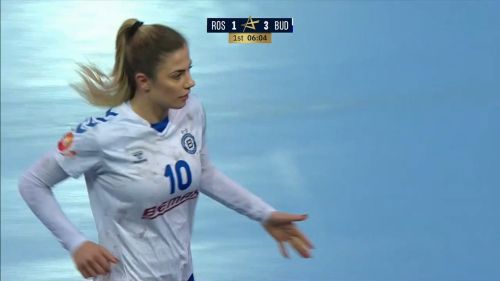 15:53
The arena lights are temporarily dimmed, and pre-match introductions are underway ahead of Rostov's clash with Buducnost in Russia.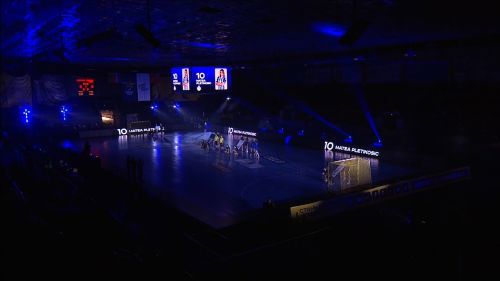 15:30
Welcome to the live blog for round 11 of the DELO EHF Champions League. We have three interesting matches taking place today, and here is the schedule.
GROUP A
Rostov-Don vs Buducnost BEMAX (16:00 CET)
CSM Bucuresti vs BV Borussia Dortmund (16:00 CET)
GROUP B
Kastamonu Belediyesi GSK vs Vipers Kristiansand (18:00 CET)
If you have not done so already, check out the full preview for round 11.