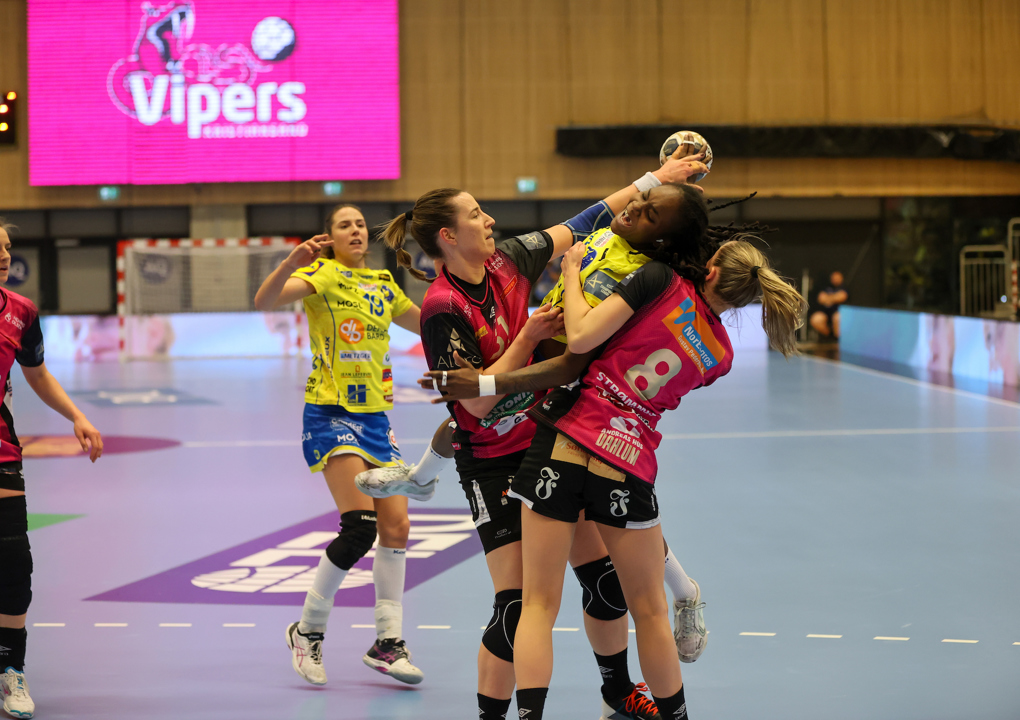 Summary: Metz win MOTW; Esbjerg book quarter-finals
Round 12 of the DELO EHF Champions League 2021/22 saw eight matches. Saturday featured the Match of the Week Vipers vs Metz, won by the French side.  
20:24
That's a wrap on Saturday's DELO EHF Champions League live blog coverage! Round 12 concludes with another three games — all starting at 16:00 CET. All live on EHFTV: 
CSM Bucuresti vs Podravka Vegeta
CSKA vs Györ
Odense vs IK Sävehof
20:19
We are coming to the end of our live blog coverage of day one of round 12 — and what a day it was! 
While Metz secured an important victory in the MOTW, where back Louise Burgaard was named Player of the Match, Team Esbjerg were booking their quarter-final berth with their victory over Buducnost. 
Earlier in the evening, we saw FTC salvage a draw versus Rostov to remain in the battle for the direct quarter-final qualification, while Brest also enhanced their chances of taking one of the coveted tickets direct from the group phase to the quarter-finals. For Krim, Saturday night's win was about staying in the play-off race, which they did with their strong showing against Kastamonu. 
Read about all the matches in the reviews below!  
I am proud of my players. We are a young club, and with this victory we have secured the first place in the group and it is a great success. That result gained significance when it is known that we achieved it against a great European club such as Buducnost, which is now led by legends such as Bojana Popovic and Maja Savic.

















I'm a Scandinavian player, and I know how tough it is to play against Norwegian teams. In the French league we are not as used to facing aggressive teams like Vipers. Despite our good start, we knew they would come back and make a game of it, and we had to play good for the whole game to secure the win.
Metz finish the job and take the points from the MOTW after hardly allowing Vipers any hope throughout the 60 minutes. The victory makes it two from two for Metz against Vipers this season, and moves the French team up level with Vipers on 16 points. 
Due to owning the head-to-head against Vipers, Metz therefore jump into second place on the group B table while Vipers fall to third.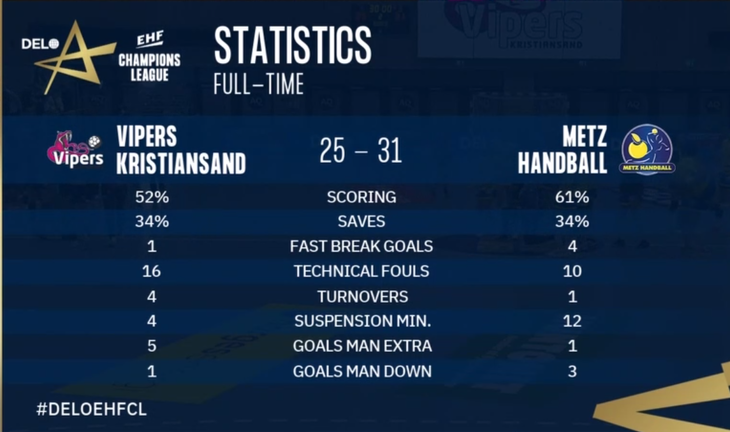 Buducnost avoid a defeat as clear as their first to Esbjerg this season, but it is a loss nonetheless. The Montenegrin team stay on two points while at the top of the table, Esbjerg now count 21 points and are clear group leaders.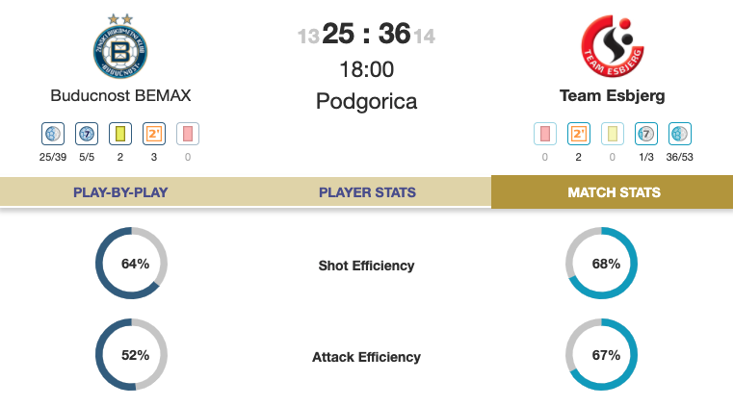 19:13
Metz can feel Vipers close behind as we near the final stages in the MOTW. With 12 minutes to go, the French team lead 25:22 as Marketa Jerabkova nets for the Norwegian side. 
Metz have been powered by their back court, with six goals apiece from Louise Burgaard and Tamara Horacek, while Meline Nocandy has contributed five. 
When the teams met earlier in the season, Metz took the points with a 23:18 win. Tonight's clash is clearly higher scoring, and looks quite likely to end with a similar score line and victor. A win would represent Metz's fifth in now eight official games against Vipers.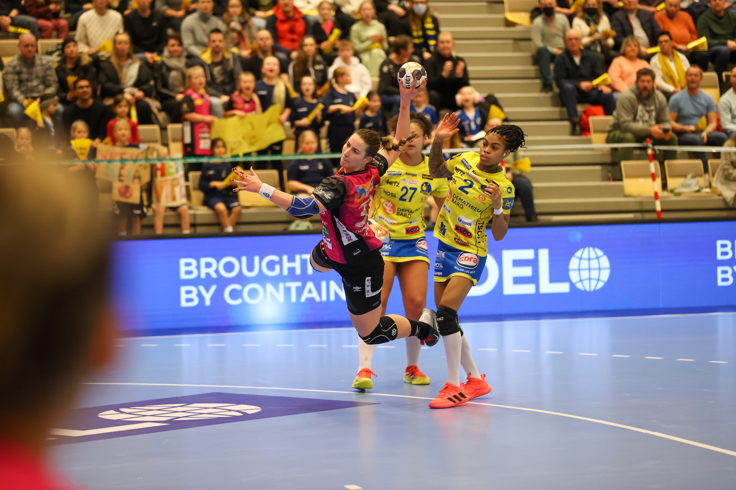 19:06 
Buducnost are looking at setting an uneviable club record at full-time against Esbjerg — a loss will be their 11th this season and represent a new record for the Montenegrin side in that respect. 
The reverse fixture between the sides saw Esbjerg secure their biggest win of the season, 35:20. The Danish team still have plenty of time to increase the distance further and make tonight's result something similar. 
Prior to the match, Buducnost coach Bojana Popovic said, "We have to minimise the mistakes we made in the first game, although we know it will not be easy, because we are playing against a great team led by (Henny) Reistad, who is one of the best players in the world."
Reistad is indeed one of Buducnost's biggest problems tonight, with seven goals so far. But the top scorer so far is Reistad's teammate Kaja Nielsen, with eight strikes. On Buducnost's side, Ivona Pavicevic has netted six. 
19:01
Both away teams have stretched their leads as the second halves progress in Norway and Montenegro. 
In the MOTW, Metz have increased their advantage to six goals, 23:17 in the 39th minute, in a match dominated by attack as neither side's defence or goalkeepers have managed to stop much coming their way so far this period. 
At Buducnost, Esbjerg have a clear upper hand now, turning the one-goal half-time distance into a 25:18 lead in the 43rd minute. 
Below, see how Vipers had the last say in the first half to close the gap temporarily. 
After fighting back from an early deficit, Vipers have lost touch with Metz again and go to the break in the MOTW with a clearer score line against them again. It is a very up-and-down match for the home side, who were behind by seven goals just outside the last two minutes of the half before closing the gap again. 
Can the Norwegian team come back again or will Metz hold them off?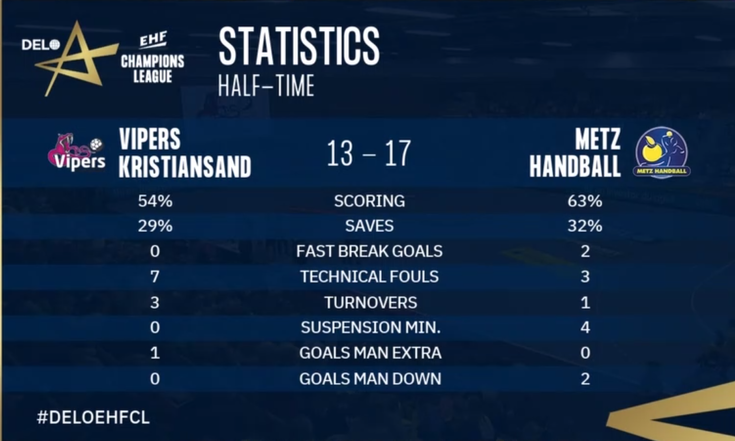 A very tight battle is unfolding in Montenegro, where Esbjerg only just have the edge at the break. The Danish team have much more on the line than their hosts, who cannot progress to the next stage of the season. Meanwhile, Esbjerg are fighting for second spot in the group and an automatic quarter-final qualification.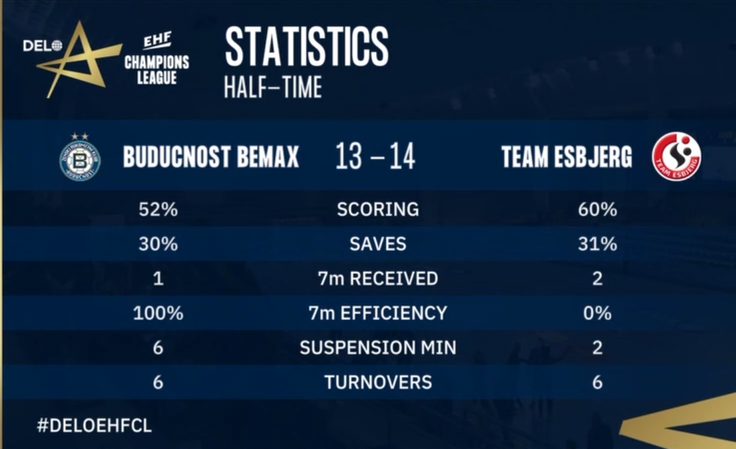 18:25
With six minutes to go until half-time, Esbjerg are narrowly in front versus Buducnost, 11:9. 
Buducnost keeper Armelle Attingré has made her mark on the match, with five saves at a rate of 50 per cent. 
18:21
After a slow start, Vipers are now in the fight for the MOTW points, as they trail Metz closely, 7:9 in the 17th minute. It is a phenomenal comeback from the Norwegian side, who did not score until the 10th minute and saw Metz net six unanswered goals before that. 
Line player Ana Debelic was the main driver in Vipers' fight back, with four goals from four attempts in just six minutes.
18:05
We are underway with today's last two matches! In the MOTW in Norway, Metz have opened strong and hold a 3:0 lead after four minutes. The visitors also have the upper hand in Montenegro, with Esbjerg in front 3:1 against Buducnost. 
Before we forget the previous three clashes completely, take a look at how FTC secured their draw against Rostov, thanks to a cool-headed Angela Malestein.
17:48
Two matches are set to close Saturday's DELO EHF Champions League action in just over 10 minutes: 
As usual we have plenty of special content surrounding the MOTW for you to enjoy. Below, read the feature on Vipers' Croatian line player Ana Debelic as she reflects on the current season and the past years in her career. Also be sure to check out the Breakfast for Champions episode from this morning, starring Vipers back Isabelle Gullden. 
It was a good game and a good day for us. We have been in good shape since the beginning of January and we we're going to continue like this. We lost at the start of the season in Dortmund and we wanted to take our revenge tonight. At the start of the second half, we lost a lot of balls. It was difficult, but we fought and we were able to stay calm.



































We played as a team and we played very well from the beginning. Last 15 minutes, as the coach said, we lost a little bit of concentration but the most important thing is that we won. Now we need to forget this game and concentrate on the last three matches, which are going to be important for us, so we have to be aware that is going to be hard and we have to fight until the end.
Krim earn a big win and a critical set of two points that takes them temporarily past IK Sävehof on the group B table, where they now sit sixth with seven points. The Swedish team will play their round 12 match on Sunday and will have the chance to pass Krim again before the end of the weekend, but Krim still have a game in hand. 
Kastamonu remain last in the group and are the only team yet to earn any points this season. 
And a last Katarina Krpez-Slezak tally: the wing finishes the match with a huge 13 goals.
FTC wing Angela Malestein has the last say on a penalty and secures the drawn result with seconds to go. With the split points, Rostov-Don stay in second place with 17 points now, while FTC also stay where they are in fourth, now with 15 points.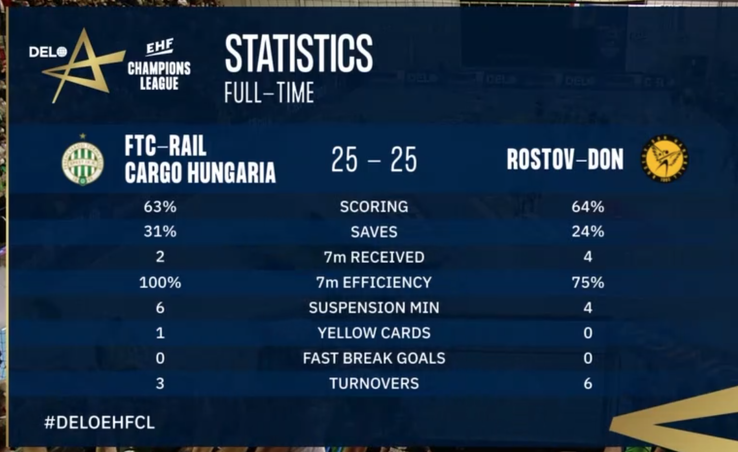 Brest take a clear win against Dortmund that keeps them in third place on the group A table, with 16 points now. Dortmund remain on nine points but are safely in sixth with Buducnost and Podravka both several wins behind.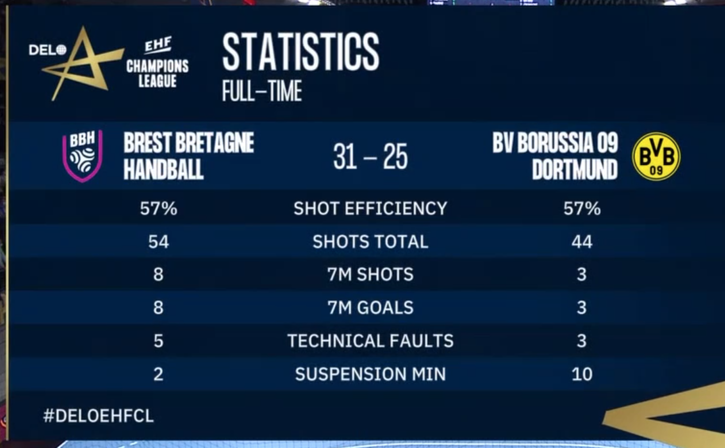 17:23
At Brest and Krim, the home sides are set to celebrate big wins, with minutes on the clock.
So it's all about FTC vs Rostov, where we still have a match on the edge, with the Russian team leading 24:23 inside the last three minutes. 
FTC hope to grab the upper hand and take the points in these final minutes, following two straight losses in the competition. Their last victory was in early January against Buducnost.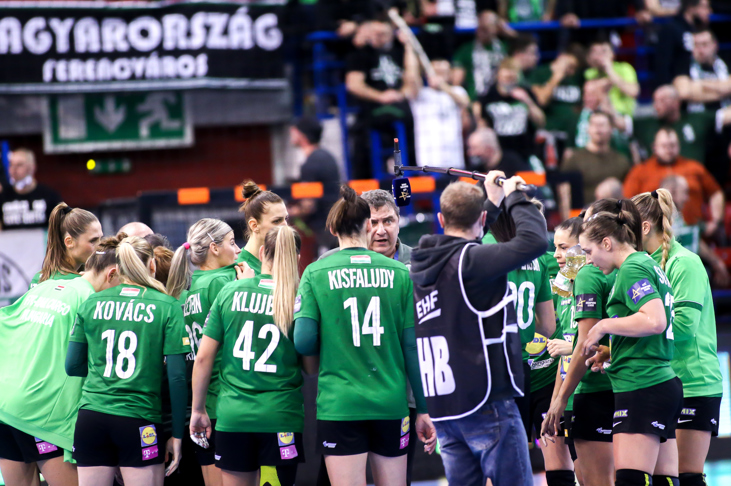 17:08
As we sit near the 45-minute mark in the three matches live now, Brest and Krim still hold clear leads over their visitors — Brest are up 24:18 against Dortmund while Krim have stretched their advantage to 27:18 against Kastamonu. 
Katarina Krpez-Slezak is set to be the clear top scorer out of all three games currently underway, with her tally now at 12 for Krim. 
In Hungary, a much closer battle is taking place, with FTC and Rostov trading goals and neither able to pull away by more than one. It's 20:19 for FTC in the 47th minute.
These two points are particularly important for fourth-ranked FTC, as they would help to put some distance betwen the top five sides in the group and those below. 
16:47
When Brest and Dortmund met in Germany, the match ended with a 30:27 win for the home side. The seven-goal distance at half-time is therefore quite a surprise, but shows the impact of both the French team's home arena and Dortmund's missing back Alina Grijseels, who scored nine in the reverse fixture. 
Although Brest have a solid lead, the German team have had their bright moments. Goalkeeper Madita Kohorst is having a strong game, with seven saves in the first 30 minutes — including the spectacular one below. 
Brest also go to the break looking comfortably on their way to a victory, leading Dortmund by seen goals. 
Despite their decisive advantage, Brest are having some difficulties, having taken 30 shots and scoring at a low efficiency — especially for a team with such a lead.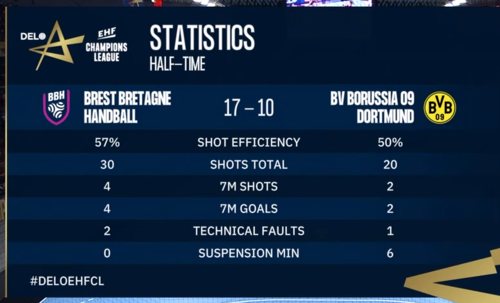 Krim look well on their way to an important two points with a commanding advantage at half-time against Kastamonu. 
The Slovenian side were led by a sharpshooting Katarina Krpez-Slezak in the first half, as she netted nine goals.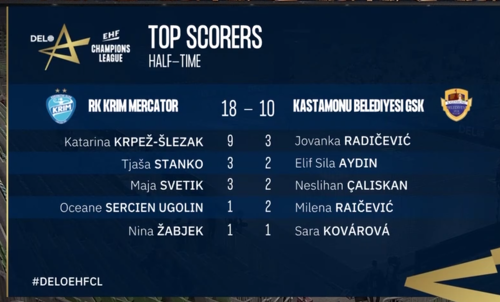 Rostov fight hard to come from behind the whole first half and are rewarded with a level score at the break in Hungary.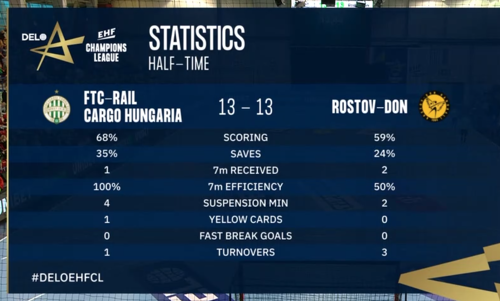 16:21 
Over in Hungary, Kinga Janurik is also having a great day in goal, having made six saves at 43 per cent as her side nurse a narrow lead, 9:8. 
The difference between the posts is the difference in score line as FTC just hold the edge over Rostov. 
16:17
Roughly 15 minutes in to all three matches we have the home sides with the upper hand. FTC have the narrowest advantage, 7:5 against Rostov, while Brest are in front 9:4 against Dortmund and Krim lead Kastamonu 9:5. 
A great goalkeeper battle is unfolding at Krim, where Barbara Arenhart has made four saves at 44 per cent for the Slovenian side. In Kastamonu's goal, Merve Durdu has stopped five shots at a rate of 42 per cent. 
16:02
Starting whistle at FTC, Krim and Brest and round 12 is underway. 
Catch all three games live on EHFTV or follow the live tickers here:














15:45
The third and final encounter making up the 16:00 CET schedule is Krim vs Kastamonu, where we see the Slovenian side fighting hard for a play-off spot while Kastamonu are still waiting for their first points. The Turkish team can no longer proceed to the next stage. 
Krim have five points and are ranked seventh in group B. They are six points behind fifth-ranked Odense, but just one point behind IK Sävehof. 
Krim were the victors in the reverse fixture between the sides, 24:23. Their coach Nataša Derepasko said, "I am glad that we are all healthy now and we can prepare for the match. I agree that we have a very important match ahead of us and it will be seen on Saturday whether we are ready to further compete in the DELO EHF Champions League."
On the other side, Kastamonu are entering their second game with new coach Hakan Günal, who replaced Costica Buceschi. 
15:31
Also throwing off at 16:00 CET, Brest vs Dortmund. Brest have recorded victories in five matches out of five at home this season and come into this clash on the back of a three-game winning run. Dortmund hope to improve their away record as they visit France, following three defeats out of four away games. 
Dortmund face an especially tough task as they miss top scorer Alina Grijseels, who is out due to injury. Grijseels has netted 63 times and is fifth in the overall scorer race. 
It was a huge surprise when we won in Rostov-don in September, but it gives us faith that we can beat them again.
15:24
Let's take a closer look at the matches getting round 12 started in just over 30 minutes. 
FTC are looking for their second victory against Rostov-Don this season, after beating the Russian side by one goal on their own court. FTC are two points behind their visitors on the group A table, with 14 points to Rostov's 16. 
The Hungarian team had a great start to the season as they were unbeaten across the first seven matches, before losing three of the last four. But they are still unbeaten at home. 
15:10
Welcome to our live blog coverage of round 12! It's a big Saturday of DELO EHF Champions League, with five games coming up, including the Match of the Week. 
At 16:00 CET, the round opens with three clashes:
FTC vs Rostov-Don
Krim vs Kastamonu
Brest vs Dortmund
At 18:00 CET, the day's action wraps up with another two games:
MOTW Vipers vs Metz
Buducnost vs Esbjerg
While we wait for throw-off, brush up on all the key facts surrounding the matches with our round preview below.