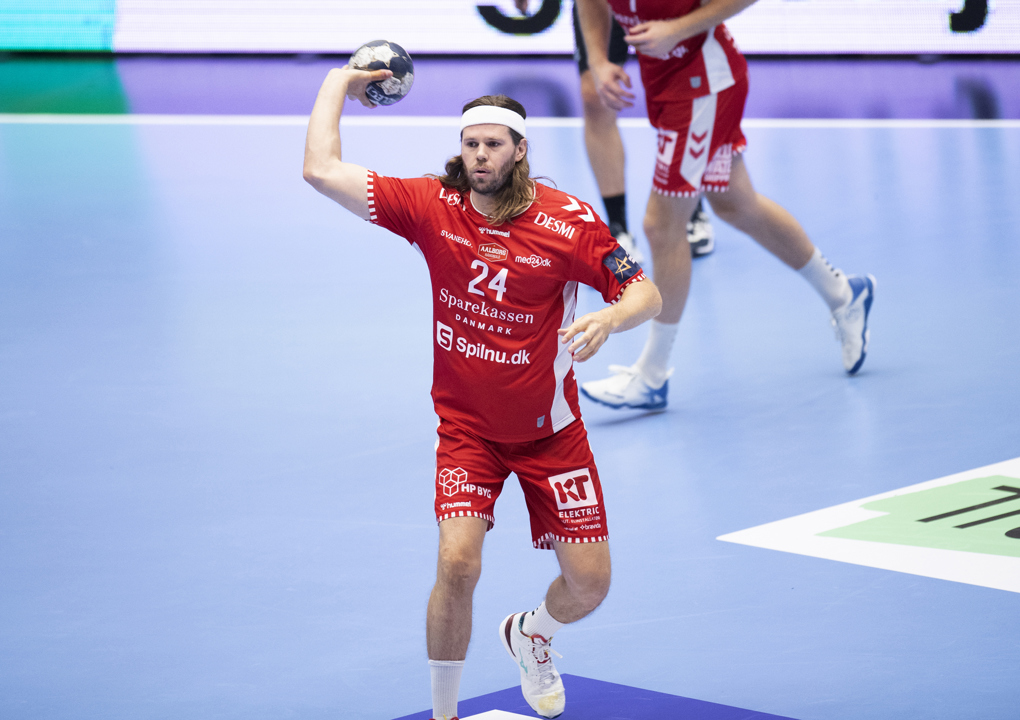 Summary: Hansen's 1,000th goal highlights exciting opening round
The three-month summer break for Europe's top-flight handball competition has ended this week as the Machineseeker EHF Champions League 2022/23 got underway with eight matches in round 1 on Wednesday and Thursday.
Thursday 15 September
23:15
And we say good night as we finish our coverage of round 1 of the Machineseeker EHF Champions League. Tune in this weekend for the EHF Champions League Women, and come back next week for round 2!


























23:05
Need more information about today's matches? Check our reviews below!
22:55
As we wind down our coverage for the night, check out the highlights from today's matches
21:17
FULL-TIME: Orlen Wisla Plock 27:23 FC Porto
Once Porto player Plaza Jimenez received a red card and Perez Arce scored off a rebounded seven-metre to make it 26:23 with less than two minutes left, Porto's fate was sealed. Porto were able to cut the lead to one at 23:22, but could not the final step to equalise. 
Gonzalo Perez Arce led Wisla in scoring with seven goals, while Diogo Oliveira led Porto with five. Plock goalkeeper Kristian Pliipovic had 13 saves from 36 shots.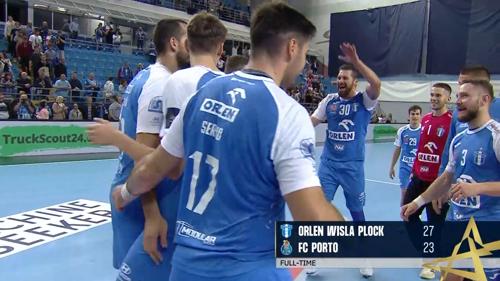 22:11
Porto now take their final timeout, now down by three with less than four minutes remaining, then proceed to score with a wonderful spin shot by Salina.
22:08
Porto call a timeout, right before their players make a breakthrough. That could be costly as Porto fail to score and tie the game after the timeout is over.
22:00
Some sloppy play from Plock have allowed Porto an opportunity to get back into the game, and Porto have taken advantage, cutting the lead to one, 21:20. Plock coach Xavi Sabaté has called a timeout, with Tim Lucin scoring seconds afterwards.
21:50
Porto cut the deficit to three with a counterattack, after which a Plock turnover gives them a chance to cut the deficit further, but a poor shot straight into the goalkeeper ends that chance.
21:35
Here's what SC Magdeburg coach Bennet Wiegert had to say after his team's victory over C.S. Dinamo Bucuresti.
We are very happy that after so many years we were able to get our first points in the Champions League. It was a tough game against a strong opponent and we're happy about the win.
21:30
HALF-TIME: Orlen Wisla Plock 14:10 FC Porto
Porto certainly became better as the half wound down, but their rough start has become too much to overcome. You can sense the tense mood of the FC Porto players, especially as they were heading to the locker room.
Gonzalo Perez Arce leads Plock with four goals; Daymaro Salina and Diogo Branquinho have two each for Porto.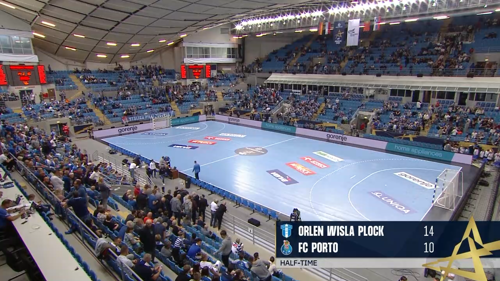 21:13
In case you missed it, here are the scenes after the final horn at Veszprém .
21:10
Porto have settled in after calling a timeout earlier, they have a one-man advantage and have cut the lead to two goals, 10:8.
20:58
Things have not gotten better for Porto. They have conceded two more goals, their goalie Mitrevski received a yellow card, and not even a timeout can change the momentum, although they have just scored their second goal of the match to now trail 2:6.
20:50
Five minutes in and it has been a good start for Plock so far. They lead 3:1.
20:46
Not a moment to be overlooked: Mikkel Hansen's 1000th EHFCL goal!
20:40
We're roughly five minutes away from the final match of round 1: Orlen Wisla Plock vs FC Porto. Be sure to follow the match on EHFTV. (Geoblocking may apply)
20:27
FULL-TIME: Veszprem 36:34 Paris Saint-Germain
What a match! There was not a lack of offence as both teams combined for 70 goals. Veszprém had a four-goal lead at one point, but the Parisians gave the Hungarians a scare in the final few minutes.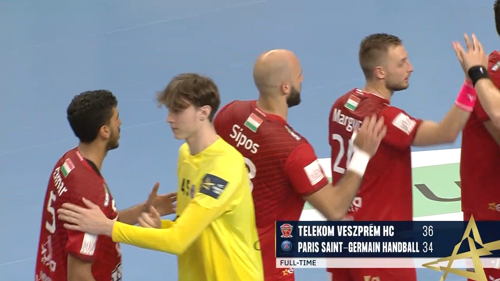 FULL-TIME: C.S. Dinamo Bucuresti 28:30 SC Magdeburg 
It was not smooth sailing at first for Magdeburg, losing by three goals at one point, but the German champions steadied their nerve and won the game by two goals. Omar Ingi Magnusson led the German with seven goals, while Ante Kuduz paced the Romanian side with six.
20:18
FULL-TIME: Aalborg Handbold 36:32 RK Celje Pivovarna Lasko
Time has expired in Aalborg, and it was the Danes who came out as victors. Celje had a few chances to cut the lead to a single-goal, but were not able to.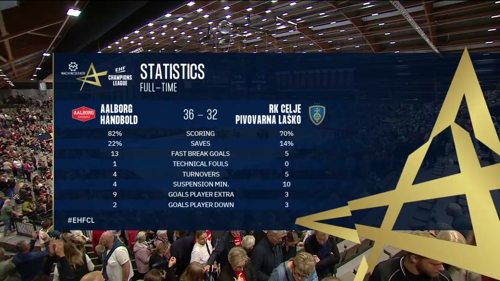 20:15
It doesn't look good for PSG, who were trailing by four with less than five minutes left to play. But a converted seven-metre means Veszprém are not out of the woods yet.
20:03
A goal from the right wing by Akimento cuts the deficit Dinamo have by one, but Magdeburg counter with a goal from their right wing Pettersson. Now Dinamo have called a timeout, trailing 24:26 at home.
20:00
Celje have managed to keep the game close and had the chance to close the gap to one, but a poor shot and a quick counterattack pushes the lead to three for Aalborg.
19:55
We are near the halfway mark of the second half between Veszprém  and PSG. PSG win a penalty and a two-minute suspension, but fail to convert and Vesprem score on the other end to take a four-goal lead, 26:22.
19:40 
HALF-TIME: C.S. Dinamo Bucuresti 16:16 SC Magdeburg
Dinamo Bucuresti were able to get the jump on the German champions at first, helped by Khalifa Khedbane blocking six of the first 12 shots he faced, but Magdeburg were took advantage of the three two-minute suspensions Dinamo received and tied the game.
19:35
HALF-TIME: Aalborg Handbold 20:17 RK Celje Pivovarna Lasko
Aalborg and Celje are also locked in a goalfest. Aalborg controlled most of the first half, having a six-goal lead at one point, while star Mikkel Hansen contributed five goals. Celje were able to cut the deficit in half by halftime and will hope to complete the comeback in the second half.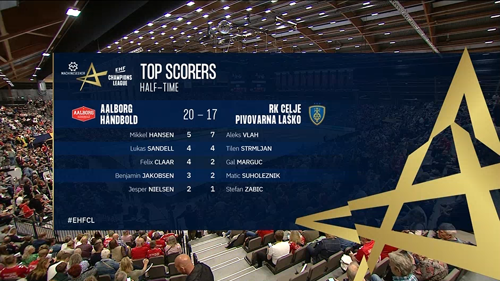 19:33
HALF-TIME: Veszprém  17:17 Paris Saint-Germain
Fast-paced certainly describes the first half between these two powerhouses. Paris Saint-German had managed to get an early lead, but after calling a timeout Veszprém managed to get back on track and tie the game before the halftime break.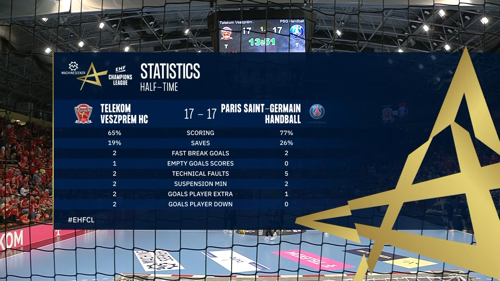 19:18
In Aalborg the home team is ahead 17:14. No doubt this goal from Mikkel Hansen will be the first of many more to come while in the Aalborg jersey.
19:15
Paris Saint-Germain have been able to gain some distance from Veszprém, forcing the Hungarians to call a timeout, but it has yet to change the tide as PSG maintain their lead at four goals.
Meanwhile Magdeburg, after trailing by as much as four goals, have cut the deficit to one. Now Dinamo have called a timeout of their own to keep the pressure on the German club.
19:08
Dinamo Bucuresti are leading the German champions 9:6, and their goalie Khalifa Ghedbane is certainly doing his part in frustrating the Magdeburg offence, blocking six of the twelve shots he has faced.
19:05
Aalborg are looking comfortable in their match against Celje, leading 11:5. Felix Claar, Lukas Sandell and newcomer Mikkel Hansen have scored all but one goal for the Danish club.
19:00
The goals are coming in fast in the Veszprém-PSG match. PSG hold a 8:7 lead. Meanwhile Aalborg are leading Celje 8:4 and Dinamo Bucuresti hold a two-goal advantage over Madgeburg, leading 6:4.
18:48
And we're underway! Pechmalbec scores the first goal for Veszprém from the six-meter line. On the next possession Kamil Syprzak scores on a seven-metre. 
18:40
We're just minutes away from the first throw. You can check out Veszprem vs Paris Saint Germain, Aalborg vs Celje and Dinamo Bucuresti vs Magdeburg on EHFTV! (Geoblocking may apply)
18:25
According to the EHF power rankings composed by journalist Kevin Domas, Veszprém are atop the EHF power rankings, while Paris Saint-Germain sit in eighth place. Perhaps some bulletin board material to motivate the French club, but nevertheless we should be in for an exciting encounter. 
18:00
Nikola Karabatić has definitely been a sight to behold during his illustrious career, spanning 22 years on Europe's top stage. Can the Frenchman add a fourth EHFCL title to his mantel and give Paris Saint-Germain their first?
17:00
Orlen Wisla Plock will play FC Porto in the last match of the round, at 20:45 CEST. It's nearly nine years since these two sides met, and since then their paths diverged.
Plock are back in the Champions League after two seasons in the EHF European League, where they made the finals both times. Porto are playing their 13th Champions League season, and their fourth in a row; they have consistently impressed and have each time reached the knockout phase.
Porto's side is diversifying with more foreign recruits - including Danes Jakob Mikkelsen and Nikolaj Læsø and Swede Jack Thurin - while several of their Portuguese players have left or are on loan elsewhere. However, they still have several domestic stars, such as Rui Silva and Antonio Areia, who have helped make the side what it is.
Plock have also had a big turnover in their team over the summer, after a good domestic season in 2021/22. They have earned two straight wins in the Polish league so far this season, and should be expecting that their home advantage tonight could give them a successful Champions League return. 
16:10
Also at 18:45 CEST today, C.S. Dinamo host SC Magdeburg. This should be an exciting game - Dinamo are a team on the up, while Magdeburg are back in the Champions League after 17 years away. Both teams have had a stellar start to their domestic seasons.
There's not too much history between the two, with their most recent meetings being in the EHF Cup group phase in 2016/17. Magdeburg won both matches then.
Dinamo have brought in a roster of stars for this season, attracted surely by working with coach Xavi Pascual in his second season at the club. That includes Ali Zein from Barça, Benfica's Lazar Kukic, Meshkov Brest's Stanislav Kasparek, and HC Motor's Viachaslau Bokhan. 
Magdeburg's team has seen fewer changes year-on-year, which may benefit them. 
15:30
One of the first matches today is the last game of round 1 in group B, between Aalborg and Celje. Both teams are currently doing well domestically.
Aalborg made it to the quarter-finals last year and are hoping that their team, bolstered by a number of signings including Mikkel Hansen plus some exciting young Danish talent, will be able to go a step further this year. Look out for the likes of Mads Hoxer, who is tipped to be a future star.
Celje are in their 27th Champions League season and have a strong squad, including Mitja Janc, younger brother of Barça's Blaz.
The record is in Aalborg's favour, with four Champions League victories in previous meetings to Celje's one. They last met two years ago in Slovenia, when Aalborg won 31:29.

15:00
Welcome back to the live blog for day 2 of round 1 of the Machineseeker EHF Champions League 2022/23.
Yesterday we saw Kiel, Barça and Kielce take some big wins; today the final member of the EHF FINAL4 2022 quartet, Veszprém, make their start. Intriguingly, Veszprém are hosting Paris Saint-Germain in a repeat of last year's round 1 game, which Veszprém won 34:31. They'll be hoping for a similar great start today, undoubtedly.
Also at 18:45 CEST, Aalborg (including their big signing, Mikkel Hansen) will welcome Champions League returnees Celje, and C.S. Dinamo host SC Magdeburg who are also back at this level of competition after their Bundesliga win last season. The round finishes as Plock - another resurgent side - play FC Porto.
Lots to look forward to, and we'll bring you the build-up throughout the afternoon.
Wednesday 14 September








23:10
We're finishing up tonight with the reviews of all four matches, in case you want to remind yourself what went on.
Tomorrow the blog will be back in the afternoon ahead of throw-off for the second batch of round 1 games, which begin at 18:45 CEST. 
20:35
Here's what Bennet Wiegert had to say after his team's victory C.S. Dinamo Bucuresti:
22:50
Missed anything from those last two matches? Or just want to watch the best bits again? We have you covered with the highlights!

22:40
So, that's the first evening of the Machineseeker EHF Champions League 2022/23 over. We're sure you'll agree it's good to be back.
2022 winners Barça, runners-up Kielce and bronze medallists Kiel certainly look like they're all in form - despite Barça's poor start against Szeged. Szeged should be comforted by the way they played the first 30 minutes, but need to find the consistency to maintain that quality later in the game. 
Nantes and Elverum will be going back with some positives, but also plenty to work on; while Zagreb will be wishing they had started their fight-back earlier against GOG. The Danish side will take a huge amount of confidence from their win, which showed they deserve to be playing at this level.
22:25 | FULL-TIME
HC PPD ZAGREB 27:31 GOG
Just towards the end of that game Zagreb rallied and managed to significantly narrow the gap with GOG - Csaba Leimeter really coming into his own, scoring four times in the last six minutes. GOG had done enough, however, and celebrate their first win of the new season - putting them temporarily top of group A in the first match of that group! Left wing Jerry Tollbring and line player Lukas Jørgensen were the Danish club's top scorer with five goals apiece.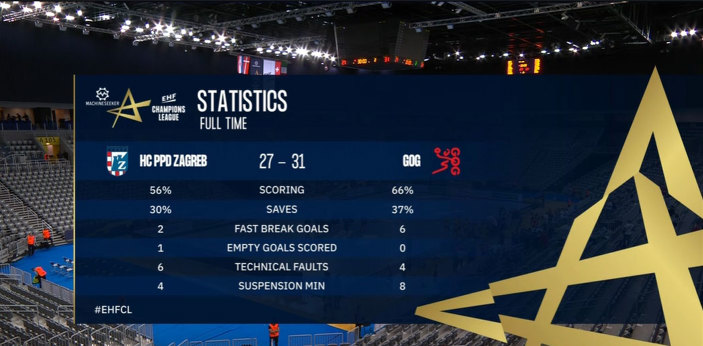 22:15 | FULL-TIME
LOMZA INDUSTRIA KIELCE 40:33 HBC NANTES
Kielce start the 2022/23 season as strong as they finished the 2021/22 season, and take the two points against Nantes. The seven-goal difference puts them level with Barça in group B and all three group B winners tonight have secured big victories. 
However, Kielce fell just short of matching their all-time Champions League high score of 41.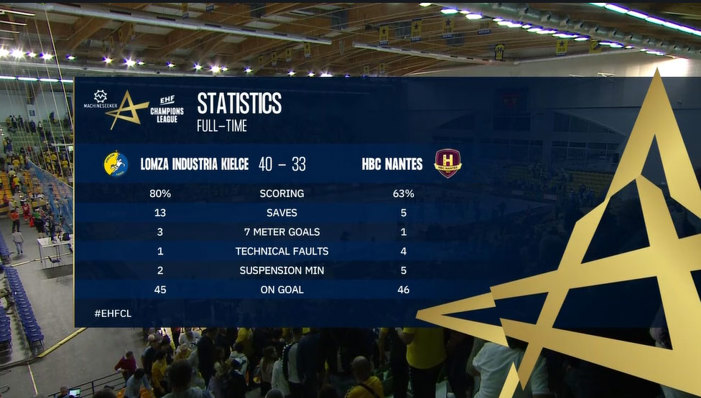 22:10
A shout-out to the goalkeepers - a magnificent save here from Andy Wolff, and a solid one from Dino Slavic who is preventing GOG from getting an even bigger lead. In fact Zagreb have rallied slightly, closing the gap to 22:29.
22:01
It's all going Kielce's way in a particularly high-scoring game in Poland. There's 10 minutes still to play and Kielce lead Nantes 34:28. Only two field players from each side are yet to score and the goalkeeping percentages are pretty low, at 26 per cent for Kielce and just 13 per cent for Nantes.
21:55
Zagreb are having a nightmare second half - they've scored only three times in the 10 minutes since the restart, and GOG lead 24:15. Tobias Thulin has a 50 per cent save rate and GOG are set for their first Champions League win since October 2019.
21:44
A poor restart from both Zagreb and Nantes allows both their opponents to stretch out their leads, and barring a miracle we're going to see wins for GOG and Kielce tonight.
21:32
While we wait for the second halves of these two matches to start, why not check out the highlights of the first two games from today?

21:25 | HALF-TIME
HC PPD ZAGREB 12:18 GOG
GOG aren't letting the occasion of their return to the Champions League bother them. Indeed they look right at home, and a solid team performance is paying dividends. Nobody has scored more than three times in this first half, and Tobias Thulin is firm in goal.
Zagreb, who had a poor 2021/22 season, don't seem to have solved their problems. Ivan Cupic is playing well, but he cannot win this match alone.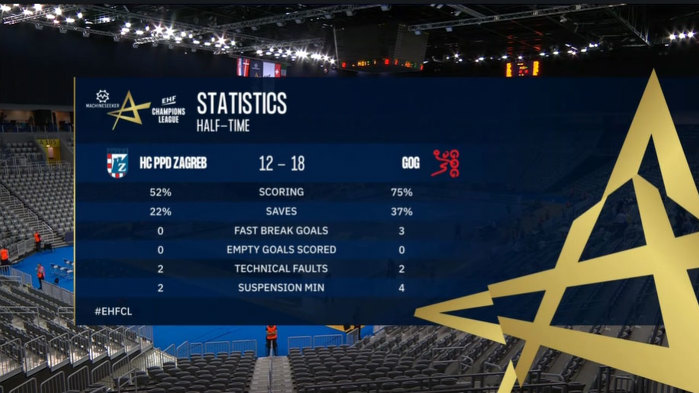 LOMZA INDUSTRIA KIELCE 23:18 HBC NANTES
Nantes are chasing hard but Kielce's early lead is paying off, and they look good. It's Frenchmen on both ends of the court who are leading the scoring, with Kielce's Nicolas Tournat and Nantes' Aymeric Minne both netting five times so far.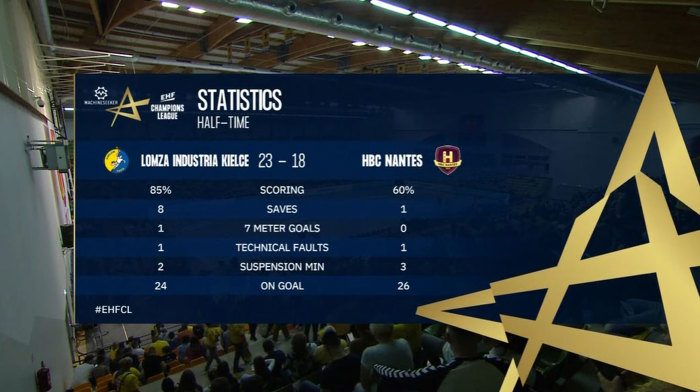 21:15
Luka Klarica is still only 20 but scored 32 times for Zagreb last season in the Champions League. He's added two so far tonight as Zagreb chase a four-goal GOG lead.

21:07
One of Nantes' big signings this summer was Spanish star Jorge Maqueda, who has moved from Veszprém. he previously played for Nantes until 2015, and has now scored his first Champions League goal in seven years for the French club.

21:03
GOG are looking strong here, taking a 10:7 lead. Many of their side are pretty young and it's 21-year-old left back Simon Pytlick leading the scoring so far with three goals. 
In Kielce, the home side have a 10:6 lead. Nantes have perhaps prevented Kielce from moving further ahead, but for the moment Talant Dujshebaev's men are the stronger. Ivan Pesic has not had a great Champions League debut for his new side, saving just one shot from 11. 
20:50
The sea of fans in yellow in Kielce have lots to cheer already. Four minutes in and their team are 4:0 up courtesy of Szymon Sicko (two goals), Igor Karacic and Dylan Nahi.
GOG made a solid start too but Zagreb have responded and it's 3:3.
20:33
After the MOTW excitement we move on to two more matches. In group A, GOG are making their comeback to the Champions League after two seasons away, and face HC PPD Zagreb in the first-ever European match between the two sides.
In group B, Lomza Industria Kielce - last season's runners-up - host an HBC Nantes side in good form. Nantes beat Paris Saint-Germain in the French Super Cup recently. They have several new arrivals, including coach Grégory Cojean and goalkeeping duo Ivan Pesic and Viktor Hallgrímsson.
Both games throw off in just over 10 minutes, at 20:45 CEST.











20:20 | FULL-TIME
MOTW: THW KIEL 36:26 ELVERUM HANDBALL
Kiel have made a big statement with a 10-goal win in the first MOTW of this season. They might be missing Sander Sagosen but that hardly matters when you have players like player of the match Harald Reinkind (six goals), Patrick Wiencek, and Niclas Ekberg (both five goals).
Positives for Elverum include their solid start and a good showing from new signing Uros Borzas, who demonstrated why he made the move to Norway with six goals.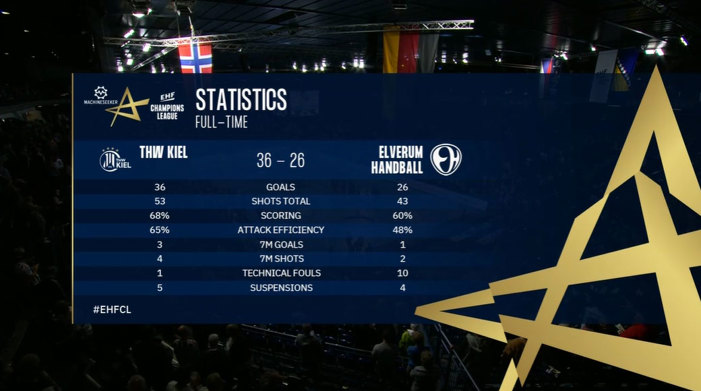 PICK SZEGED 28:35 Barça 
They struggled in the first half, but showed their power and depth in the second half. Barça take an opening win despite some poor discipline that saw them incur five two-minute suspensions to Szeged's one. Crucially, they did not let that faze them and kept scoring even when they were a man down.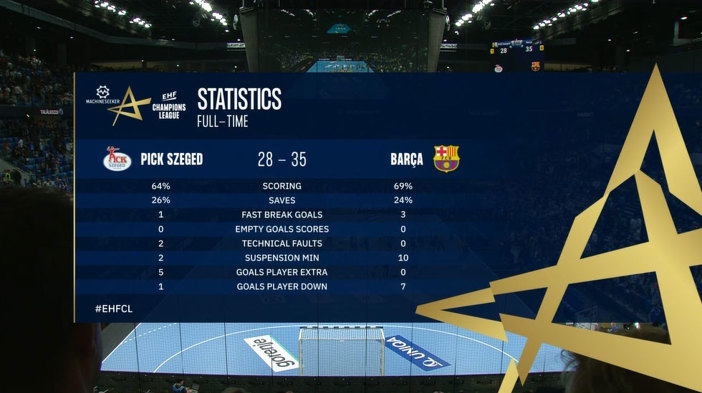 20:10
With about five minutes to play, Kiel have firm control on the MOTW - a nine-goal lead. 
Their new signings have certainly played their part tonight, and there's been a good showing from the Swedish contingent on the team including Karl Wallinius, who joined from Montpellier.

20:05
This clip is from just 15 minutes ago, when Szeged were still leading Barça. Since then, it's all gone the visitors' way, despite Richárd Bodó's very best efforts. Szeged trail 25:33.
19:57
Elverum score their first penalty of the day after Steffen Weinhold is suspended for a foul on Orri Freyr Þorkelsson - Magnus Landin is also currently suspended, which might give Elverum a chance to pull a few goals back. Indeed with Niklas Landin unable to make it back on to court in time, Uros Borzas scores a field goal and it's now a 25:19 lead for Kiel.
Then Borzas is suspended himself, negating the one-man advantage Elverum had. 
19:49
With both matches now back underway, Kiel continue to control MOTW and have taken an eight-goal lead now. Elverum currently don't have the answers and aren't defending effectively enough when their opponnts have the ball.
Over in Hungary, Barça's French trio of Dika Mem, Melvyn Richardson and Ludovic Fabregas have led a huge early comeback which takes the defending champions to a 22:20 lead over Szeged. Juan Carlos Pastor has just called a timeout, knowing that Szeged need to react now to stop the visitors taking their first points of the season.
19:35
We already mentioned that Christopher Hedberg was leading the scoring for Elverum - thanks to some nice assists. He has a particularly good working relationship with goalkeeper Emil Kheri Irmsgard here.

19:25 | HALF-TIME
MOTW: THW KIEL 17:13 ELVERUM HANDBALL
Despite a sub-par performance so far from Niklas Landin, Kiel have withstood Elverum's attacks and take a handy four-goal advantage to the dressing room. Niclas Ekberg and Christopher Hedberg have each scored four times.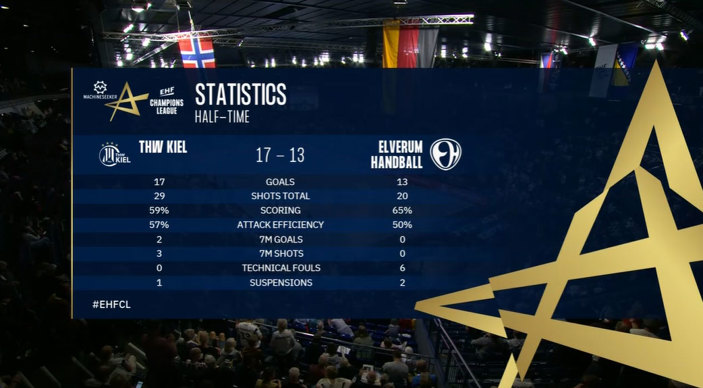 PICK SZEGED 15:14 Barça 
After a fairly even start Szeged, spurred on by Dean Bombac, stormed ahead. But Barça being Barça have managed to regroup and go into the break just one goal behind. Dika Mem and a few Aleix Gómez penalties have certainly helped.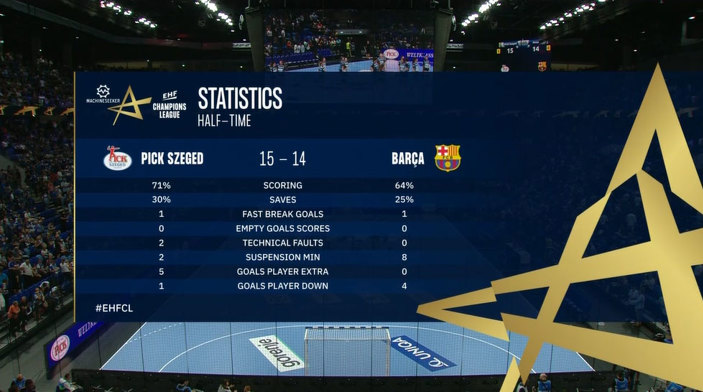 19:16
The first matches of the season are always interesting as players who have moved meet their former teammates. The young Swede Eric Johansson made his Champions League debut for Elverum last season, and is now playing for Kiel - where he has scored against his old side.

19:07
Elverum's Daniel Blomgren earned himself a two-minute suspension, and that gave Kiel the opportunity to get back into the game - they're 11:9 up.
Szeged now lead Barça 11:6, and Dean Bombac is proving effective.

19:03
Perhaps surprisingly given their respective EHF Champions League records, Kiel and Barça are both finding things a bit tricky as these matches progress. Kiel held a two-goal lead, but lost a touch of focus and a seven-on-six attack deployed by Elverum put them ahead 9:7. Meanwhile Szeged have a 9:5 lead against the defending champions, who don't yet look like their usual dominant selves.
18:55
Uros Borzas is proving his worth for Elverum, scoring three of their five goals and generally making an impact in the opening 10 minutes - a good hire for the Norwegian side. However, Kiel have a slight lead.
18:49
He might be known for his defensive skills, but Patrick Wiencek was the first to score tonight for Kiel as the Zebras netted inside the first minute. But new Elverum signing Uros Borzas struck back quickly to equalise, as the two teams look to find their rhythm early on.
18:40
Coverage of both matches has started on EHFTV, with English commentary on MOTW from Chris O'Reilly, and a bit of a show by Kiel before the introduction of the teams. Settle down, it's all about to start.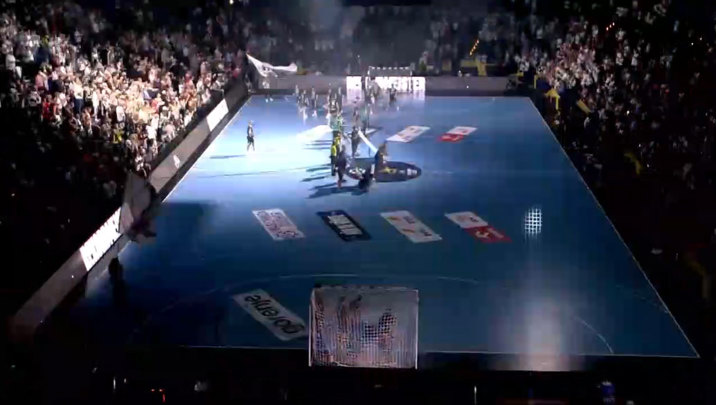 18:13
Don't forget that we'll have exclusive content for you on Instagram from MOTW. Hannah Jackson is in Kiel and the teams are on the court warming up ahead of throw-off, which is now just 30 minutes away!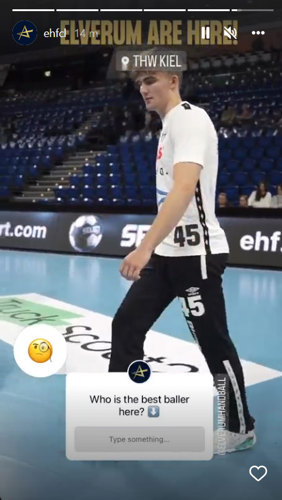 17:55
While the MOTW is going on, Barça will start their title defence against Szeged. Both teams are coached by Spaniards (Carlos Ortega and Juan Carlos Pastor, respectively), and Szeged have the home advantage tonight.
Barça's Thiagus Petrus said the Spanish club expect a tough match, but believe they can win:
"If we can avoid their fastbreaks and their second waves, we'll be on the game. And if we could play on our high rhythm as we did in the last games, we will have more options to come to Barcelona with a win," he said.
Pastor said: "It's really important that we should concentrate for 60 minutes, we can't lose the ball in attack and we can't make any big mistakes. I'm Spanish and I played against Barça many times with Valladolid and with Pick Szeged as well. It's a special opponent for me, not because they are Spanish but because Barça was the best team last year in the Champions League."
We'll keep you updated with the action from Hungary when the match throws off at 18:45 CEST.
17:00
Kiel's squad contains three Norwegian players: apart from Harald Reinkind, they have Sander Sagosen (but he is recovering from surgery and will miss this MOTW on his 27th birthday; Sander, gratulerer med dagen!) as well as Eric Johansson... who has joined Kiel this season from Elverum.
What does Johanssen expect from his former club?
"Elverum will come here very hungry for success and with a lot of pace. They definitely don't fear anyone."
Sounds like game on!
16:52
Well, what an opening we have in prospect! Both finalists from last season are in action, with champions Barça travelling to Szeged for a tricky season opener at 18:45 CEST (remember round 1 of 2019/20, anyone?), while runners-up Kielce don't have an easier task at hand two hours later with the visit of Nantes (remember the 2020/21 play-offs, anyone?)...
... and then we haven't even mentioned the Match of the Week, also tonight at 18:45 CEST, between Kiel and Elverum. EHF journalist Björn Pazen chatted with Kiel's Norwegian right back Harald Reinkind for this MOTW feature on eurohandball.com.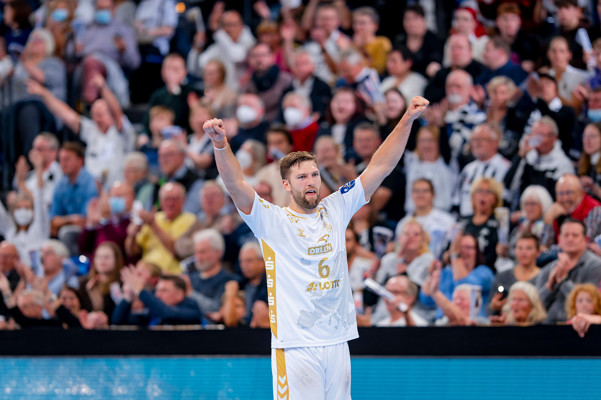 16:41
Another regular story on eurohandball.com at the start of a new season is our so-called Power Ranking, a list of the 10 teams that seem to be in the best form just before the competition throws off.
Written by EHF journalist Kevin Domas, find out who is ranked No. 1 this time:

16:31
Like at the start of each new season, EHF journalist Björn Pazen has put together an impressive overview of stats and numbers. For instance, did you know that four of the 16 coaches in the 2022/23 season have already won the EHF Champions League title in the past? Or that five teams return to the competition after they did not play in the EHF Champions League last season?
Check out Björn's overview of the 30 most important facts and figures of the Machineseeker EHF Champions League 2022/23.
16:23
Barça won the title in the past two seasons, but there are 15 teams that want to prevent the Spanish champions from making it three in a row.
What all 16 teams have in common: they want a winning start into the new season. Read our round preview to get all details on the eight matches scheduled for tonight and tomorrow.
16:12
As if the start of a new season in itself were not exciting enough, look at these fixtures for round 1. Yes, that is right: we start tonight at 18:45 CEST with the Match of the Week in Germany between THW Kiel and Elverum Handball, while at the same time in Hungary Pick Szeged host titleholders Barça. Wow!
Luckily, EHFTV has a split-screen function so you can watch both games at the same time!


16:00
Three months can feel like an endlessly long time. But the wait is over now: the leading men's club handball competition in Europe is back for a new season, as the Machineseeker EHF Champions League 2022/23 is ready for throw-off!
So, welcome to the first live blog in the 30th season of the EHF Champions League. It promises to be another exciting campaign, with 16 of Europe's best handball teams on the starting grid but only one of them lifting the trophy at the TruckScout24 EHF FINAL4 2023 in June next year.