SUMMARY: Barça's MOTW win over Kielce highlights round 2
23:15
That wraps up our coverage of round 2 in the Machineseeker EHF Champions League 2022/23. The women have round 3 coming up this weekend, and so do the men when they return to action next week Wednesday and Thursday, and you find their upcoming matches here.
Goodbye for now, and enjoy our gallery with the best pictures from the night:























23:06
Join the Barça party! Tonight's MOTW win comes as a relief for the titleholders, who lost to Kielce twice last season (before winning that final in Cologne, obviously).
23:02
Graciès!

22:43
Read what happened in the last two games of round 2 of the Machineseeker EHF Champions League tonight, when Barça beat Kielce in MOTW and Magdeburg downed Zagreb:
22:36
Guess there would have been several deserved winners of the Player of the Match award after this MOTW. Ludovic Fabregas is definitely one of them!
Well done Barça, who win MOTW against Angstgegner Kielce by four goals.
Barça lose some of their first-half dominance after the break, but regroup and keep their nose in front until the end.
Ludovic Fabregas and Arkadiusz Moryto with six goals each are the best scorers, but this MOTW has probably been decided by the goalkeepers, with Emil Nielsen in stunning form for Barça.
And Magdeburg? They just double their half-time lead for a win that has never been in danger. Tim Hornke finishes on 11 goals.

22:11
3,504 spectators in Palau Blaugrana see that Barça remain ahead in MOTW. Kielce have come close, stay in touch, but can not fully catch up so far.
22:05
Meanwhile in group A, Magdeburg have stretched their lead over Zagreb to double figures: 30:20 at the moment. Tim Hornke with 10 goals so far the big man for the German hosts.

21:57
How Kielce are bouncing back:
21:53
Kielce are battling their way back into the MOTW. The gap with hosts Barça has been reduced to just two (21:19) now, so this can still go either way. Good stuff!

21:46
Describe this MOTW in two words? Emil. Nielsen.

Two five-goal leads at the break. While we might have expected Magdeburg to have created such an advantage at half-time, the MOTW has been expected to be a lot closer... but the second half is still to come, of course!
21:08
From every angle, Dika Mem goals are lightning fast:
21:04
Meanwhile, Magdeburg opening a three-goal gap (10:7) against Zagreb after 16 minutes, in what is the former champions' first EHF Champions League home game in almost 17 years! Can you believe it?!
21:01
The MOTW providing the spectacle we hoped for. Kielce have been up by two goals twice, but Barça are back on top.
20:56
Read what happened earlier tonight, when Nantes defeated Szeged, and GOG and Dinamo shared the points:
20:51
Bonsoir! When old teammates meet again, both at different clubs now, for the Match of the Week in Barcelona:
20:41
Of course, it is not all about the MOTW, as Magdeburg host Zagreb in the simultaneous match. Can Magdeburg make it two wins from two matches?
Watch Magdeburg vs Zagreb live on EHFTV.

20:32
Enjoyable start to this Machineseeker EHF Champions League night!
And things will only get even better with the Match of the Week between Barça and Kielce now only a few minutes away!

Congrats Nantes, who crown a strong performance against Szeged with a deserved win: 35:30, led by 10 goals from Valero Rivera, while Bogdan Radivojevic has nine for the guests from Hungary.
In Denmark, Dinamo earn a point for staging several comebacks against GOG, who have been leading by as many as six goals but in the end have to be happy to settle for a 38:28 draw as Dinamo squander a last-second chance.
20:05
They have done it before, and they do it again: Dinamo have leveled against GOG, 34:34, coming back from six goals down (27:21) in the second half. This one is now going down to the wire!

19:57
Nantes are eager to get their first points in group B. They lead Szeged 29:26 with 12 minutes left... and Valero Rivera has already netted nine times!

19:46
Seems Nantes and GOG are taking control of their home games now, both opening gaps of a few goals. Still nothing decisive, but first signs for what could be...
On the other hand, this is some goal from Szeged's Richard Bodo:

First advantage for the two home teams, but no big margins or substantial leads so far. One of the highlights? Watch Szeged's Roland Mikler in action:
19:15
Team timeout GOG. The Danish hosts have been 15:11 up, but meanwhile Dinamo are back at 17:17.

19:04
Valero Rivera has scored three of Nantes first six goals tonight, including beauties like this one: 
18:55
Close start of both matches: 4:5 in Nantes and 6:6 in Gudme after eight minutes. (Also a reminder that on EHFTV, you can watch more matches at once on the same screen!)

18:39
Nantes and Szeged are two teams that we have seen in the quarter-finals several times... But they both started with a loss last week, so who get the first points tonight? When the teams last met, in 2018/19, they both won their respective home game.
Watch Nantes vs Szeged live on EHFTV.
The standings in group B before the two matches tonight: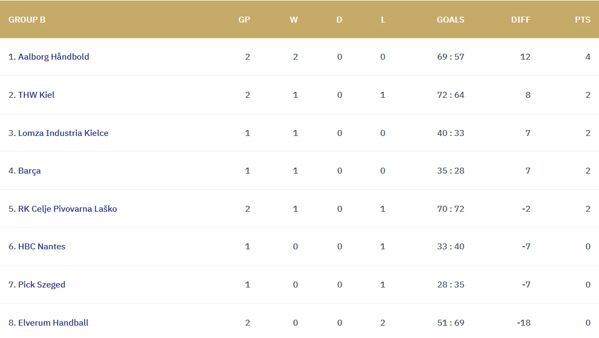 18:31
GOG are heading for a dream start into their season: if they beat Dinamo tonight, they will have the maximum four points from two games. However, the only previous season that both teams shared an EHF Champions League group, Dinamo won both the home and away match...
Watch GOG vs Dinamo live on EHFTV.
Here are the group A standings before tonight:

18:25
20 minutes to go! The first two matches feature three teams that started their campaigns in the Machineseeker EHF Champions League with a defeat: Nantes, Szeged, and Dinamo are all looking for their first points of the season. The only team from the 18:45 CEST matches that started with a win last week, is GOG.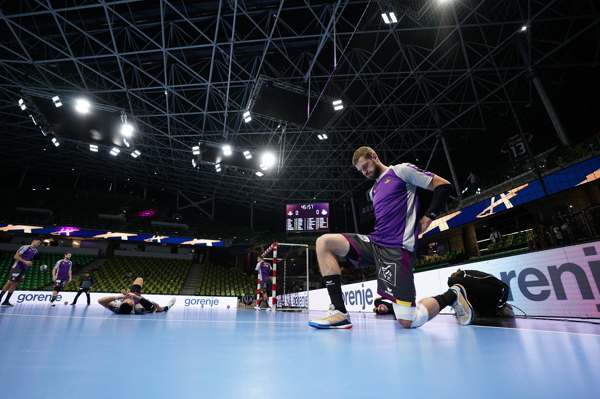 18:09
Just over half an hour to go before throw-off in Denmark (GOG vs Dinamo) and France (Nantes vs Szeged), so let me take you to the MOTW at 20:45 CEST one more time now.
In case you missed it, you should check out the Timeout with Champions on our ehfcl Instagram channel: Markus Floth chatted with Barça's Ludovic Fàbregas and Kielce's Andreas Wolff and asked them about... virtually everything!

17:55
Most readers of this live blog can only dream of wearing the Barça or Kielce jersey one day...
... but sometimes, dreams come true!
You can now win a signed shirt from both teams. Check out this Twitter post, follow the instructions, and who knows?!
16:55
We've said quite a lot about MOTW between Barça and Kielce, but the other game on at 20:45 CEST should also be good.
Madgeburg and Zagreb will wrap up group A's round 2 games with their first-ever meeting in the Champions League. Magdeburg made a strong comeback to this level of competition last week, beating Dinamo Bucuresti 30:28 at home; Zagreb lost 27:31 to GOG at home. The Croatian side have a bit of work to do if they want to improve on last season's seventh place.
Both teams come off domestic wins at the weekend.

16:10
The first match in group B at 18:45 CEST sees Pick Szeged travel to Nantes. Both sides lost last week - Nantes falling 33:40 to Kielce and Szeged 28:35 to Barça - although the Hungarian club had an excellent first half.
Nantes have won four of their six previous duels against Szeged, including all three home matches. They also have a bit of insight into the team in the shape of Jorge Maqueda, who played at Szeged between 2018 and 2020 before going on to their local rivals Veszprém. Maqueda joined Nantes this summer, and scored twice last week.
The atmosphere in Nantes is always excellent, so this should be one to turn up the volume on your TV or EHFTV for!
15:34
Group A today throws off with GOG hosting Dinamo Bucuresti. Another win for GOG would keep them up in the top teams of the group, after their round 1 win against Zagreb. Dinamo lost by two goals to Magdeburg last week at home, and will be looking to regroup. They have previously beaten GOG twice in the EHF Champions League, in 2019/20.
Dinamo are also celebrating a birthday: goalkeeper Saeid Heidarirad turns 32 today. A win would certainly be a great present!

15:00
Here we are again for another evening of handball history - and what a prospect in store for us, as Barça host Kielce in a repeat of the EHF FINAL4 2022 final. That's the Match of the Week, which will be played at 20:45 CEST alongside Magdeburg vs Zagreb. Earlier on, there's Nantes vs Szeged and GOG vs Dinamo Bucuresti to look forward to.
To start things off, if you missed it yesterday, take a look at our special episode of the Handball Diaries, which goes behind the scenes of Barça's win in Cologne in June.
Wednesday 21 September










23:25
So we've had a couple of close matches and a couple of easier wins tonight, and Veszprém and Aalborg are the two undefeated sides at this early stage of the competition. There's a long way to go yet though, and everything can change.
The blog will be live again from mid-afternoon tomorrow with another four matches, including the re-run of the 2022 EHF FINAL4 final between Barça and Kielce. That's Match of the Week, and we can't wait!
23:10
Want to remind yourself of what happened in any of tonight's matches? Fear not, we have our match reviews ready and waiting to be read.
23:00
With those first four matches in round 2 done, here's how the standings currently look, with Veszprém solo at the top of group A, and Aalborg heading up group B.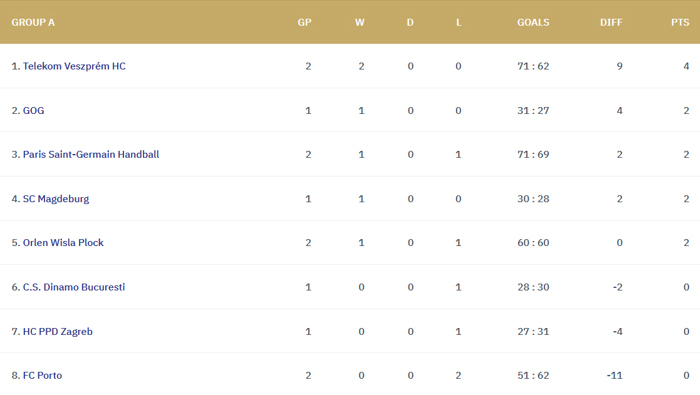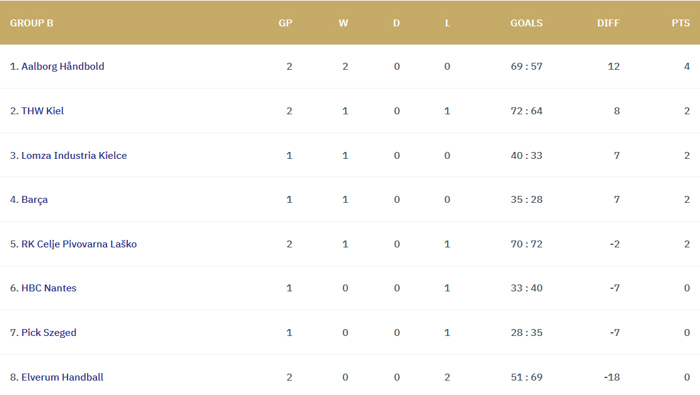 22:50
Something we failed to point out earlier - Plock's Kosuke Yashahira tonight became the first-ever male Japanese player to score in the Champions League.
22:21 | FULL-TIME
A high-scoring game - largely due to low save efficiency by all goalkeepers - ends with victory for PSG, their first points of the season. However, Plock can be proud of the way they took the match to their hosts, and last week's victory against Porto will surely not be their last of the season. Kamil Syprzak, PSG's penalty scorer, ends with nine goals.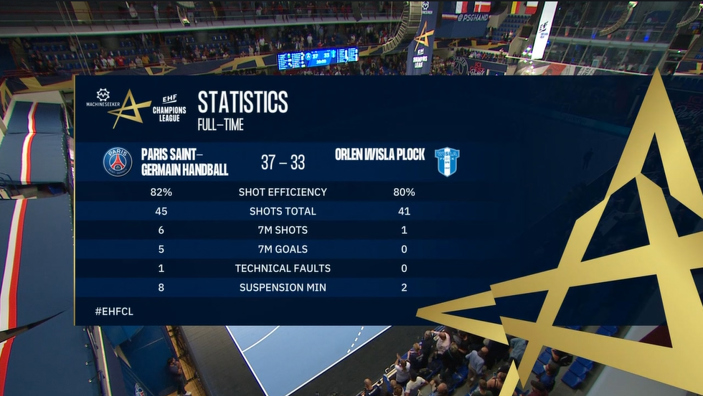 Porto managed to close the gap a little towards the end, but still suffer their second defeat in two weeks. They are yet to beat Veszprém in the Champions League. 
The match saw goals from all but five field players (three from Porto, two from Veszprém), but it's Veszprém left back Petar Nenadic who top-scores with eight goals. After a slow start, Rodrigo Corrales found his form and saved 15 shots (36 per cent), in contrast to Nikola Mitrevski who started well but ended up with a 25 per cent save rate (eight from 32 shots).
22:09
There's not going to be a famous Porto comeback tonight. Veszprém are just too strong, and have briefly held a 10-goal lead. 
Plock are clinging to PSG grimly, but cannot get closer than five goals, and the hosts are on track for their first win of the season.
22:00
Sergei Mark Kosorotov is still scoring - he's up to seven goals now - but against the depth of the PSG squad Plock have no answer as we move into the last quarter.
Porto are hanging in there with a five-goal deficit. It doesn't quite look like they'll be able to mount one of their famous comebacks, and Veszprém are playing calm, controlled handball now, but you never quite know with Porto ...
21:49
PSG have put the pressure in early in the second half, extending their lead to four goals. They're finding it easier to break through the Plock defence now.
Veszprém also look like they're on the way to a win, now leading by six goals after 10 minutes of the second half. 
21:35
Dainis Kristopans never fails to astonish - the sheer power the Latvian delivers is just amazing.
21:25 | HALF-TIME
PARIS SAINT-GERMAIN HANDBALL 18:16 ORLEN WISLA PLOCK
Plock have brought all the confidence gained from beating Porto last week to this game, and are pushing PSG constantly. Sergei Mark Kosorotov keeps the scoreline tight as he nets on the buzzer, with Jannick Green lying back in frustration when he misses the save. Kosorotov, with five goals, is Plock's top scorer so far; Kamil Syprzak has scored seven.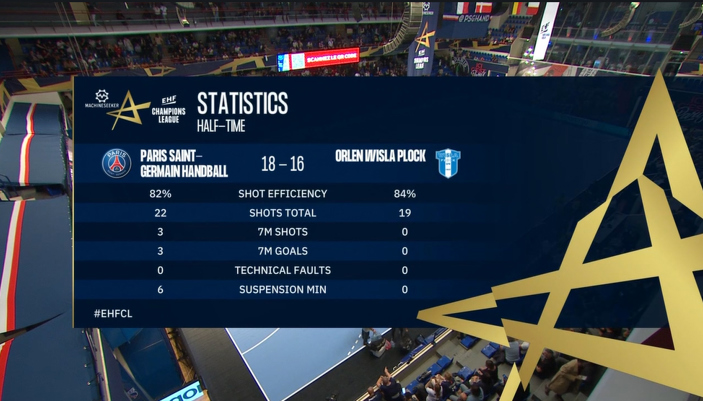 FC PORTO 12:16 TELEKOM VESZPRÉM HC
Manuel Strlek and Petar Nenadic have powered Veszprém to a helpful four-goal lead at the break, and Rodrigo Corrales has finally remembered how to save after a poor start. Porto will need to cut down on their technical errors if they want to get back into the match in the second half.
21:14
Kamil Syprzak has now scored five times, but PSG still lead by only one or two goals against a Plock side who have brought all the fight. The goalkeepers, however, are having a nightmare - one save for Andreas Palicka, and three combined for Kristian Pilipovic and Krystian Witkowski.
A 3:0 run from Petar Nenadic has suddenly given Veszprém a 12:9 advantage over Porto, prompting Magnus Andersson to call a timeout. Porto would be much further behind were it not for Nikola Mitrevski, who had a blinding start to this game. 
21:05
Veszprém call a timeout: "We have to pass the ball!" says coach Momir Ilic. It's 6:6.
PSG have taken the lead now against Plock, urged on by the fans in the Stade Pierre de Coubertin.


21:00
It's a very physical battle in Porto, as is often the case with the home team. Three of Porto's five goals so far have been 7m penalties, all scored by Jack Thulin - who's just equalised for his team with a field goal. Manuel Strlek is doing much of the running for Veszprém.
PSG are slowly clawing back Plock's early lead, but they're making a few mistakes, such as Dainis Kristopans' pass into the empty wing a few moments ago.
20:51
Shouts of "defence!" ring out in Paris as Plock start strongly. The visitors have an early 4:2 lead and are making PSG work hard.
Porto have taken a lead at home against Veszprém, with the score 3:1. 
20:40
After that excitement, a moment to catch your breath - the second matches begin in five minutes at 20:45 CEST, and players are being introduced in Paris and Porto.








20:26 | FULL-TIME
Eric Johansson nets on the buzzer, but it's too late for Kiel who lose only their second match against Celje in 11 meetings. Once Celje pulled ahead they never looked back, playing confidently - if scrappily - against a Kiel side who got more and more frustrated as the game went on.
It was also a woeful outing for Kiel's goalkeepers. Tomas Mrvka saved just six shots from 33 before he was replaced by Niklas Landin - who then managed only one stop from 12 attempts. In contrast, Celje's youngster Gal Gaberšek was outstanding, with 13 saves from 38. 

20:15 | FULL-TIME 
Elverum kept the pressure on early in the second half, but Aalborg were easily able to resist it and wrap up their second win of the season - putting them top of group B, for now. Simon Gade was key, with 18 saves (44 per cent), while Mads Hoxer Hangaard (seven goals), Jesper Nielsen and of course Mikkel Hansen (six each) helped the scoring significantly. 
20:10
Simon Gade gets in on the scoring action in Elverum, netting into the empty goal at the other end of the court and grinning broadly. Aalborg have this one wrapped up now.
20:05
Kiel keep fighting. Celje keep responding. Both have just had players suspended - at the same time.
20:00
Kiel are looking increasingly frustrated as all their efforts continue to come to nothing. They keep closing the gap back to three goals before Celje score again. Niklas Landin hasn't made any impact in goal either, saving just one shot since he came on.
Over in Norway, Aalborg lead 28:21 and look good for a second win of the season.
19:53
Kiel are playing seven-on-six in attack and have slightly narrowed the gap again to 22:26. If they can claw a win from this, it will largely be due to Patrick Wiencek who is playing extremely well - both providing a rock in defence, and scoring seven goals so far.
19:47
Just under eight minutes gone in the second half, and Celje lead Kiel 24:19. Filip Jicha has finally switched his goalkeeper, putting Niklas Landin on, though he's yet to see action. 
19:39
Owch. Kiel's Eric Johansson is brought down hard by a foul from Celje line player Stefan Žabic, and the referees hand Žabic a red card. He heads off to the stands. Johansson looks okay, and is on the bench.
19:36
Hurry back to your sofas, the second halves have begun!
Will we see more like this from Aron Palmarsson?
19:25 | HALF-TIME
ELVERUM HANDBALL 14:17 AALBORG Håndbold
A change in goal for Elverum to Šimon Mizera has helped the hosts close the gap on Aalborg, and they go into the break only three goals down - a far better result than the way the match was panning out halfway through the first half.
New young signings Uros Borzas (Elverum) and Mads Hoxer Hangaard (Aalborg) are showing their worth, each scoring four times. Aalborg's depth is showing, however, with goals from nine of their team compared to six for Elverum.

RK CELJE PIVOVARNA Laško 17:14 THW KIEL
What a turnaround. After 12 minutes Kiel were leading 8:4 and looking comfortable, but Celje turned on the gas and brought Aleks Vlah on to court. With seven goals in just over 15 minutes, Vlah - and that sensational performance we mentioned earlier from Gal Gaberšek in goal - have given Celje a three-goal advantage. 
By the way, here's Kiel's 10,000th Champions League goal.

19:10
Celje have just taken the lead against Kiel for the first time, 20 minutes in at 11:10. 
At the moment Filip Jicha is keeping his star goalkeeper Niklas Landin in reserve, but Tomas Mrkva is being outplayed by an outstanding Gal Gaberšek for Celje. The 21-year-old has made eight saves and that has proved crucial.
Jicha calls a timeout - will he change tactics?
19:03
With the score now 12:6 in Aalborg's favour, Börge Lund takes a timeout. They need some luck, and for Emil Kheri Imsgard or Simon Mizera to start saving. Together they've stopped just one shot from 13, while Simon Gade has saved six from 12 and looks totally in control between his posts.
18:58
Kiel's Petter Øverby has just scored their seventh goal of the match - which is their 10,000th in the EHF Champions League. No, that's not a typo. 
They lead Celje 7:4 - Celje rallied after a poor start, but Kiel have responded.
18:54
Some poor defending by Elverum and great defence and goalkeeping from Aalborg and Simon Gade have given the visitors a 7:4 lead after less than eight minutes. Lots of fast-paced Scandinavian play right now, as you might expect from a derby where only two field players (Uros Borzas and Josip Vidovic from Elverum) are not from Denmark, Iceland, Norway or Sweden. 
18:47
Off we go!
Mads Hoxer Hangaard is the first to score in Elverum; after the home side fumble their first attack, the young right back grabs the ball and takes it straight up the court in a great fastbreak.
Meanwhile Kiel already lead 2:0 in Celje, with shots from Harald Reinkind and Eric Johansson within the first minute.
18:29
With only 15 minutes until throw-off, coverage will begin soon on EHFTV, for those of you in countries without a TV broadcaster.
Elverum vs Aalborg can be found on this link, while Celje vs Kiel is here. But if you can't decide which game to watch, remember there's always the split-screen option so you can keep up with both at once!
18:00
The second set of matches tonight will throw off at 20:45 CEST, as FC Porto host Telekom Veszprém and Paris Saint-Germain host Orlen Wisla Plock.
Porto currently sit bottom of group A after their 23:27 loss to Plock in Poland last week. Their home fans tend to be pretty good at spurring the team on, but they will need to be in particularly strong voice tonight as they face a Veszprém side who beat PSG 36:34 in round 1. Veszprém have won three of the four previous meetings between the two, with Porto snatching a draw last season in Hungary.
Likewise, PSG want a first win of the season. They ought to feel confident against Plock, whose victory against Porto marked a strong comeback to the Champions League, but who have lost in all four previous meetings with PSG. The two last played each other in the 2016/17 season.

17:19
For the other group B match starting at 18:45 CEST we go up North to watch the Scandinavian derby between Elverum and Aalborg.
Elverum made life difficult for Kiel only in the first half of last week's MOTW and returned to Norway with a 10-goal defeat. Aalborg, however, kept the points at home after a fierce battle with Celje, also thanks to 10 goals from new arrival Mikkel Hansen, including the Danish superstar's 1,000 career goal in Europe's top flight.
And there will be another milestone in this game, as it is Aalborg's 100th match in EHF Champions League history! 

17:07
While the MOTW Barça vs Kielce tomorrow is probably the sweetest dessert you could think of, we start the round 2 menu with two tasty appetisers tonight at 18:45 CEST, both in group B, and both between a team that lost their opener last week and one that won theirs.
Kiel defeated Elverum in the MOTW last week and try to make it two wins out of two when they visit Celje. History clearly favours Kiel, who have dropped only one point in five previous away matches at Celje. On the other hand, Celje beat Kiel just once, but that, remarkably enough, happened in a game on the German side's court in 2017.
Also: watch out for Kiel's seventh goal tonight. That will be the club's 10,000th in their EHF Champions League history!

16:59
Before we take a closer look at tonight's games, starting with Elverum vs Aalborg in Norway and Celje vs Kiel in Slovenia, let's jump to the last games of round 2, tomorrow at 20:45 CEST. Those include the highly anticipated MOTW between Barça and Kielce – a repeat of the 2021/22 final from last June!
To get you in the mood for that mouth-watering MOTW, make sure you watch this episode of the Handball Diaries about the EHF FINAL4 2022:

16:54
The best way to get yourself informed about the eight matches today and tomorrow is our round preview:
16:45 
Two hours to go until round 2 of the Machineseeker EHF Champions League 2022/23 group phase – welcome to the live blog!
We are about to witness eight matches over the next 30 hours featuring the best teams in European men's club handball: four tonight and four on Thursday, nicely divided with two matches per time slot.
This is the schedule: