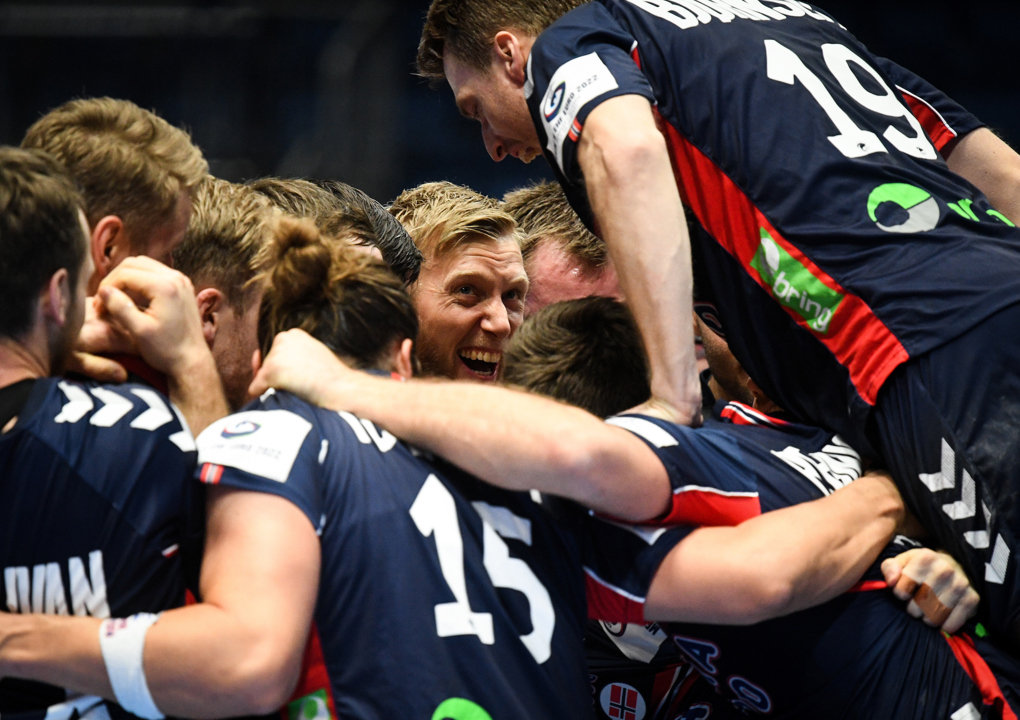 Summary: Norway beat Spain; Germany and Russia out
Sunday's group II matches could be pivotal to decide which teams make it to the semi-finals, with Spain in pole position.









It was a perfect match for us. This 24 years since the last victory against Spain was big for media, but we did not have it in our heads during the match. We only wanted to win.
22:55
And that's it for tonight. More EHF EURO 2022 drama will happen tomorrow, so join us again from 10:00 CET as we head into the final week of the tournament.
22:50
Here are the updated group II rankings with one match to play. In the event of a tie on points, head-to-head results would come into the equation.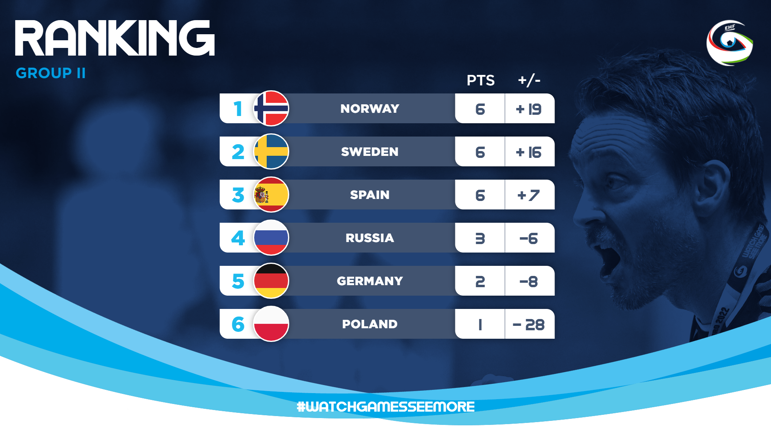 22:23
Before tonight, many may have thought that the first semi-final ticket would have been booked. But Norway put paid to Spain's hopes and group II will now finish with a crucial Scandinavian derby between the EHF EURO 2020 bronze medallists, and the 2021 world silver medallists. Definitely something to look forward to on Tuesday night. 
Russia and Germany were both disappointed this evening but will play for pride on Tuesday, while Spain are hoping for a win against a resurgent Poland. So much to look forward to!
22:05 | FULL-TIME
SPAIN 23:27 NORWAY
Spain are not through - Norway, Sweden and Spain all have six points and the final matches will be crucial with the final game between Norway and Sweden set to be decisive. 
Spain's unbeaten run is over, and it's Norway's first victory against the Hispanos in 24 long years, which is the lifetime of many of the players. What a result to keep main round group II open until the last minute.
21:55
Last timeout by Christian Berge, as his team hold a five-goal lead with three minutes. The way they've been playing - responding to every attack by Spain - they will surely hang on.
21:48
Spain's 17-game unbeaten streak appears to be coming to an end, unless they can turn over a five-goal deficit in nine minutes. It's not impossible. Norway are remaining solid in defence and effective in attack and it seems unlikely - although Vetle Aga Eck is sent off for a high foul. Jorge Maqueda scores.
Ian Tarrafeta has come on - he has not played much on his comeback. 
21:40
Both teams have switched goalkeepers by now, and Kristian Saeveraas is on for Norway. He saves, and does a little jump in celebration. Norway still lead, with Christian Berge rotating players in and out to effect.
21:34
Spain have proved again and again and again at the EHF EURO that they will always fight back when down, and Agustín Casado just brought a resurgent Hispanos team back to one goal. Erik Toft gives his team a two-goal buffer again and that seems to lift Norway as Torbjoern Bergerud saves and Harald Reinkind nets swiftly on the counterattack to make it a three-goal game once more. 
21:27
Early in the second half and Norway find themselves two men down with two suspensions at once. Somehow, they hold on and end it still three up. That could have been a really sticky situation, but shows Spain's determination.
21:10 | HALF-TIME
SPAIN 11:14 NORWAY
Norway said from the outset they want to beat Spain and apart from those first two or three minutes, they're really showing that desire. As Adrian Costeiu notes, this does not look like a side that was beaten by Russia only last week.
One week ago, Norway were scratching their heads and trying to find solutions to bounce back after a painful loss against Russia, in the preliminary round. Three consecutive wins later, they seem they have it in their back pocket. Especially as they are leading Spain at the break. Why is that impressive? Well, Spain have not lost for more than four years at the EHF EURO. Truly, Norway have been magnificent both in attack and in defence. They forced seven turnovers from Spain. They scored two in-flight goals. And Sander Sagosen did not play for more than 15 minutes. The reigning champions must come up with something, fast, otherwise, the biggest unbeaten streak in history at the EHF EURO will be over.
21:03
Norway have had possession for well over half of the match and it's showing in the scoreline, although we've had big gaps between goals - lately, nothing for nearly seven minutes. Christian Berge's timeout was timely, and Kristian Björnsen's in-flight goal ends the barren patch and gives Norway a four-goal lead.

20:55
The two best attacks in the position are scoring, but defence is tough too and Norway managed to force Spain to turn over the ball just now, enabling Sebastian Barthold to net. Spain looked on the verge of battling back, but a four-goal lead was regained.
20:45
Jordi Ribera, who always looks fairly calm, calls an early timeout as Spain are 4:8 down and struggling to contain Norway's attack.

20:42
Norway's nerves are all gone and they went on a 5:0 run to take a 5:2 lead. Yet another shot from Aleix Gómez will steady Spain somewhat. 
20:36
A nervy start by Norway allows Spain's Aleix Gómez to score the first two goals - one penalty, and one fastbreak while Norway were one man up and Spain had no goalkeeper on. But Sander Sagosen and Magnus Gullerud have equalised, and now there's a chance for Norway to settle into things a bit.
20:25
The teams are being introduced. Daniel Sarmiento is on court for the first time after his late call-up to add some play-making depth, and Ian Tarrafeta, recovered from Covid, is also back. Will he have as big an impact as Sergei Mark Kosorotov did earlier for Russia?
20:00
And so on to the last game of the night. Spain play Norway with a win guaranteeing them a place in their sixth straight semi-final. 
Norway left back Sander Sagosen is working his way through the all-time goal scorer standings. He is currently in 16th place, with 155 goals
Norway (32.4 scored goals per game) and Spain (28.6 scored goals per game) are two of the top four attacks in the competition. The Scandinavian side lead the standings, with 162 goals scored at the EHF EURO 2022
19:30 | FULL-TIME
GERMANY 21:25 SWEDEN
That's the end to Germany's hopes of the semi-finals. A poor performance by Johannes Bitter in goal and inefficiency in attack were costly against a Swedish side happy to control a slow match and take the win. Sweden move to six points, second in the rankings behind Spain ahead of Norway vs Spain, which is next up.
19:20
With Julian Köster suspended, Sweden take full advantage - Hampus Wanne scoring the penalty and Lukas Sandell following up with a field goal. They lead by three. Alfred Gislason calls a timeout, in a last-bid effort to get his men back on track. They still have time to catch up, but Sweden have managed the German defence well and are controlling the action.
19:10
A slow period with no goals for either team ends with two for Sweden, putting them up by two once more. But it's far from over in what EHF commentator Chris O'Reilly has accurately described as a "slog".

18:59
Oh, what a shame for Germany! With the score at 12:13 Lukas Zerbe steals the ball and goes up the court, but runs into a Swedish wall. However, Germany retain possession, and force a penalty. 
Tobias Reichmann scores and it's level! The German fans are enjoying this game. 
18:40 | HALF-TIME
GERMANY 10:12 SWEDEN
Here's Adrian Costeiu's analysis of a low-scoring first half characterised by strong defence from both teams. 
It has not been the prettiest of first halves at this EHF EURO 2022 in terms of goals scored, but the first 30 minutes of the game between Sweden and Germany have surely been a joy for the purists. As the four goalkeepers made only nine saves between them in the first 30 minutes, the conclusion is that the defences have played at a very high level. The favourites, Sweden, are still missing that creative spark in attack that could take them to the next level. Yet a win would see them live another day in the tournament. For Germany, the next 30 minutes will be the difference between a possible semi-finals berth and the end of their hopes. Improve that 53 per cent attacking efficiency and it's not out of the question.
18:31
Sweden have scored 2,500 goals now in their EHF EURO history - only Spain, Croatia, France, Denmark and Germany have previously reached this milestone.

18:17
Sweden are making the better running early on with impressive efficiency in attack. Germany have held back the Swedish tide a little, and from 3:6 it's now 5:7. 

18:02
This is Germany's starting seven. Their defence was good in Sweden's first possession, and they forced a passive play call from the referee before Albin Lagergren netted. Julian Köster wasted no time in equalising, and we're off.

17:45
On to the next must-win game. This one is in Germany's hands - if they emerge as victors they're still in the race for the semi-finals.
if Sweden win the game, Germany will tie their worst-ever losing streak at the EHF EURO – three games in a row – set twice between 2008 and 2010, and 2012 and 2016
Sweden have conceded 118 goals in the first five games, an average of 23.6 goals per game, the second lowest amount in the competition
11 Swedish players are currently plying their trade in the German Bundesliga at eight different teams, with only three of them currently at clubs in the Swedish league
17:38
If you didn't see it, here are those last minutes of the match. Bonkers stuff.

17:10 | FULL-TIME
POLAND 29:29 RUSSIA
What an insane ending to the match. Velimir Petkovic is given a red card on top of his yellow from earlier. Poland have possession and with two seconds to go, Michal Daszek scores and Poland start to celebrate what they think is a win. But the timeout buzzer has been pushed by Russia - the goal-light flashes, but there's no buzzer noise. The celebrations are cut short - then Sergei Mark Kosorotov scores a massive goal from 15m out and equalises. 
It's not going to be enough to send Russia through, as other results are against them, but it gives Poland a point.
16:52
On Friday against Spain Russia lost by a single agonising goal. Poland now lead by a single agonising goal (for Russia), despite a number of errors. Oh, and this by Sergei Mark Kosorotov.
16:46
It's still goal-for-goal. Dmitry Zhitnikov is again having a wonderful game, but both he and Arkadiusz Moryto have scored six times and it's 24:24. Russia have scored several times on the counterattack, while some good play for Poland have kept them in it.
Velimir Petkovic calls a timeout but he hits the buzzer just as Poland regain possession, so it's going to a video replay.

16:27
Poland's 13th goal was their 1,500th in their EHF EURO history - they are the 13th team to hit this milestone.

16:09 | HALF-TIME
POLAND 13:12 RUSSIA
Yet again in this tournament a goalkeeper is making a difference. EHF journalist Adrian Costeiu gives more thoughts on the first half, which ended when Przemyslaw Krajewski scored on the buzzer to put Poland one goal up.
We have just witnessed one of the greatest-ever performances by a goalkeeper in the first half of a game at the EHF EURO 2022. Prior to this game, Polish shot stopper Mateusz Zembrzycki had four saves in 56 minutes played in the tournament, for a meagre 11 per cent saving efficiency. Well, in just under 18 minutes, Zembrzycki nearly tripled his tally, recording 10 saves (67 per cent). And this is precisely why Poland managed to stay afloat in the game and even take the lead. The news is not good for Russia, who will be out if they lose this game.
16:04
Poland are back in the game and have even briefly led - they're playing more like they did early in the tournament. Arkadiusz Moryto has now surpassed 50 EHF EURO goals in his career and is starting to close in on top scorer Kay Smits, now sadly sidelined by Covid. 

15:55
Sergei Mark Kosorotov has scored three times already in a comeback showing his importance to Russia - but is now sitting out a two-minute suspension too.  
15:50
A switch between the Polish posts, from Mateusz Kornecki to Mateusz Zembrzycki, has turned the game around. Russia have failed to score for seven minutes and Poland are back to a one-goal deficit. Extraordinary.
15:44
There have been rather a lot of turnovers so far - three for Poland, two for Russia, in 12 minutes. Russia's attack is proving more effective and they have a 7:4 lead.

15:37
A bit of a shaky start from both teams, with more effectiveness in attack than defence. Russia have their first suspension after Alexander Kotov fouled Michal Olejniczak, but then Poland lose the ball and concede a goal. Russia lead 4:2.
15:30
Throw-off is imminent. What can Poland do?
15:02
With half an hour before throw-off, the teams are warming up in Bratislava. Russia are welcoming back Sergei Mark Kosorotov, a key player before he tested positive for Covid-19 and still their joint top scorer alongside Dmitry Zhitnikov despite missing two matches. Will he make the difference in a must-win game for this powerful side?
Poland's 13th goal in the game will be their 1,500th at the EHF EURO, making them the 13th team in history to reach this milestone
Polish wings Przemyslaw Krajewski and the second top scorer of the competition, Arkadiusz Moryto, need only two goals to hit the 50-goal milestone at the EHF EURO. Moryto has scored 34 goals in this tournament
Poland won five of the last six mutual meetings between the two sides, including a 24:22 win in the preliminary round of the EHF EURO 2014
14:50
News from Spain: Ian Tarrafeta is out of isolation, having returned two negative Covid-19 tests. He's available for tonight's game against Norway.

14:45
Quick, head to Twitch for our live show ahead of tonight's matches, with special guests Vid Kavticnik, Andrea Lekic and more.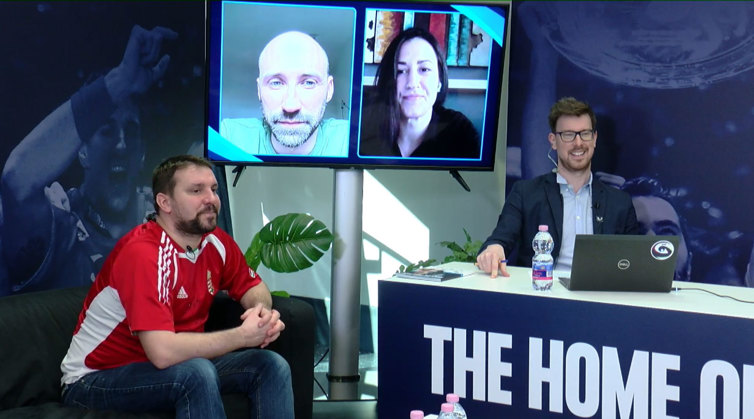 13:37
We're going to take a little break now, but before tonight's games here are the current main round standings. Spain can book themselves a semi-final place tonight, while Germany and Russia must win to have any chance of making it.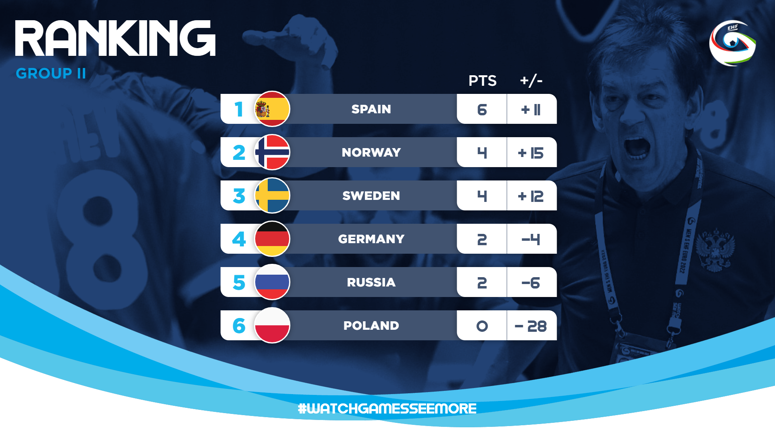 13:24
Statistics can tell you a lot, and in this piece from Julian Rux we explore why Iceland were able to beat France last night. Fascinating stuff!
12:30
Iceland's first-choice goalkeeper Björgvin Pall Gustavsson had to watch last night's match from isolation, but was quick to congratulate his young colleague Viktor Hallgrímsson on social media afterwards. 

12:20
Some new young names combine with old hands on the top five goals of the day from last night and there were some really impressive efforts - clever, powerful and effective.
12:00
Today's group II action will close with an exciting match between Norway and Spain. The Scandinavians haven't beaten the reigning champions in 24 years, but they are on the up here after a slightly rocky start to the tournament. 
We've spoken to two break-out stars from the two teams. For Spain, it's 25-year-old top scorer Agustín Casado. For Norway, Erik Toft, who is the backup to Sander Sagosen but came into his own against Germany the other night. 
11:47
An update from the Netherlands which will be a blow to the Dutch: top scorer Kay Smits, plus Samir Benghamen and Jasper Adams, have joined the six other players already in isolation. Smits and Benghamen in particular have been essential to the Dutch effort. We hope they're all feeling okay and that negative tests will start coming soon.

11:25
It was another night for the goalkeepers in Budapest on Saturday, with amazing outings by the Netherlands' Thijs Van Leeuwen and Iceland's Viktor Hallgrímsson. They top the list of best saves from yesterday's games.

10:35
A morning news round-up.
Fresh off their magnificent victory against France last night, Iceland have called up left back Darra Aronsson and line player Thráinn Orra Jónsson to strengthen their squad. They played last night with 14 men due to Covid cases in the team.  

Poland confirmed yesterday that Adam Morawski, Patryk Walczak and Maciej Zarzycki have completed thir isolation and all players are now free to play.
Germany announced two further positive Covid tests yesterday, for Sebastian Firnhaber and Christoph Steinert. 
Meanwhile, Russia celebrated goalkeeper Andrei Vereschagin's 25th birthday yesterday with cake. 

10:00
On Friday night in Bratislava, Spain took a big step towards the semi-finals by beating Russia and bringing their points tally to six. But with Norway and Sweden now on four points and Germany and Russia both with two, there's still lots to play for. Only Poland are just playing for pride and to further upset the rankings as they meet Russia in the day's first match.
Here's the day preview and the fixtures.