SUMMARY: Dramatic finish sees Spain, Germany go through; Romania also advance
The preliminary round at the Women's EHF EURO 2022 concluded Wednesday as boarding for the main round has now been completed. Romania in group C as well as Spain and Germany in group D have booked the last three tickets to the next phase.
Wednesday 9 November 2022
23:25
The preliminary round is over, but no time to slow down! We are going straight into the main round on Thursday, with the first matches in group I.
We leave you with the gallery of the best pictures of the night, and check out the standings for both main groups prior to its start on Thursday and Friday, respectively.
Good night for now and join us again tomorrow when we enter the next phase of the Women's EHF EURO 2022. Game on!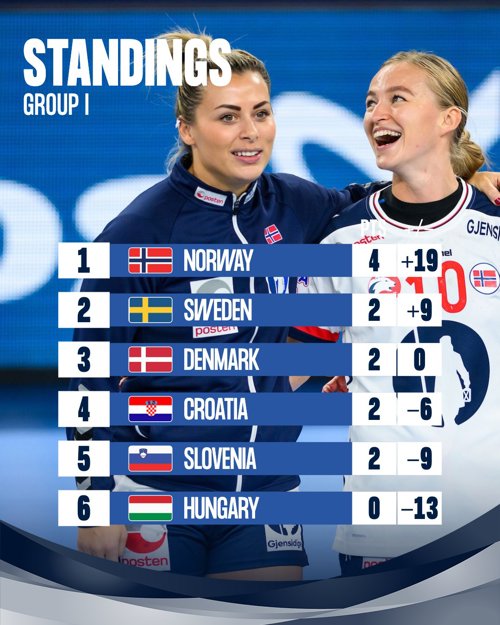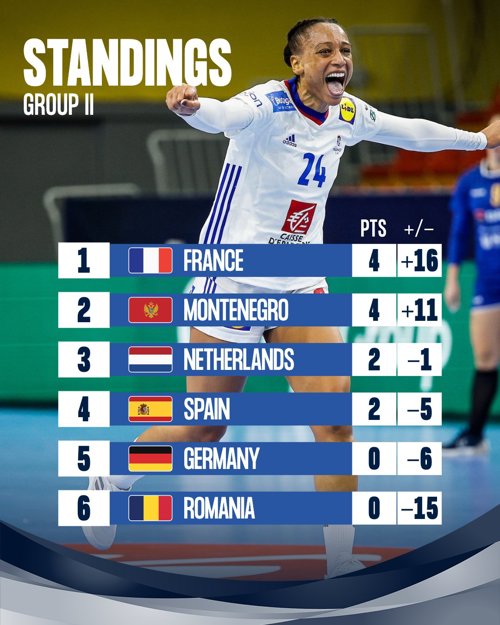 23:14
Day 6 of the Women's EHF EURO 2022 and the preliminary round is done and dusted. Here are the final results: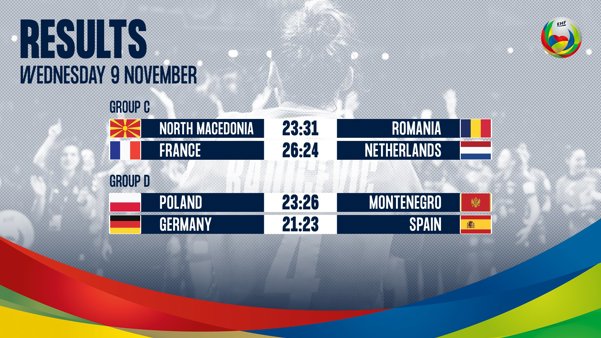 22:56
Much of the talk this evening is obviously about the thrilling finish to group D. But over in group C, two teams met who could both be medal contenders: France and Netherlands. Les Blues ended up as winners, 26:24, and have now won five of their last six matches against Oranje.
Could they go all the way again, just like four years ago?
22:39
The battle for the last main round tickets in group D was always going down to the wire. And it happened just like that, with Spain beating Germany but both teams going through. Elsewhere, France boosted their confidence and took two additional points for the main round by beating Netherlands.
Here are the match reviews from EHF journalists Adrian Costeiu and Björn Pazen:
Wow, how close was that?! Germany come back from four behind and do just enough to make the main round, joining Spain and Montenegro. Poland are now out of the race.
France hold on to their half-time lead to beat Netherland by two. Both teams were already though of course, but France now do so with four points and Netherlands two. Angela Malestein's nine not enough for the Dutch.
21:53
Are Spain through the main round? It looks like the will be... They lead Germany 22:19 with five minutes left to play in Podgorica.
21:45
Team timeout Germany. They trail Spain by three again: 19:16... if this were the final result, Germany would be out. Still more than 12 minutes to go in Podgorica.

21:41
France and Netherlands are level on 21:21. The Dutch have been playing catch up almost all the match, and with 12 minutes to go, this is still anybody's game.
21:27
Spain edging three goals ahead: 14:11, also thanks to Alexandrina Barbosa's 75th career EHF EURO goal (that was for 13:11). Poland will be anxiously watching this one..!

This is game is just as close as it gets! Exactly what you expect from a match with so much at stake. EHF journalist Björn Pazen is in Podgorica and this is his opinion:
"The pressure is on both teams, knowing that any little thing or a short weak period can send them home tomorrow. Germany are in the slightly better position, as they can lose by two goals and still proceed to the main round, but then without any point.
Both sides try hard to close any gap in defence – and on both sides the will to fight is enormous. The game went back and fourth – and the fact that Germany (40%) and Spain (46%) had an attacking efficiency of less than 50% after 30 minutes prove the focus on defending, and the nervousness in attack.
From 4:4, Spain have not been down again, but also have not lead by more than one – and in the last 10 minutes of the first half, both sides caused a huge number of mistakes in attack. Nothing is decided in Podgorica – if the score remains like this, Spain and Germany book their main round ticket. But the good news for Poland: everything can change rapidly after the break."
France were quickly 4:1 ahead to set the tone for the first half. They are a bit more precise and effective, hence the two-goal lead. Let's hear from EHF journalist Adrian Costeiu in Skopje:
"After Amandine Leynaud met an end to her career and Laura Glauser was injured, the big question was if France were going to be the same excellent defence, without an experienced goalkeeping pair. The answer is, at least for now, their first choice, Cléopatre Darleux, has been nothing short of superb, saving 10 shots just in the first half against the Netherlands, for an outstanding 45% saving efficiency.
And it was just enough to lift France past the Dutch side, leading 14:12, after a very tight first half. Sure, France's defence has been amazing, forcing the Netherlands to play seven-on-six for at least eight minutes in the first half, but Per Johansson's side failed to bring the goods at times, conceding two open goal shots, one in the last 10 seconds of the half.
Still, it's only a two-goal game, so everything can happen, as the Dutch proved resilient and erased three-goal gaps twice. Very, very interesting game this and a worthy final of the group."
20:53
France open another two-goal lead (9:7) over Netherlands as Cléopatre Darleux plays like... Cléopatre Darleux again:
20:41
About 10 minutes into the games, and both games pretty much in the balance after one of teams opened an early lead. France had a blistering start against Netherlands for 4:1, but meanwhile it is 5:4. In the other game, Spain were 3:1 up against Germany but they are back level at 3:3. Tense matches so far!
20:20
If you were still wondering what the "Play With Heart" payoff of this EHF EURO stands for, here is another example:
20:01
The last two matches of the preliminary round start in just under half an hour, but handball fans in five different countries will watch extra closely.
France against Netherlands in group C is about taking points to the main round; Germany vs Spain in group D is about who grab those two tickets to the main round.
So you know what is at stake in group D and what happens when..?, here are the different scenario's:
Germany - through to the main round if
they do not lose to Spain by more than two goals 
they lose to Spain by three goals AND score at least 21 goals 
Poland - through to the main round if
Germany do not lose to Spain
Germany lose to Spain by more than three goals
Germany lose to Spain by three goals AND do not score at least 21 goals
Spain - through to the main round if they beat Germany

19:56
The emotions are running high again in Podgorica, understandably. What a night again in the Moraca Arena:
Tears before the game, tears after the game: Jovanka Radicevic scores 12 times in her last home game for Montenegro as the EHF EURO co-hosts wrap up a three-goal win over Poland.
What that means? Montenegro are guaranteed to take four points to the main round; Poland must wait and hope for the result of the Germany vs Spain game.
There might have been doubts left after the first half, but as soon as the second half started, the win – and with it, the ticket to the main round – could only go one way.
Romania are through to the next round, led by a 10-goal outing of Cristina Neagu. They join France and Netherlands, but will not carry any points with them.
19:27
Another Montenegrin milestone, this time not for Jovanka Radicevic: the goal for 24:19 against Poland was the 125th EHF EURO goal of Milena Rajcevic. Congrats!
19:13
Oh, she will be missed. Just yet another masterclass by Jovanka Radicevic, currently on 10 goals against Poland.
19:04
Over in Podgorica, Macedonia are doing similar things against Poland and go 17:13 up within eight minutes. Jovanka Radicevic in stunning form, already on nine (=9!) goals for the night. 
Both games were close in the first half, has that changed after the break?
18:59
Romania not wasting any time in the second half. Five minutes played and they have opened a four-goal gap over North Macedonia: 16:12 Remember, they 'only' need a draw to go through.

Poland had the better start, Montenegro – led by Jovanka Radicevic's five goals – have recovered fast, and we are in for a thrilling second half. Here are the half-time thoughts of Bjöen Pazen:
"Another emotional night in the sold-out Moraca arena, with tears even before the throw-off: Montenegrin handball said farewell to Jovanka Radicevic, who will quit playing for the national team after the EHF EURO. Facing Poland was her 188th international match – and the last one on home ground. But as soon as the 36-year-old right wing had dried her tears, she was on fire, being the best scorer of the first half.
But despite the again frenetic support of more than 4,000 fans, Montenegro were surprised by a 5:2 lead of the bravely fighting Polish side, aiming for their first main round berth in eight years. The back court axis Karolina Kochaniak-Sala (3), Monika Kobylinska (4) and Kinga Achruk (2) combined for nine of the 12 Polish goals before the break. Even a 7:2 run of the host for the 9:7 advance did not break the Polish moral in an intense battle for every ball and every centimetre. And after 30 minutes, Poland had this one point they need to proceed, as Kobylinska levelled the result with the buzzer for 12.12. So everything is open in the race for the remaining two tickets to Skopje."
Romania ahead, led by Cristina Neagu's six goals, as many expected, but no room for error as the Macedonian hosts keep hanging in there well. Let's hear from EHF journalist Adrian Costeiu in the arena in Skopje:
"They are clear favourites," said North Macedonia head coach Ljubomir Savevski before the do-or-die match against Romania. It might have been a play, because the numbers said that the co-hosts scored the lowest amount of goals in the competition after two rounds. Did Romania fall into the trap set by the experienced coach?
Judging by the first half, a bit. Romania dominated the match, but missed too many clear-cut chances to open a bigger gap. And their 3:0 run spurred by Cristina Neagu between the 17th and 22nd minutes was just enough for Florentin Pera's side to open a three-goal gap, 11:8.
But this match will be decided in the second half. Romania's attack had a 50% efficiency, North Macedonia's had a 34% efficiency, therefore everything will be decided in defence. And if North Macedonia do stop Cristina Neagu, who scored six goals and dished three assists, then Romania will be in big, big trouble. Right now, they are in the main round, thanks to their 13:12 lead. But it is a very, very slim margin."
18:34
Does this count as save?! ;-)
18:21
Wow, Cristina Neagu is on fire. I mean, really on fire.
Romania lead 9:8 – and no less than six of these nine goals have come from Neagu.

18:17
First quarter done, and both matches very much in the balance. Nothing separating North Macedonia and Romania in Skopje, locked at 5:5. And Poland had a quick 5:2 lead over Montenegro in Podgorica, but that hasn't last for long: 6:6.
18:09
What you call: moving pictures from Podgorica:
17:58
First emotions, first tears, even before throw-off in Podgorica tonight. This will be superstar Jovanka Radicevic's last home match in Montenegro for the national team. A moment that of course cannot pass unnoticed, and she has been presented two framed shirts – also one for passing the 1,000-goal mark.

17:49
The head-to-head stats for Poland against Macedonia are pretty one-sided: Macedonia have won eight of their previous nine encounters...
But: the one win Poland got, came in the most recent match the teams played: in the main of last year's IHF World Championship, which Poland won 33:28.
17:43
Over in group D, the situation is a little bit more complicated, with three teams in the race for two remaining tickets to the main round. Two of them play the late game – Germany and Spain – but the third one will meet already qualified co-hosts Montenegro at 18:00 CET: Poland.
The situation for Poland? They go through to the main round if:
they do not lose to Montenegro
they lose to Montenegro AND Germany do not lose to Spain
they lose to Montenegro AND Germany lose to Spain by more than three goals
they lose to Montenegro AND Germany lose to Spain by three goals AND do not score at least 21 goals
they lose to Montenegro AND Germany lose to Spain 20:23 AND Poland will have a better goal difference in the overall ranking than Germany
17:34
Looking at the stats, you have to fear the worst for co-hosts North Macedonia tonight: they have beaten Romania only once on six occasions – and that came at the 1997 IHF World Championship in Germany, a quarter of a century ago...
But having said that, stats are just stats, the facts will created during 60 hot minutes on court in Podgorica. 
17:28
Luckily in group C, the math is not too difficult: the winner takes it all. (Don't cheer too early, we talk you through group D in a minute...)
France and Netherlands, who meet in the late match, are through; the last main round spot from this group goes to either North Macedonia or Romania. If North Macedonia win, they go through. Every other result, also a draw, will see Romania advance.
In what an atmosphere it will be on the Moraca Arena once again:
17:20
Tension is building in Skopje and Podgorica as we are only 40 minutes away from throw-off. We start this last night of preliminary round action in group C with hosts North Macedonia and Romania dueling directly for the last main round spot from this group; and in group D with Poland playing for their chance to stay in the tournament against already qualified Montenegro.
17:05
If you are not already doing so, tune in to our EHF EURO show on the Home of Handball Twitch channel for a watch-along and a series of star guests:

15:53
With their 10 extraordinary minutes against Spain, Poland made the headlines two days ago. Can they stage another upset? They meet already qualified hosts Montenegro in the last group D game at 18:00 CET, so EHF journalist Björn Pazen went to see the team in the build-up to this all-or-nothing clash and wrote this feature:
14:28
You have seen the best goals from yesterday, time to put the goalkeepers in the spotlight with the Top 5 Saves:
13:02
She had to put a difficult time behind her, but now she is back: Estavana Polman is a leading force for Netherlands again. She may have had fewer minutes on court than usual, but the presence of the experienced left back is certainly a boost for the Dutch team.
In the build-up to the Dutch match against France tonight, EHF journalist Adrian Costeiu in Skopje spoke with Polman for this feature:
12:27
Goals, goals, goals – we hope to see a lot of them again tonight. For now, let's look back at the best strikes from Tuesday's group A and B games:
11:52
Here is our daily best 'women in sport' image, the cooperation between EHF and its photo agency partner, kolektiffimages, showcasing female empowerment during the Women's EHF EURO 2022.

Mathilda Ahlerg, the Swedish photographer for Bildbyrån, is one of 10 female photographers accredited for the Women's EHF EURO 2022 ❤️. We feel empowered just by looking at this cool photo and hope that we will see more female photographers like Mathilde at the EHF EURO in 2024!
11:30
Half past 11, time for our Stat of the Day by data analyst and journalist Julian Rux. This time, he has calculated the save percentage of the France goalkeepers and that is, let's say, pretty incroyable:
10:38
Germany against Spain in group D is one of the key matches today when it comes to the open spots in the main round. Who will advance?
It is a special match for sure for Spanish line player Kaba Gassama, whose club team is SG BBM Bietigheim, the German Bundesliga and EHF European League champions. And her coach at Bietigheim, Markus Gaugisch, happens to be also the coach of the Geman national team...
Gassama spoke with EHF journalist Björn Pazen on the eve of this crunch match in Podgorica for this feature:
10:26
It might become quite a puzzle today...
France and Netherlands in group C and Montenegro in group D are already through, but what about the other teams: Romania and North Macedonia in C, and Poland, Germany and Spain in D?
So, let's begin with another reference to our article, detailing exactly what each team needs in order to book their place in the main round. 

10:15
Hello and welcome again to the Women's EHF EURO live blog. We are into day 6 of the championship and we had to say farewell to two teams from groups A and B yesterday: Switzerland and Serbia.
So, which two teams from groups C and D will follow them tonight? The race to the main round is still wide open, especially in Podgorica, es three spots in the next phase are still up for grabs.
Here is our playing schedule for today, the final day of the preliminary round: