EHF Champions League
Truck-spotting at Tuesday's EHF FINAL4 Men draw
The last key decision ahead of the first throw-off for the TruckScout24 EHF FINAL4 2023 is going to be made on Tuesday, 23 May at 12:00 hrs CEST when the competition's draw takes place in Cologne.
Fitting to its title sponsor's brand, for the first time the event takes place in a studio built within a truck which will be positioned outside the LANXESS arena in Cologne. From the truck the draw is streamed live on EHFTV and the EHF's Home of Handball Youtube channel (see also the list below for local broadcasters).
__PRESENT
With defending champions Barça, 2016 winners Barlinek Industria Kielce and five-time participants Paris Saint-Germain Handball, three 'regulars' have made it to Cologne. They are challenged by SC Magdeburg. The German side celebrates its Cologne premiere; the 2002 EHF Champions League winners last reached the competition's semi-final in the 2003/04 season.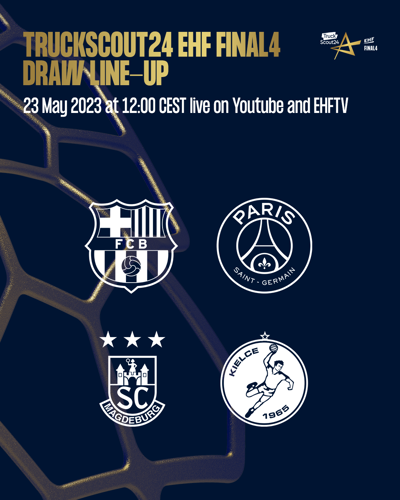 The draw will be conducted by EHF President Michael Wiederer. The following four players will join the draw remotely for immediate comments: Christian O'Sullivan (SC Magdeburg), Gonzalo Perez de Vargas (Barça), Andreas Wolff (Barlinek Industria Kielce) and Luka Karabatic (Paris Saint-Germain Handball).
The TruckScout24 EHF FINAL4 2023 takes place on the weekend of 17/18 June at the LANXESS arena in Cologne. This marks the premium event's 14th edition.
A limited amount of tickets is still available and can be bought via tickets.eurohandball.com.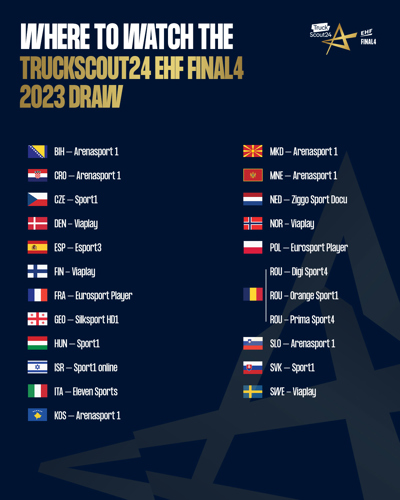 Media accreditation are still open

Media representatives (TV, radio, written and online media, photographers) looking to cover the event still have time to request accreditation. The deadline for submissions is 2 June 2023. Requests must be made through the EHF's dedicated online system available at https://accreditation.ehf.eu/. Email requests will not be considered.