LIVE BLOG: Kiel and Barça join Veszprém and Kielce in EHF FINAL4
Kiel beat Paris Saint Germain in the MOTW on Thursday in the second-leg of the EHF Champions League Men 2021/22 quarter-finals. Earlier on Thursday Barça joined Veszprém and Kielce in the EHF FINAL4 2022 that takes place in Cologne on 18/19 June. 
23.30
Thanks for joining us. What a great pair of matches we were treated to tonight.
Keep an eye out for the draw on 24 May, and then it is all eyes on the EHF FINAL4 in Cologne on 18/19 June. 
23.23
Fancy going to the EHF FINAL4 in Cologne? Here's how to get hold of your ticket. 











23.11
Four great quarter-finals to decide who'll be making up the EHF FINAL4 - remind yourselves of what happened by reading the match reports from our reporters on the scene. ⬇️
23.00
We now know the full line-up for the EHF FINAL4 - Barça, Kiel, Veszprém and Kielce. The same line-up as we had in 2015 when Barça beat Veszprém in the final. 
Don't miss out on the EHF FINAL4 draw, which will take place on Tuesday, 24 May.
22.53
A huge moment for Kiel fans knew to enjoy - the moment they they were off to the EHF FINAL4
22.51
Here's why Patrick Wieneck was called POTM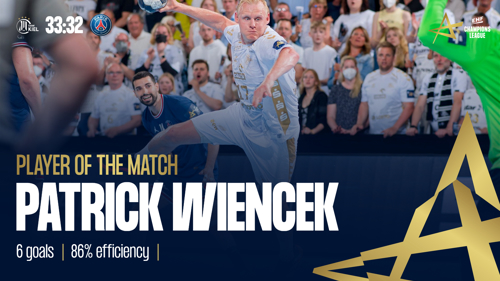 22.36
Kiel's Patrick Wiencek is named Player of the Match after a performance that featured six goals and plenty of imploring of the crowd to raise their voices. 
22:35 FULL TIME | KEEL VS PARIS SAINT GERMAIN 33:32
Kiel win 63:62 on aggregate and book their place in the EHF FINAL4 in Cologne. 
They did it the hard way, fighting back after trailing for the entirety of the first half, showing great skill and heart to haul in PSG and then hold off the inevitable fightback at the end.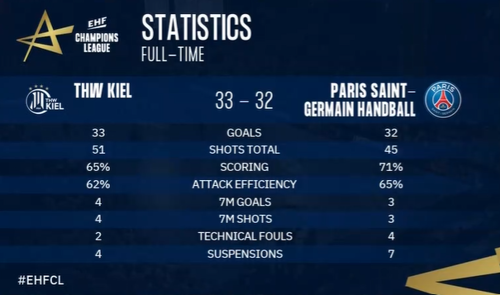 22.32
PSG work the ball to Luc Steins, but he can't beat the keeper and Kiel are off to the EHF FINAL4. The fans are on their feet celebrating wildly and looking forward to a trip to Cologne. 
Think this week's match of the week lived up to its billing. What a game.
22.30
PSG don't shoot at the unguarded net, but counter-attack and draw a foul with four seconds left. Now we've another timeout. good grief, what drama, what tension, what sport. 
22.29
You know those matches that leave you straining and drained as if you were playing? Well, that's what this match has been like. Kiel and PSG fans have been feeling every emotion going, but very soon they will know the result. 
22.28
37 seconds left and it is Kiel 33:32 PSG
22.27
It's a two-goal buffer after Steffen Weinhold's score. Kiel 33:31 PSG. 51 seconds left. 
22.26
Magnus Landin Jacobsen slots a penalty to put Kiel back ahead, and PSG are unable to find the net when they go on the attack. 80 seconds left. 
22.25
and just like that we are level again at 31:31. These three minutes are going to crawl by. The tension...you can reach out and touch it. 
22.21
PSG sniff the chance to draw level, but after they work the ball to Kamil Syprzak, Kiel keeper Niklas Landin Jacobsen is equal to his close-range effort. 
22.17
Kiel have called a timeout and we can't say we don't need the chance to catch our breath. Breathe deeply now, keep calm because this match has plenty more twists and turns.
Right then, back we go...
22.15
DON'T GO ANYWHERE!
This match is going to the wire. Ten minutes to go and it has swung both ways, which way will it swing before the end. 
22.12
Here's when Kiel turned the tie on its head.
22.06
Right now Kiel hold a three-point lead over PSG and are on their way to Cologne. They are in a red-hot spell of form and are riding the momentum hard. Every time the French team appears to be building momentum, Kiel go up the other end and find the net. 
22.01
21.57
Well, this is the turnaround. Kiel have rallied and now eight minutes into the second half Magnus Landin Jacobsen's penalty puts his team into the lead. 
21.34 HALF TIME | KEEL VS PARIS SAINT GERMAIN 17:19
It's been a convincing half from the French side. They took the lead early on and haven't looked back since. Despite their best efforts, Kiel have yet to get fully on top at the Wunderino Arena Kiel.
Have you ever seen a match, in which IHF World Player Niklas Landin only saved one shot after 24 minutes? Usually, the Danish goalkeeper is on six, seven saves by then - and nothing changed, when Dario Quenstedt entered the goal, in total there was one save at the break. For PSH Vincent Gerrard was permanently on a percentage around 30 to 34, this was one reason for PSG's constant advance and the 19:17 lead.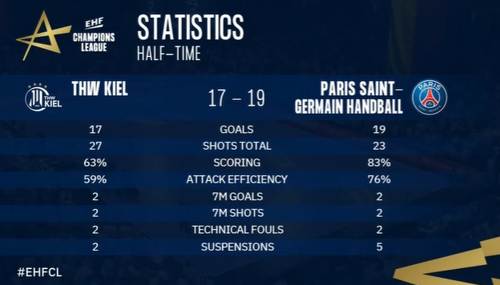 21.31
Kiel's Patrick Wiencek finishes from close range, then immediately turns to the fans to ask them to keep the noise going. 
21.25
Hello, that's a grab
21.24
Not all going PSG's way. Kiel's central defensive trio is standing firm, keeping the gaps closed and forcing the French side to move the ball wide. 
21.18
We've had a couple of goals for Kiel that have raised the roof, but PSG have a goal lead. The hosts will need to keep their momentum going if they want to go ahead. 
21.00
All going PSG's way so far, with the French side two goals ahead.
Congratulations to Flensburg because they are always a big oponent. We are really happy to be again in the FINAL4. It's not easy to reach and our group was really difficult. We lost two matches against Kielce and it was hard for the team, but we continued working and we had time to grow like a team.

Today Flensburg followed the instructions that Maik told his team. They played as slow as possible to arrive with energy at our end but at the end we played with smaller players we were faster.

Our defence was superb again and I'm more than happy to be in Cologne.
20.45
Off we go and it is PSG who open the scoring. 
20.40
Kiel's players are lining up in the tunnel awaiting their introduction. Expect a lot of noise when they start to run out at Wunderino Arena Kiel.
20.37
Here's all the info for the match, which you can watch at ehftv.com
the MOTW starts with neither team having an advantage: Kiel had to settle for a draw in the first leg, having led by up to five goals (19:14) in the second half
when the teams also met in the quarter-finals last season, Kiel won the home leg 31:29 but PSG ultimately advanced to the EHF FINAL4 2021
Kiel are unbeaten on home court this CL season and failed to win just one match: 32:32 against Pick Szeged; their last home defeat was against Barça (32:26) in November 2020
Kiel had no match in the German Bundesliga; PSG defeated Toulouse 37:32 in the semi-finals of the French cup
Kamil Syprzak is PSG's leading scorer with 80 goals; CL 2019/20 top scorer Niclas Ekberg has netted 66 times for Kiel
20.35
It is 10 minutes till our match of the week and what a match it is shaping up to be. 
It is THW Kiel against Paris Saint-Germain with the teams finely poised following their 30:30 draw in the French capital. 

20.31
Here's how Barça wrapped up their quarter-final victory
20.18 FULL TIME | Barça vs Flensburg 27:24
Barça are into the EHF FINAL4 with a 60:53 aggregate victory
20.16
Into the last minute now and it is a three-goal advantage for Barça. The celebrations are already underground. 
20.12
Captain, my captain 
20.06
Remember what we told you about Dika Mem moving into second on the scorer's chart? Well this effort meant he's now joint top with Felix Claar on 88. Do you reckon he'll be out in front on his own by the end of the match? 
20.03
Barça keeper and captain Gonzalo Perez de Vargas Moreno has put in a true skipper's shift and is given a break which he thoroughly deserves.
He's been a rock between the posts for the Spaniards tonight, using everything to keep the ball out, including his head with a save it appeared he didn't know too much about just before going off.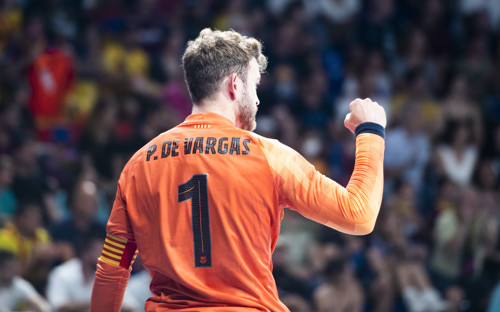 19.56
There's no let up for either side, and Barça are keeping their guests at arm's length. Flensburg need a run of points soon if they are to reach the EHF FINAL$.
Just to prove a point Haniel Vincius Langaro Inoue finds the bottom corner to stretch the home side's lead to two, that's six on aggregate. 
19.42
Back underway and Aitor Ariño Bengoechea fires home a goal that brings the crowd to its feet.
19.41
Dika Mem's second goal put him second in the leading scorer list with 87 goals, behind Felix Claar with 88, and level with Petar Nenadic.
19.31
Oh we like this effort, we like it a lot
19.25 HALF TIME | Barça vs Flensburg 10:10
Flensburg keeping up with their hosts, but Barça still hold a four-goal advantage over the two legs. Both teams have had their moments in the first half, but the German side will need a run of points if they want to book their place in Cologne.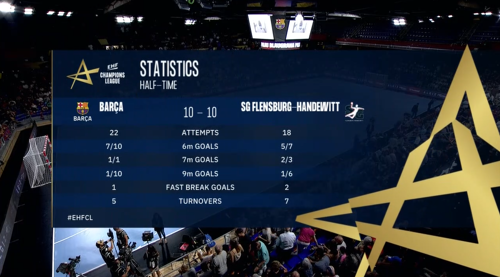 19.22
19.17
Right get this date in your diary 📅 now - Tuesday, 24 May - it is the day we will know the semi-final pairings for the EHF FINAL4.
19.10
A couple of big saves from Flensburg keeper Benjamin Buric and just like that the visitors are back level.
18.59
Aleix Gómez Abelló finishes off a swift Barça counter-attack with a powerful left-handed finish. It opens up a three-point lead on the night and increases the Spanish side's control of the tie. 
18.55
Plenty of noise from the crowd in Palua Blaugrana and after a slightly slow start, both teams have upped their intensity and racing from end to end when the gaps in defense open up. 
18.45
We are underway at the Palau Blaugrana and the home side are already on the attack with Luke Cindric opening the scoring. 
18.37
The teams have been busy going through their pre-match preparation. Barça players looking relaxed knowing they have the advantage on the scoreboard, and with home court advantage. 




18.33
While we wait till it gets underway, remind yourself of what happened in the first leg...
Barça took early control of the first leg last week with a 9:2 lead within 10 minutes, on their way to a seventh straight win against Flensburg
best scorers in the first leg were Emil Jacobsen, with nine goals for Flensburg, and Youssef Ben Ali, with eight for Barça
Flensburg have not returned to the EHF FINAL4 since their (winning) debut in 2014; Barça are aiming for their 10th appearance
Barça have lost only one CL home match this season – against Kielce; Flensburg have won just two away marches – in Bucharest and Porto
Barça right back Dika Mem is the second-best scorer of the CL with 84 goals; Flensburg's outgoing wing Hampus Wanne has scored 75 times
18.32
It's just over 10 minutes till the start of Barça v SG Flensburg, and we reckon this fan was the first through the doors once they opened. 

18.22
Last night we had two thrilling matches and you can read all about them here. ⬇️
18.12
First off at 18.45 (CEST) Barça host SG Flensburg-Handewitt having left Germany with a 33:29 victory from the first leg. 
Then at 20.45 (CEST) it is our Match of the Week when THW Kiel welcome Paris Saint-Germain HB with nothing separating the teams after the first leg finished 30:30.
18.07
Welcome back to the EHF Champions League live blog, on a night when we will find out who will join Veszprém and Kielce in the EHF FINAL4 that will take place at the LANXESS arena in Cologne on 18/19 June.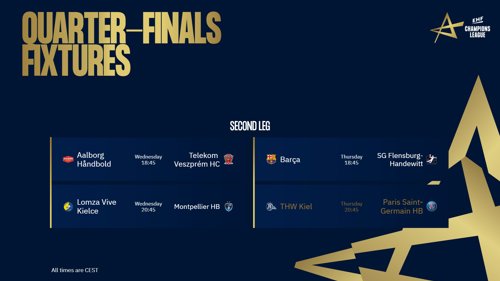 Thursday 19 May
15:40
Good afternoon and welcome back to our live blog coverage — and another big day in the EHF Champions League Men 2021/22! 
Veszprèm and Kielce secured the first two places at the EHF FINAL4 2022 last night, and tonight we will find out who will join them at the pinnacle event to decide the season's title in exactly one month. 
A reminder of the schedule for tonight's matches: 
18:45 CEST: Barça vs Flensburg — first leg 33:29
20:45 CEST: MOTW Kiel vs PSG — first leg 30:30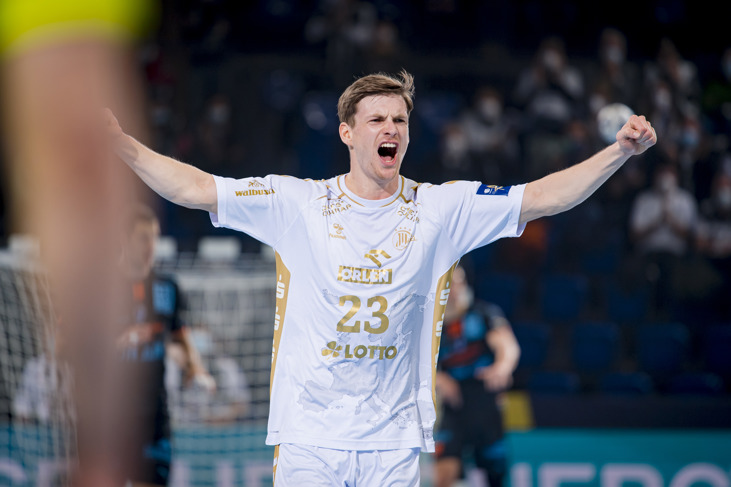 Wednesday 18 May
23:15
Here ends our coverage of the first two second-leg matches in the quarter-finals. Make sure you join us again same time, same place, on Thursday, when we have in store for you:
18:45 CEST: Barça vs Flensburg
20:45 CEST: MOTW Kiel vs PSG
For now, thanks for following the matches with us and we are saying goodbye with the very best pictures from the night in our gallery:
















23:08
Two quarter-finals completed, two to go. Here is what happened tonight at Aalborg vs Veszprém and Kielce vs Montpellier:
22:57
Veszprém were the first to confirm their status as EHF FINAL4 2022 participants. The Hungarian side has not won the EHF Champions League before. Give us your opinion in the poll:
22:35
So, half of the teams for this season's EHF FINAL4 has now been officially confirmed – and after last week's first-leg results it is no surprise that the first tickets have gone to Veszprém and Kielce.
Just to see what it means to them, here are the celebrations of Veszprém...
... and here the celebrations of Kielce:
22:24
Let's hear from Tomasz Gebala, Kielce's left back who praises the club's fans just as much as his teammates after the double triumph over Montpellier:
The help of the fans and just the atmosphere in the team let us do what we do best: playing with this intensity from the beginning. I think it was hard to fight against that. Winning the EHF FINAL4 is the ultimate goal and we only think about that right now.
The party in Kielce has been going on for the whole match... but can now start officially! What a dominant performance to get past Montpellier and book a place at the tournament where all clubs wanted to be, but only four can be: the EHF FINAL4. Artsem Karalek with seven from seven the outstanding scorer.

22:12 BREAKING NEWS:
+++ KIELCE QUALIFY FOR EHF FINAL4 2022 +++
22:02
This tie has long been decided, but we can still enjoy some brilliant stuff:
21:59
Kielce reaching for the stars..?! They are set for a return to the EHF FINAL4 after three years. No wonder, they way they won their group ahead of the likes of Barça, Veszprém, and PSG.
And now twice beating Montpellier – and not just beating, but really beating them – is another proof we are dealing with a serious title contender here. 

21:48
Team timeout Montpellier. What can you do: a dominant opponent, 19:11 down, -11 the overall difference, and only 20 minutes left on the clock...

19:34
You got to feel for Montpellier: Kielce are on fire... but the French side are also their own opponents, failing to score a goal since minute 22:42 – that is more than seven minutes. Before that, they did score some nice ones:

21:28
High-fives for Kielce:
Can Kielce start packing their suitcases for Cologne? Led by a perfect five-from-five for Artsem Karalek, the 2016 EHF Champions League winners lead the 2003 and 2018 EHF Champions League winners by seven tonight, and by 10 overall.

21:16
Team timout Montpellier. Qualifying for the EHF FINAL4 could become mission impossible soon for the French two-time winners, 12:8 down with five minutes left in the first half. Does Patrice Canayer have the recipe to turn this around?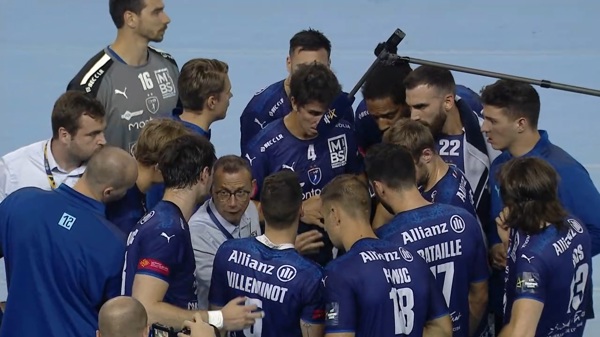 21:09
Kielce are turning on the heat in their Hala Legionów and lead Montpellier by four goals (10:6) after 20 minutes – that means by seven goals overall. Yes, that is a big lead...
20:54
Nothing separating Kielce and Montpellier in the opening minutes, but the Polish hosts are well aware of the French side's strengths, as goalkeeper Andreas Wolff explained in this eurohandball.com feature 
20:43
Kielce are starting a favourites for the second EHF FINAL4 ticket after Veszprém qualified earlier tonight.
But read those stats:
in the play-offs last season, Kiel won the first leg away against a French team – HBC Nantes – before losing the return leg at home and missing out on the next round
Montpellier have won four of their five CL away matches in Kielce; their only defeat came in a group phase game in 2015
Let's see what happens on court. Enjoy the game live on EHFTV!
20:39
No time to waste as we head straight on to Poland, where Kielce and Montpellier are trying to become the second team to book a mid-June trip to Cologne.
Kielce are certainly in the driving seat following their three-goal away win in France last week, but we all know: three goals in handball is nothing.
Great to see both club presidents getting on so well just before one the biggest matches of their seasons:
20:34
Welcome back to the EHF FINAL4, Veszprém! They are heading there next month for the seventh time in the club's history; can this finally be their year?! This is what Rasmus Lauge said right after the match in Aalborg tonight:
We were kind of underdogs for most of the season, actually, even though Veszprém's goal is always to go to the EHF FINAL4. There was a lot of changes around the club and a new coach, so we kept working even though it didn't look pretty in the fall, but now we are here. It means we have another shot at the trophy. That is all that matters now.
Well done to Aalborg... but congratulations to Veszprém for winning 71:66 on aggregate and becoming the first team to confirm their place at the EHF FINAL4 2022 on 18/19 June!

20:22 BREAKING NEWS:
+++ VESZPRÉM QUALIFY FOR EHF FINAL4 2022 +++
20:18
Team timeout Aalborg. Stefan Madsen knows they won't make it back to Cologne, but at least they are putting in a great fight. Up by three now (36:33) with two minutes left.

20:13
One example why those goalkeeper stats have gone up:
20:10
What about this for a stat? The improvement in safe efficiency after the first half (20:21...) is remarkable on both sides – but especially for the hosts:

20:05
Too little, too late? We have just seen Aalborg going into the lead for the first time this match after Kristian Björnsen has netted for 31:30. The overall advantage for Veszprém remains six...

19:56
With a 10-goal lead on aggregate and 18 minutes left to play in Aalborg, it looks like Veszprém can start celebrating another visit to the EHF FINAL4 next month.
Oh wait, that is just what their fans in the stands are already doing right now!

19:49
Second half well and truly underway. Can Aalborg make this duel close again? Doesn't seem so at the moment as Veszprém keep scoring like this:

19:36
One of the standout players in the first half – Buster Juul:
Wow, what a high-scoring game this is! Buster Juul and Kristian Björnsen have each netted six times already - and we are only at the halfway point.
And it is close again - just like last week in the first half. But Aalborg need to win this by eight goals and this half-time score doesn't make their task any easier.

19:15
Beauty x 2:
19:04
Team timeout Aalborg. The hosts find themselves 10:7 down after 14 minutes – that makes for an overall difference of 10 goals in Veszprém's favour. Aalborg need to get back into this before the break or their comeback attempt has already turned into mission impossible at half-time...

18:59
Veszprém have enjoyed the early initiative with two two-goal leads (3:1, 5:3) but we are back at all square after the opening 12 minutes: 7:7.
That is similar to how the first leg in Hungary started last week...

18:40
Five minutes until throw-off in Aalborg. The teams are ready! Watch all the action live on EHFTV.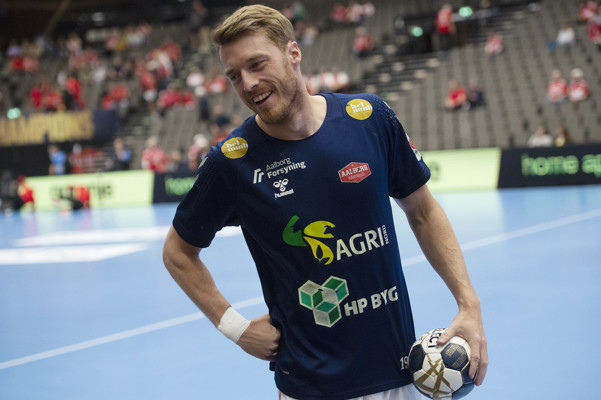 18:27
Veszprém made a b-i-g step towards their seventh EHF FINAL4 berth last week, giving themselves a seven-goal buffer for tonight's reverse fixture in Aalborg.
But, huge lead or not, goalkeeper Vladimir Cupara says his team should play tonight "as if we lost the first game."
Interesting mindset!
18:16
So, we are heading up North to throw off this all-decisive second leg of the quarter-finals, as Aalborg are hosting Veszprém at 18:45 CEST.
It was the close match many had expected for a long time in the first leg, but while the scores were still level early in the second half (17:17), Veszprém came away with a commanding 36:29 win in the end.
That seven-goal margin obviously leaves Aalborg with a mountain to climb. The Danish team were on a seven-match winning streak in the competition before the trip to Hungary. But if last year's finalists want to return to Cologne next month, they have to do it all tonight in their home arena...
... and, yes, they do want to get back, as top scorer Felix Claar has explained to us in this feature.
18:03
Excitement levels are certainly going up with those four high-profile games, matches that can make of break an entire season. While we have the defending champions Barça taking on Flensburg, and Kiel locking horns with PSG in a quarter-final once again coming up tomorrow, we are now going to focus on tonight, with trips to Denmark and Poland:
17:56
Four matches, nicely divided over four time slots tonight and tomorrow, so you won't miss anything from the action. Read the second-leg preview from EHF journalists Björn Pazen and Kevin Domas to get yourself up to date on all four games:
17:45
Hello and welcome to the EHF Champions League live blog. This is not just another round of the best men's club handball competition you know, this is the ultimate round before we head into the season highlight at LANXESS arena in Cologne – a.k.a. the EHF FINAL4.
The quarter-finals will be completed as the following second-leg matches are scheduled for tonight and Thursday evening, respectively: