EHF European League
Summary: GOG and Nantes draw; Magdeburg win but are pushed
EHF European League Men 2021/22 group phase, round 5
Highlights: Big wins for RK Nexe as they got revenge over Velenje, Sävehof impress against PAUC to pick up full points, GOG and Nantes couldn't be separated while SC Magdeburg were pushed all the way by La Rioja
all matches' highlights can be found on on EHFTV 
read all the match reports for each game HERE
check the group standings on eurohandball.com
23:04
We close tonight's coverage, below you will find some of the night's best snapshots along with the match reports a bit further down. We will see for round 6 on the 7 December! 










22:57 
Read up on each of tonight's games by reading the reviews, any reviews that are not below can be found on eurohandball.com!
22:36
Here is a full overview of all of tonight's results! Big wins for all of the home teams in group A and B apart from the cracker of the game between GOG and Nates that saw the teams share the points.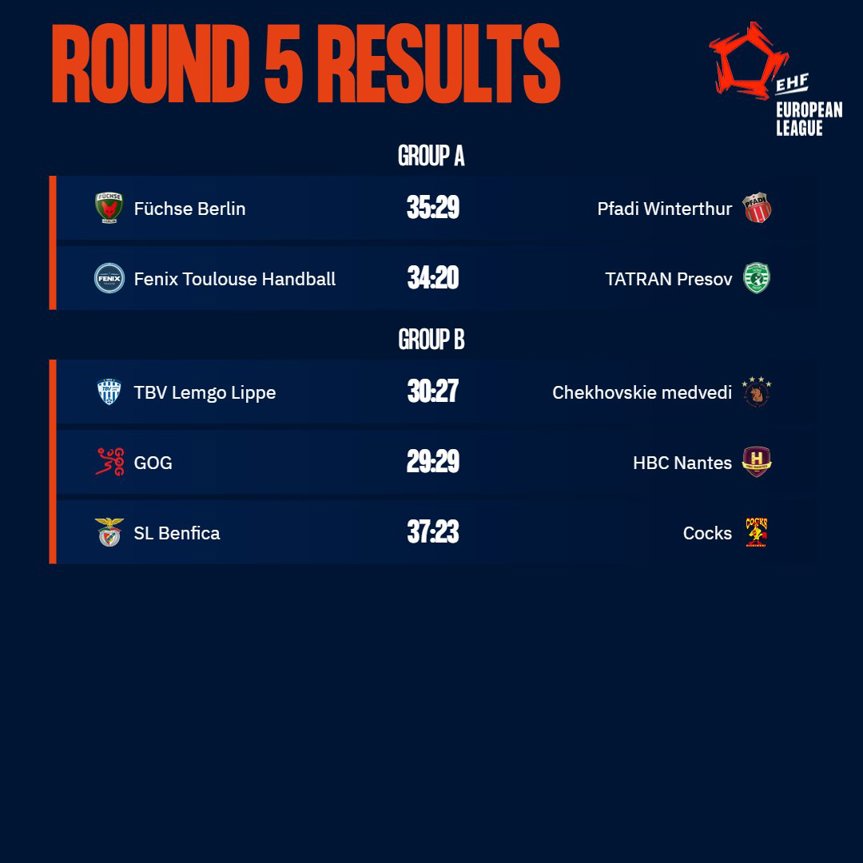 Sävehof held their nerve after building up a really big lead at half-time and were able to weather the storm in the second half to take full points. RK Nexe got their revenge for their round 3 loss with a massive with over Velenje. SC Magedeburg were pushed all the way and even 16 goals from Agustín Casado Marcelo could get any points for the Spanish visitors. In group D, the group leaders Sporting and Pelister were matched well and shared the points after a cagey match.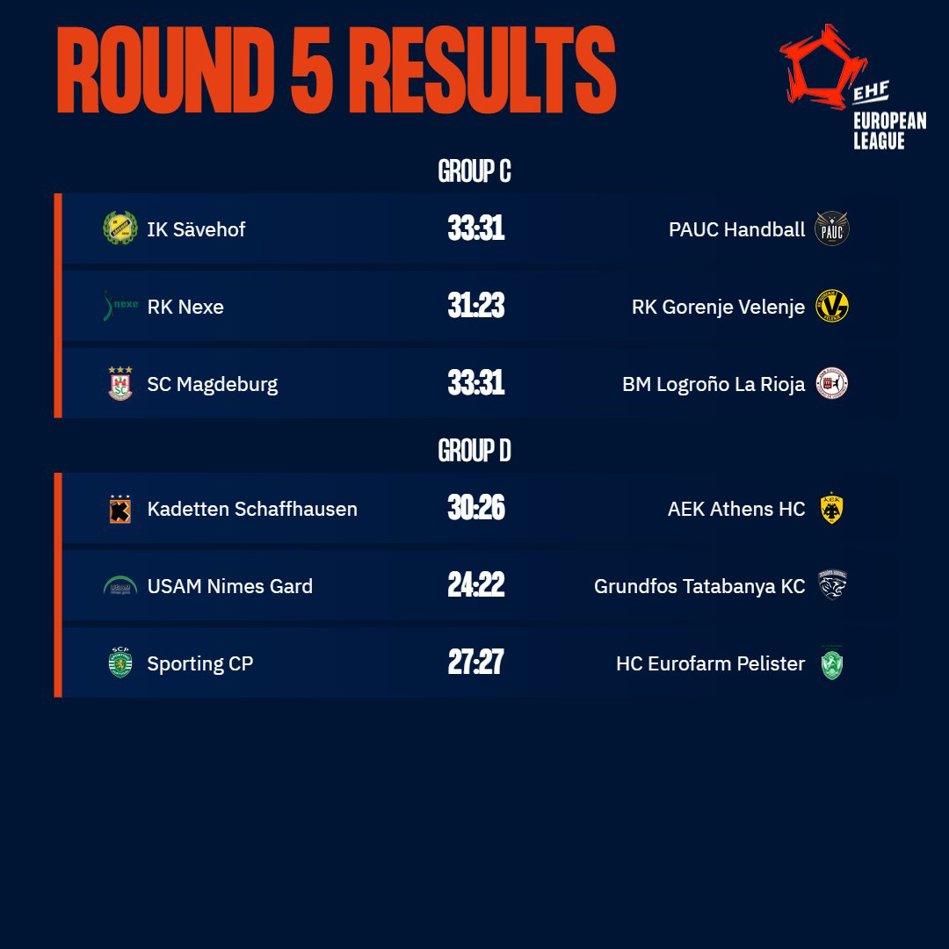 22:34
Indeed, we are lost for words for such a performance.... take a bow, sir. 
22:24
RESULTS OVERVIEW 
RK Nexe 31:23 RK Gorenje Velenje 
SC Magdeburg 33:31 BM Logrono La Rioja 
Fenix Toulouse Handball 34:20 TATRAN Presov 
SL Benfica 37:23 Cocks 
Füchse Berlin 35:29 Pfadi Winterthur 
Sporting CP 27:27 HC Eurofarm Pelister 
22:17
RESULT: SCM Magdeburg 33:31 BM Logrono La Rioja
It was SCM night in the end but what a game it was. And what a performance by Agustín Casado Marcelo he netted 16 goals from 18 attempts for La Rioja (yes you read that correctly). Just incredible. And still, they leave with nothing to show for it. But I must say La Rioja are playing some really nice handball and with will a handful for anyone this season.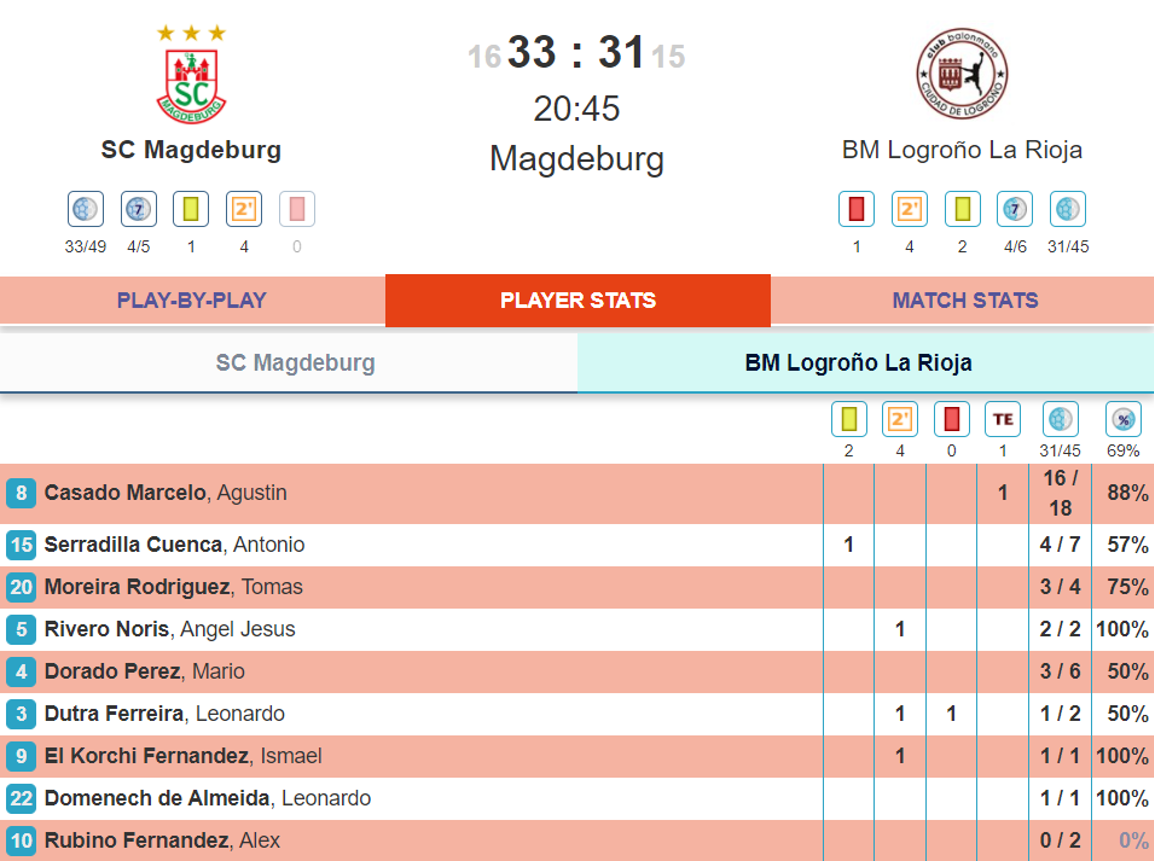 22:11
Man-to-man marking for La Rioja didn't pay off with Saugstrup finding himself free on the line with two seconds left and the Dane nets to give SC Magdeburg full points after a really tough fight. 
22:09
Pure tension here. 45 seconds left. We are back to a one-goal game. And according to a time-out from SC Magdeburg they have the in-flight as the option. One last bit of magic to close the game?
22:02
Damgaard is letting them fly today, not all towards the goal though as the Dane has only netted 45% of his chances (5/11) but that's often what you get them him there is no going down in the gears. Magnusson (7/9) is looking very good on the other side, he has the defence dancing with him, dragging them with him to drop the easiest ball ever to Saugstrup (3/4). SCM 29:27 La Rioja.
21:55
Time-out! La Rioja are playing some lovely handball, very attractive all-gas no breaks style but SC just have the little bit more quality in the back court and that's giving them the edge so far. SCM 26:23 La Rioja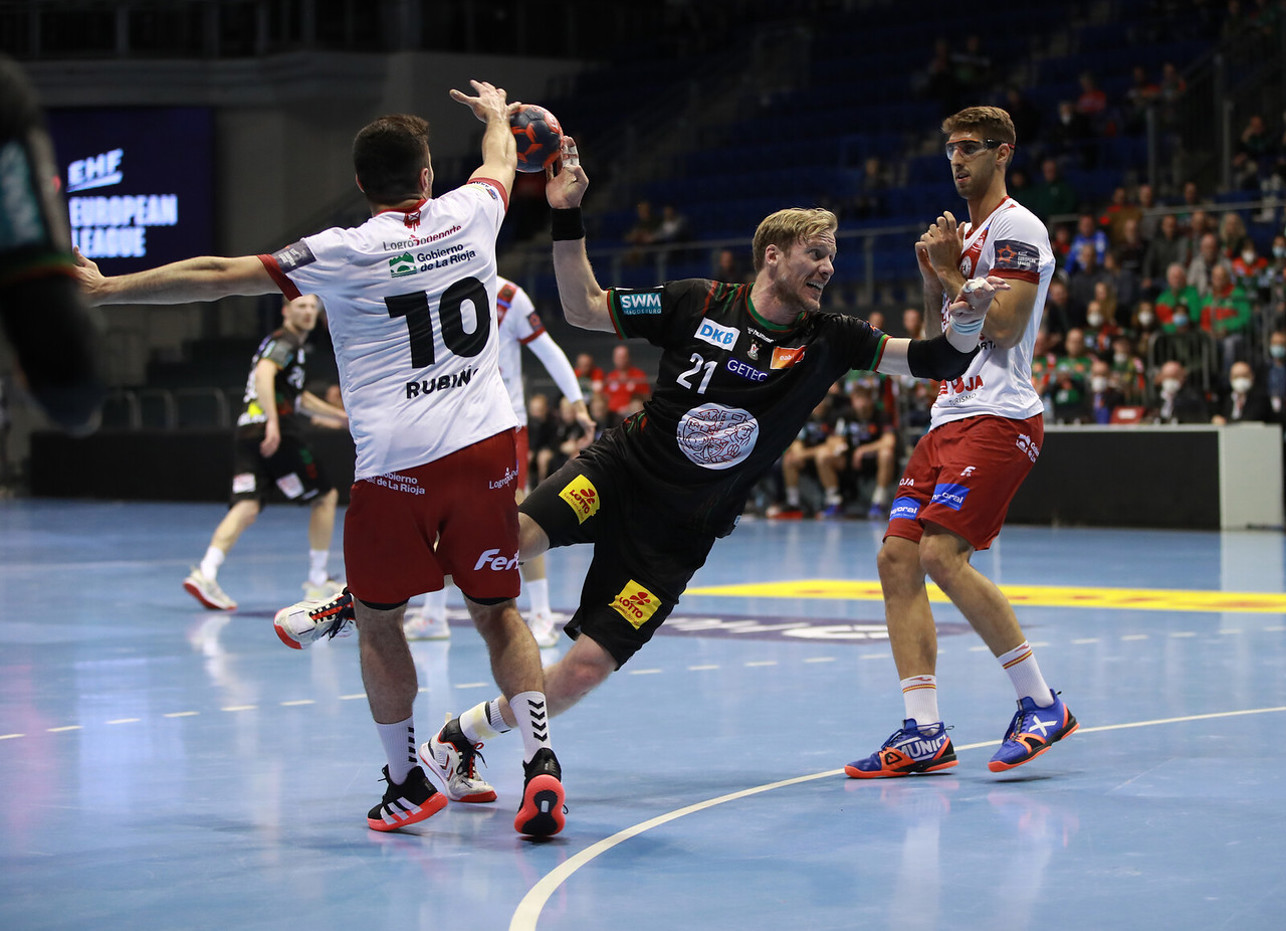 21:48
Huge blow for La Rioja! Their overall top scorer of the season Dutra Ferreira has been shown red after he shot directly at the keeper's face. And that's his third 2-minute suspension so his game is over.  
21:44
Let's switch our attention to another close encounter: SC Magdeburg vs BM Logrono La Rioja! it's the German side that hold the lead but just by one at 21:20 
21:40
Tenghea showing his dedication to the club's name... 
21:29
HALF-TIME OVERVIEW
RK Nexe 14:9 RK Gorenje Velenje 
SC Magdeburg 16:15 BM Logrono La Rioja 
Fenix Toulouse Handball 18:9 TATRAN Presov 
SL Benfica 17:12 Cocks 
Füchse Berlin 17:11 Pfadi Winterthur 
Sporting CP 14:16 HC Eurofarm Pelister 
21:16
A moment when you realise the risk of playing a high-pressing 5-1 defence... 
21:08
Time-out! Sporting are coming out very high in defence, playing an almost 3-3 defence before switch to a 5-1 and back again. When it works it is very unsettling for the Pelisiter attack but when it doesn't you leave huge gaps and if you drive 1v1 you can often find yourself in space. For the moment it is holding up. Sporting 11:13 Pelister
20:57
Pelister looking great at the start of their Sporting test. They are 6:3 up and looking well set up at the back. Josip Peric pulling the string in attack from CB. 
20:45
For the Live Blog we will focus on the epic top of the table clash between Sporting CP and Eurofarm Pelister!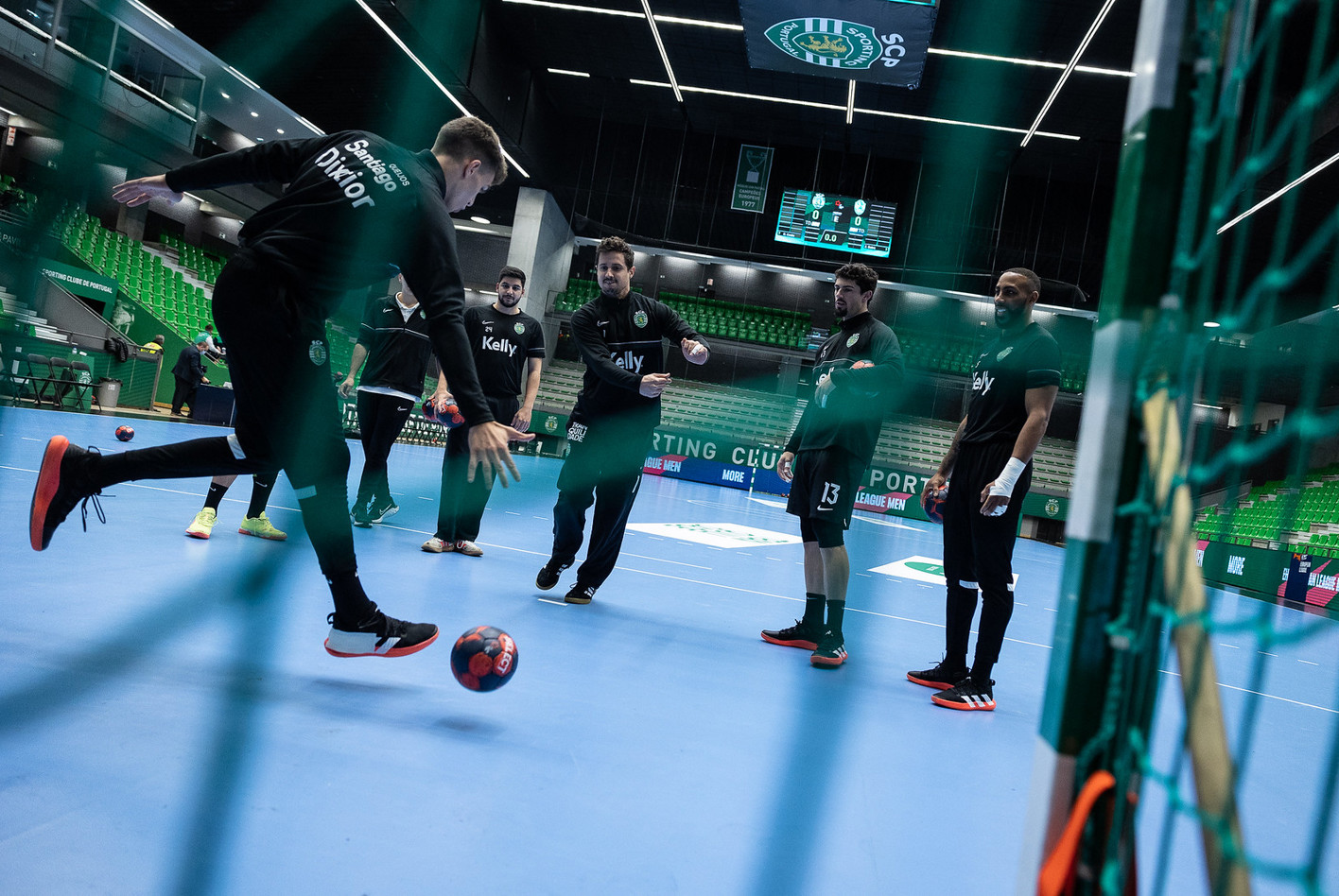 20:34
No rest for the wicked! Away we go into our next round of games! Up at 20:45 (CET) on EHFTV we have: 

RK Nexe vs RK Gorenje Velenje
SC Magdeburg vs BM Logrono La Rioja 
Fenix Toulouse Handball vs TATRAN Presov 
SL Benfica vs Cocks 
Füchse Berlin vs Pfadi Winterthur 
Sporting CP vs HC Eurofarm Pelister 
20:18
FULL-TIME OVERVIEW
Kadetten Schaffhausen 30:26 AEK Athens HC
TBV Lemgo 30:27 Chekhovskie medvedi 
IK Sävehof 33:31 PAUC Handball 
USAM Nimes Gard 24:22 Grundfos Tatabanya KC 
GOG 29:29 HBC Nantes 
And check out this amazing finish by our very own Respect Your Talent Programme member Elias Ellefsen a Skipagotu! 
20:12
RESULT: GOG 29:29 HBC Nantes
What a finish! It looked like Laerke had thrown it all away when he launched a shot with no build-up from the backcourt and hit Mickael. Nantes take the ball up the court and Valero Rivera is free on the line but steps inside and the goal is nullified. Pytlick steps up for the shot for GOG and buries it and GOG looked to be taking full points then Nantes bring on two lines and go all out for their last attack and it is the legend himself Kiril Lazarov who steps up to net a classic shot to tie the game. With 8 second left Pytlick's fastbreak attempt comes up short so both teams share the points. Great game!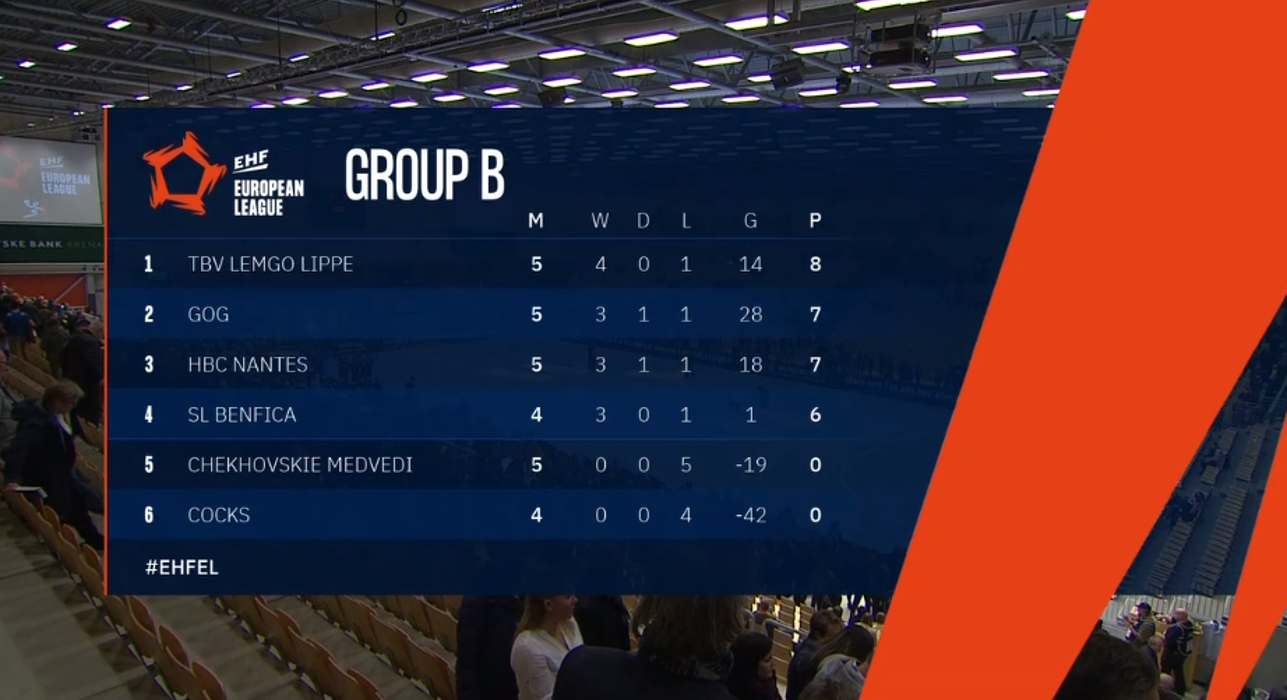 20:07
Super Jerry makes no mistake from the spot this time. Letting it rip and launching a rocket just over Mickael's head in the Nantes goal. We are level still at 28 a piece. 
20:03 
And just like that we are back level again! I thought HBC had this one almost wrapped up; but a period of really poor shooting from the 47th minutes to the 53rd saw neither team score but GOG rose from the ashes to net two quick goals and we back level at 27:27.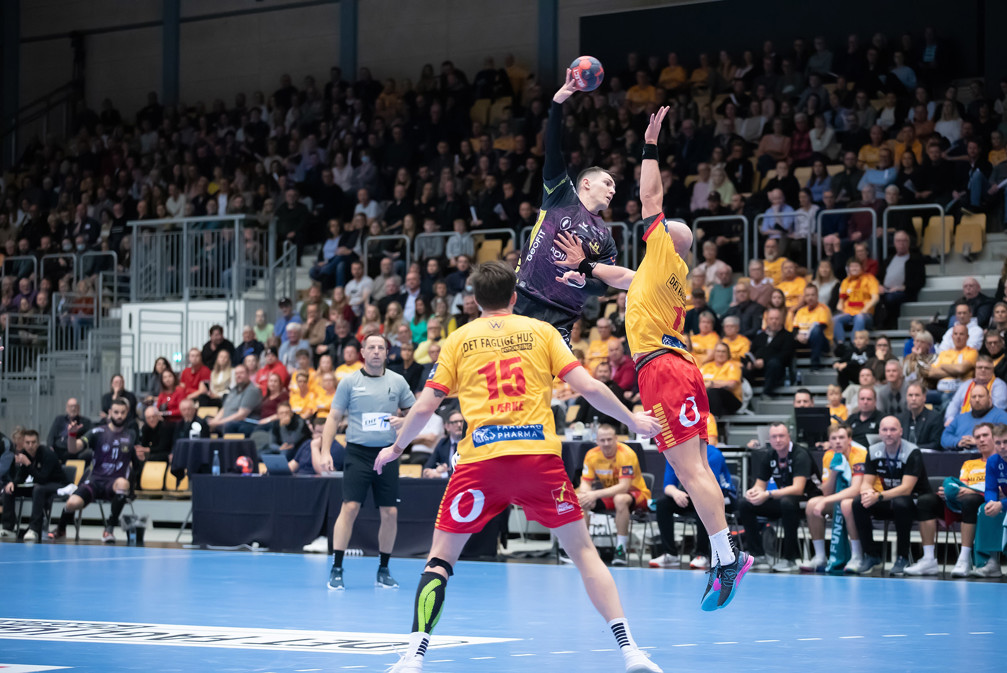 19:56
Ohhhhh Bergerud with a big save from the spot and Lazarov gave him a huge stare down before it, great TV! GOG 23:25 Nantes. 
19:48 
Kildelund is rattled! He is 0/3 and just launched one way over the bar and had a fast break chance just after and attempts a spin shot right into Mickaël Robin's leg. 
19:46
Mickaël Robin with another big save! This time gets down low to stop Jerry Tollbring from the spot! What a stop. We need to clip that one out for you! 
19:40
My goodness! What a save by Mickaël Robin in the Nantes goal. Kildelund picked Nantes pocket with a lovely steal and was all alone one vs one and Robin pulls off a huge save! It is all Nantes in the opening part of this half. GOG 17:19 HBC Nantes.
19:21

Half-time scores overview 
Kadetten Schaffhausen -:- AEK Athens HC
TBV Lemgo 16:16 Chekhovskie medvedi 
IK Sävehof 18:14 PAUC Handball 
USAM Nimes Gard 11:9 Grundfos Tatabanya KC 
GOG 16:14 HBC Nantes 
19:20
HALF-TIME: GOG 16:14 HBC Nantes 
19:18
The GOG MACHINE is rolling! Four missed shots in a row from HBC and Olsen topping off a 4:0 run for GOG sees them go 16:13 up.
19:13
From one keeper to another, now the GOG Icelander Hallgrimsson stands tall and stops a big shot from Ovnicek breaking through from right back. The ball is moved up the court and is worked into Jorgensen on the line and he spins to convert and give GOG the 14:13 lead! 
19:08
Bergerud the karate kid! Nice stop from the big Norwegian early doors...  
19:03
Lovely! GOG and found their stride and now we have a game! Trade goal for goal. Minne scores a wonderful spin shot bursting through from left back and Tollbring brought us back level again only seconds later at the other end for GOG. We are set up for a great game looking at the temp of this game so far. 
18:58
Nantes looking direct and clinical in the opening 10 minutes. GOG are not playing badly either but are for sure working much hard to get their chances. Youngster Thibaud Breit is looking sharpe for HBC he is 4/5 sp far. GOG 8:9 Nantes
18:50
For the first round of matches we will focus mainly on GOG vs Nantes but keep an eye on the rest for sure. And it is Nantes off to a flying start, they lead 3:1 with just 5 minutes on the clock. 

Join us here on EHFTV! 
18:36
All of these games are live on EHFTV so make sure to pick your ones to watch and use the multiscreen function!
18:10
GOG vs HBC Nantes is a top clash in group B with both teams sitting on 6 points a win could mean one side moves head and breaks the deadlock just as we reach the half-way mark of the group phase. Don't forget that we also have Lemgo and Benfica also sitting on six points. So, I expect some serious moving and changing tonight in the group with all four teams stuck in a deadlock (three wins and one loss each) so far. 

In Group C we have the big clash of RK Nexe (group leaders 6 points) and GK Gorenje Velenje. Velenje won back in round 3 34:28 but Nexe have home advantage and will be well up for getting one back at them. That will be one to watch for sure. 

Another top of the table clash in group D as Sporting host Pelister. Only one point separates them in the group with the Portuguese side sitting on 6 and Pelister on 5. I only expect fireworks for this one. 



18:04
A highlight of today's early throw-offs has to be the rematch of GOG vs HBC Nantes. The French side came out on top in the first out 27:24 but their star winger Jerry Tollbring, who scored nine goals last time out sees one key road to victory and it is through one man: HBC Nantes' start goalkeeper Emil Nielsen. 
Goalkeeper Emil Nielsen is very good around his hip area, so that's definitely not where should be shot. I've told my teammates to try to pass him elsewhere, and then I hope that we can beat Nantes this time. I believe that we have a good chance.
16:45
Only two hours until throw-off...
Let's have a quick look at the only two teams that are still unbeaten: in group C, titleholders Magdeburg are an obvious candidate for a spot at the season-ending EHF Finals again and they have dropped just one point along the road so far - at BM Logroño La Rioja. Tonight at 20:45 CET, Magdeburg are playing against... La Rioja!
The other team without a defeat is doing even better than Magdeburg: fellow Bundesliga side Füchse has not even dropped a point after four rounds. They hope to keep their streak going when hosting Pfadi Winterthur tonight at 20:45 CET.
16:33
One of the faces of the first four rounds this group phase has been Jerry Tollbring. The Swedish left wing wasn't fully happy at Rhein-Neckar Löwen, moved to GOG in the offseason, and has been doing pretty well in replacing top scorer Emil Jakobsen at the Danish side.
Here is the story Tollbring told EHF journalist Ola Selby:
16:20
After four rounds, the four groups are developing differently. While group A has two standout teams so far - Füchse with the maximum eight points and Plock with six - the other three groups show a tighter battle for the top spots. Most notably group B, where four (!) teams share the lead with six points each.
Two of them are playing each other tonight: GOG vs Nantes. Another top clash is Sporting vs Pelister in group D.
16:09
Your usual starting point for a European League night, our round preview:
16:00
Good afternoon, welcome to another Tuesday night handball party - also known as the EHF European League Men group phase!
We are down to round 5 tonight, and here is the schedule: