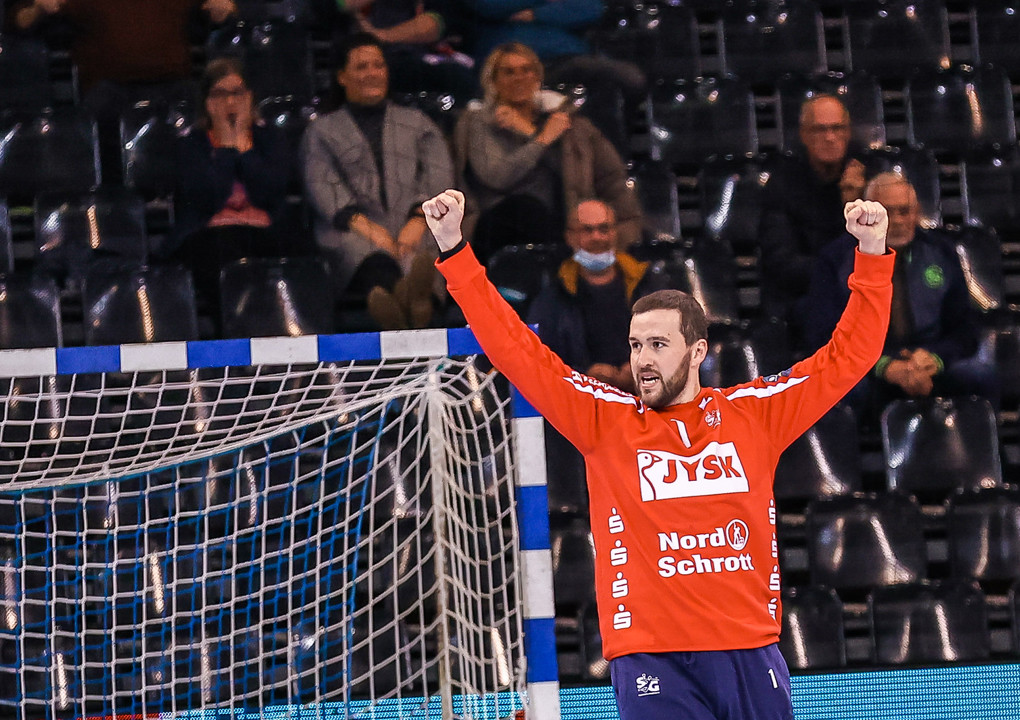 German-Hungarian duels highlight last round of 2021
One round of the group phase remains before the EHF Champions League Men 2021/22 heads into its 10-week winter break, which includes the EHF EURO 2022 in Hungary and Slovakia in January.
In the year-ending round 10, the Match of the Week on Thursday features Pick Szeged and THW Kiel for the first EHF Champions League game in the newly built arena in Szeged that will also be used during the European Championship.
Also on Thursday, SG Flensburg-Handewitt host Telekom Veszprém HC in another high-profile German-Hungarian encounter.
Another eye-catching matchup is the duel between title holders Barça and Paris Saint-Germain Handball.
Both group leaders have away games in the last round of 2021: Montpellier HB travel to HC Meshkov Brest in Belarus, and Lomza Vive Kielce are set to meet FC Porto in Portugal.
We were waiting for the first victory since the beginning of the season. The scenario was fantastic, the last goal against Elverum was a powerful beat, a crazy moment. I think we deserved to win for all our efforts since the beginning of the season. This gave us more confidence.
GROUP A
Elverum Handball (NOR) vs Aalborg Håndbold (DEN)
Wednesday 8 December, 18:45 CET, live on EHFTV
though this is round 10, Elverum and Aalborg have not yet met this season, as the reverse fixture is scheduled for February
Aalborg won twice when the teams also met in the CL 2019/20 season
Aalborg are third with 12 points; Elverum sixth with eight points
Aalborg's Benjamin Jakobsen: "Elverum have really shown their strength so far and what they are capable of. I think they surprised many teams in the beginning of this season, a bit like we did last year"
Aalborg's two Norwegians Sebastian Barthold and Chrstian Björnsen hit home ground
Tobias Grøndahl is Elverum's best scorer with 54 goals; his teammate Dominik Mathe and Aalborg's Felix Claar both are on 46 goals for the season so far
HC Meshkov Brest vs Montpellier HB (FRA)
Wednesday 8 December, 18:45 CET, live on EHFTV
Brest got their first win of the season last week, beating Elverum in Norway 33:32 with a last-second winner from goalkeeper Ivan Matskevich
Montpellier have won the last seven group matches, including 32:26 against Meshkov on home ground – which was their first ever duel
Montpellier can match their longest winning run in the club's CL history
Brest's only French player, Baptiste Bonnefond, is his team's third-best scorer with 32 goals
Montpellier lost 32:26 to Toulouse on Sunday and are ranked only ninth in the French league
HC PPD Zagreb (CRO) vs HC Vardar 1961 (MKD)
Wednesday 8 December, 20:45 CET, live on EHFTV
Vardar won six of their previous 12 duels; Zagreb won five
Zagreb, on four points, would pass Vardar (five) with a win Wednesday
Zagreb got three points from  their games against Brest and and narrowly lost to group leaders Montpellier last week
Zagreb head coach Ivica Obrvan: "The match has a certain regional character because both clubs know each other very well and have a common past of interesting matches. The chances are equal, I would say, but I believe in our team and our players"
Vardar have their last six group matches and failed to get a point since 29 September
Vardar left wing Timur Dibirov is the second-best scorer of the group phase with 54 goals, nine more than Zagreb right wing Ivan Cupic
MOTW: Pick Szeged (HUN) vs THW Kiel (GER)
Thursday 9 December, 20:45 CET, live on EHFTV
Szeged lost to Aalborg last week and were passed by Kiel, who defeated Vardar
the teams drew 32:32 in Germany earlier this season – their first draw of 11 duels, with Kiel having won seven times and Szeged three

Szeged right wing Bogdan Radivojević: "It is really hard to concentrate only on the game and the preparation because we will play our first game in our new sports hall. It is a really nice arena and with our fans it will be like a hell for our opponents. I am sure that the atmosphere will be fantastic and our fans will help us a lot"

Kiel have scored the most goals of all group phase teams: 297; Szeged have the third-best defence with 261 goals conceded
between 2015 and 2021, Kiel eliminated Szeged four times in the CL knockout phase: twice in the Last 16, once in the play-offs, and once in the quarter-final
since their previous meeting in Kiel, both teams have lost in Aalborg
Kiel are second in the German Bundesliga after beating Hamburg 32:23 last weekend; Szeged remain top of the Hungarian league with a 44:29 win at Eger, their 11th in 12 matches
The inauguration of the new arena is a great moment for Pick Szeged. But we will do everything to be successful ourselves in this match between two world-class teams. For reaching this goal it is very important to stay calm in this atmosphere.
GROUP B
SG Flensburg-Handewitt (GER) vs Telekom Veszprém HB (HUN)
Thursday 09 December, 18:45 CET, live on EHFTV.com
Veszprém won the first game against Flensburg this season: 28:23 at home
Flensburg lost their first game after three straight wins last week in Zaporozhye; Veszprém beat their club record for most goals in a single match: 47:32 against Dinamo
Flensburg have not beaten Veszprém since 2008; since then, the clubs faced nine times, the Hungarian side won seven and two games ended on a draw
Veszprém are currently second of the group with 12 points, two less than Kielce; while Flensburg are sixth with seven points
Veszprém right wing Gasper Marguc: "It is going to be very important to win if we want to keep our position in the group. Flensburg also need victories, they had many issues this season, but they have more and more players coming back, which makes them even more dangerous"
Flensburg – as well as Montpellier in group A – have conceded just 253 goals so far this season, the lowest number of any team in the group phase
Flensburg are coming off a domestic league win over Bergischer HC (28:23); Veszprém took the points in Dabas (34:21) in the Hungarian league
CS Dinamo Bucuresti (ROU) vs HC Motor (UKR)
Thursday 09 December, 18:45 CET, live on EHFTV.com
Dinamo are currently bottom of the group with four points; Motor are fifth with eight points
Motor narrowly won the reverse fixture in October: 28:27
Dinamo won their only previous home game against Motor: 35:31 in the CL 2016/17 group phase
Dinamo have conceded the most goals of all group phase teams: 302
two players from Dinamo and one from Motor are in the top 20 scorers: Valentin Ghionea and Raul Nantes have netted 42 times for Dinamo, Aidenas Malasinskas 41 times for Motor
last weekend Motor added a ninth win to their streak in the Ukrainian league, beating Polytechnic 39:21
FC Porto (POR) vs Lomza Vive Kielce (POL)
Thursday 09 December, 20:45 CET, live on EHFTV.com
Kielce suffered their first defeat since round 1 last week in Paris, ending a seven-match winning series, but stayed on top of group B
Porto have not won since round 3 and took just one point from their last six games
Porto left wing Leonel Fernandes: "We are not at our best but we are doing our best to change that. We want to break the circle. We work hard to be better." 
Kielce won the home match against Port by six goals: 39:33
Porto have beaten Kielce only once in their eight previous meetings; Kielce won six times and there was one draw
on the other hand, Kielce have won only once in Porto, in 2014
Kielce enjoyed their 12th straight win in the Polish league last weekend, sharing the lead with EHF European League contenders Orlen Wisla Plock
Paris Saint-Germain HB (FRA) vs Barça (ESP)
Thursday 09 December, 20:45 CET, live on EHFTV.com
following their win in MOTW against Kielce, PSG are level with Barça in third place with 11 points each
PSG have beaten Barça only once in the CL, back in 2016; Barça won the other seven matches
earlier this season Barça beat PSG 30:27 at home in Palau Blaugrana
nine French Olympic champions are involved in this match: five for PSG, four for Barça
PSG extended their winning run in the French league to 12 matches by beating Nancy (38:26); Barça had a similar feat in the Spanish league by defeating Sinfin (34:31)
These are always big fights against Barcelona. It is up to us to work better on many points to be better in the last moments of the match. The support from our fans will help us, too. Fans played a key role against Kielce when the game got tough. We have been able to use their energy to make a difference. We will have to repeat the same type of performance against Barcelona this week.