Kielce's French connection ready for MOTW in Paris
Coming off back-to-back wins over EHF Champions League Men titleholders Barça, there is no time to rest for Lomza Vive Kielce.
The group B leaders continue their impressive group phase campaign with a visit to Paris Saint-Germain Handball for Match of the Week in round 9 on Thursday (live on EHFTV at 20:45 CET).
The MOTW will be a homecoming for two of Kielce's key players: French internationals Dylan Nahi and Nicolas Tournat.
"Of course, it will be a very special match for me," said Nahi, who joined Kielce from PSG last summer.
"I want to play against Paris and win there. When you play against your home club, you always want to show your best, so I have big motivation, but not big pressure."

Nahi, who turned 22 on Tuesday, played EHF Champions League in five different seasons for PSG. Since his debut as a teenager in 2016/17, he gradually developed into a main asset for the French champions, until netting 67 times in his last season with the club.
The move from Paris to Kielce went smoothly, as Nahi explained in an interview on eurohandball.com after his first weeks with the Polish club last September.
Things have become even better for the left wing and his team, as Kielce are proud leaders of group B, with Nahi netting 38 times, more than any of his teammates.
After their slipup in round 1 at Dinamo Bucuresti, Kielce racked up seven straight wins – including the two victories over Barça and, before that, over PSG at home (38:33).
Now the reverse fixture in Nahi's former home arena is coming up.
"I just want to win very much, and I know we must be very focused to do it," said Nahi, who scored six times in the first match against PSG.
"I think we have shown that nothing is impossible for us. We won against Barça twice, so why not in Paris?"
While Kielce have the momentum on their side, history speaks rather in favour of PSG: the French side won six of their 10 previous meetings, including all four played in Paris so far.
"I know the PSG team very well. I know the players, the game style, but they know me as well. No one has an advantage. I think it will be a great match," Nahi said.
I think we have shown that nothing is impossible for us. We won against Barça twice, so why not in Paris?
For his French teammate at Kielce, playing against PSG is less special. Understandably, as Tournat never played for the club from the French capital, arriving in Kielce in 2020 after six years at HBC Nantes.
"For me it is not special to play against them. I played a lot of matches against them when I was in Nantes, so it is kind of boring for me. I would prefer to play against another team that I don't know yet," Tournat said with a laugh.
"Anyway, I am happy to play against them and we need to win."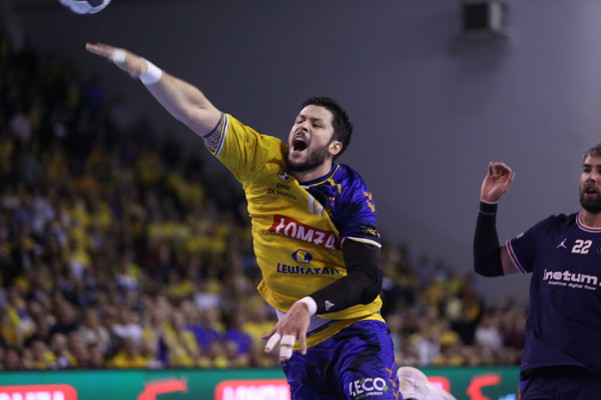 The line player is aware of Kielce's struggle to take points home from Paris.
Their last two visits ended in huge defeats: 37:26 in a group phase match in February 2021, and 35:26 in that famous quarter-final in May 2019 – after Kielce had won the first leg 34:24 at home and still advanced to the EHF FINAL4 in Cologne.
"We have never won there, so I think they are the favourites. But we are favourites as well because we are first in the group," Tournat said.
"It is really hard to judge it. We have nothing to lose, we have to trust in ourselves, play 100% and see what happens. For sure we can win this."
Tournat expected PSG to be up for a real battle on Thursday.
"It is always difficult there, I remember the atmosphere when I was still a player of Nantes," said Tournat, who has scored 20 times for Kielce this season, including two in the first match against PSG.
"The most important is that we won against them in Kielce recently, so they will be very motivated, you know, they don't like to lose. It will be a huge fight."