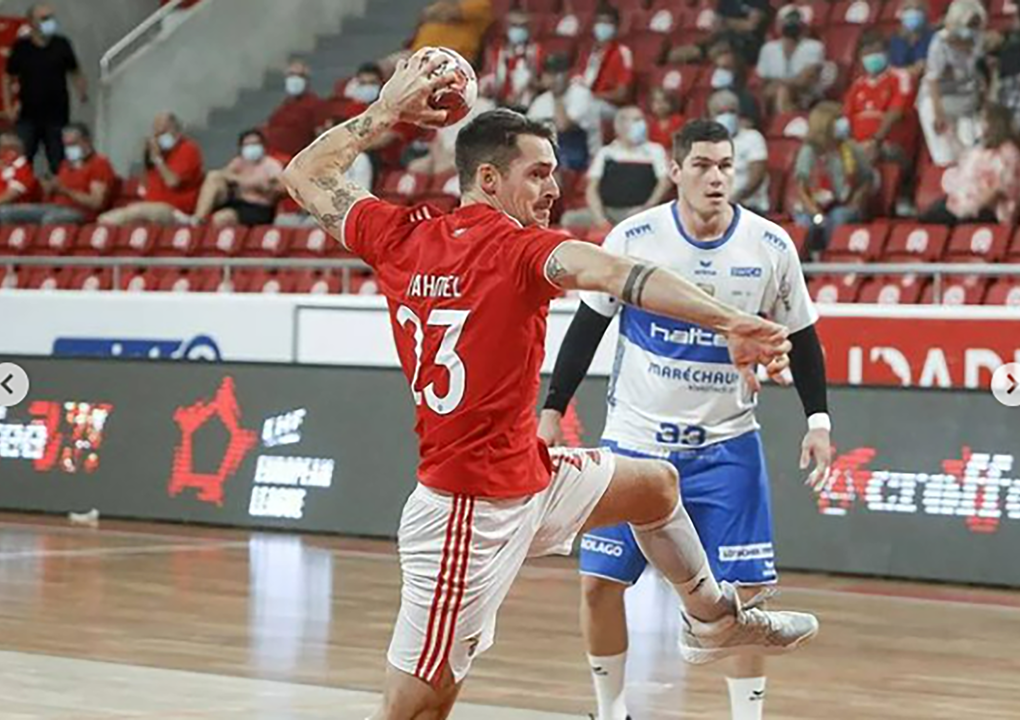 Ole Rahmel: First a shock, now the chance
"When you get a chance like this, you must grab it." In 2020, 31-year-old Ole Rahmel got this chance when his agent was contacted by S.L. Benfica. "I had played for some completely different clubs in Germany, but it was always my dream to go abroad," says Rahmel, who signed the contract and moved to the Portuguese capital Lisbon.
Last season, he was one of four Germans to play in the Portuguese league, alongside Jens Schöngarth (Sporting CP in Lisbon), Manuel Späth and Djibril M'Bengue (both FC Porto).
"I think it's getting more and more common for German players to take the adventure and experience in foreign countries, like Andreas Wolff, Christian Zeitz and Christian Dissinger did," says Rahmel. "Other leagues in Europe are getting stronger, and when you join a club which plays Champions League or European League, it is a great ambition to go there, as even in Germany the number of those clubs is limited. The clubs such as Benfica are as professional as German clubs."
Right wing Rahmel, who has five caps for Germany, started playing handball at some North Sea clubs, then went to VfL Gummersbach, where he was coached by Alfred Gislason for the first time. Later he joined Essen and Erlangen. In 2017, Rahmel's big dream came true, when Gislason signed him for mighty THW Kiel. With Kiel, Rahmel won the Bundesliga, the German Cup and the EHF Cup in 2019, but his contract was not extended ahead of the 2020/21 season.
Then news came of the Benfica project, where new coach, Spaniard Chema Rodriguez, started a transition and to build up a new team with some stars from Portugal and abroad. "I liked the idea, I like Chema as the coach, and then, in the middle of the pandemic, my girlfriend and I moved to Lisbon last summer," Rahmel looks back.

After some interesting months, in which he learnt a lot about Portuguese culture, language and mentality "and I soaked all those experiences in," the lockdown including a curfew stopped this normal life. "Still I cannot say right now that I am settled 100 per cent, though the club is helping me a lot."
For Rahmel, Lisbon is still a place to explore many new things: "In some parts, mainly the tourist spots, you get around with English easily. In other hidden little coffee bars and restaurants, they only talk Portuguese, but my language skills are already enough to get what I want. In general, I love the different approach of Portuguese people to their life. I learnt a lot from them and a lot about me."
Unfortunately for Rahmel and his teammates, the dream of playing a long international season came to an end last year in the second qualification round of the European League, when the favoured Portuguese side were surprisingly eliminated by Fivers. "This was a true shock for us. It took some months for all of us to cope with this situation," says Rahmel.
On the other hand, Benfica managed to reduce the gap to Portuguese top team FC Porto, but could not pass them in the league to become champions. "I hope this season we are strong enough to get ahead of Porto — and to have a longer stay in the international competitions."
And how are the chances in the 2021/22 season? Rahmel was having his breakfast as he watched the live stream of the draw for the second qualification round of this iteration of the European League. The first club drawn from pot 1 were Rhein-Neckar Löwen from Germany.
"The chance to face them was 1:12, so I was very sure to avoid one of the strongest teams in Europe, but then my bread got stuck between my teeth when Benfica were drawn. I was really shocked. I had never, never expected to face them — definitely, they are the by far strongest team from that pot."
This draw is a huge success for us — we start at zero at home, we have our fate in our hands and we do not have to calculate how many goals we must be ahead, as a victory is enough.
Benfica travelled to the first leg in Heidelberg last Tuesday and caused a surprise, taking a 31:31 draw back home.
"We were ahead for a long time, then Löwen turned the match around, but finally we drew, so it was a match with mixed emotions. In my opinion, this draw is a huge success for us — we start at zero at home, we have our fate in our hands and we do not have to calculate how many goals we must be ahead, as a victory is enough," says Rahmel, who was top scorer for his team with eight goals — one strike more than Löwen legend Uwe Gensheimer.
"Of course I am happy about the number of goals, but in the end the success of the team is more important. If we make it to the group phase, it is not about me — it can be any player or simply the whole team."
His girlfriends' family attended the match in Heidelberg: "This was great, as we did not see each other that much. Unfortunately, as it was a Tuesday night, it was impossible for my parents from northern Germany to come that far."
Next Tuesday, when the rematch is played in Lisbon, they will all cross their fingers: "Currently Löwen play below par, as usually they are of a different level compared to Benfica. But this situation might be our opportunity. We have to put Löwen under pressure for 60 minutes, we need to score more easy goals compared to the first leg, we need a goalkeeper performance like on Tuesday — and then we have the chance to proceed to the group phase."
Both sides have domestic matches before the decisive European League clash: Löwen play the crucial duel against Göppingen, while Benfica will host Madeira in their opener of the Portuguese league.
Photo Ole Rahmel courtesy of S.L. Benfica Instagram